A Cancun vacation is something that every adult will enjoy with its fine beaches, wild parties, shopping districts, and many more. As such, it can be problematic for parents, especially if they want to enjoy the city and spend time with their kids. 
While Cancun has many activities designed for adults, it also offers many fun activities for kids. As such, if you plan a Cancun vacation with your kids, you can find something for all of you together.
This article will discuss the top ten things you can do in Cancun with kids. So you can spend a memorable vacation in this beautiful city while your kids enjoy it.
Without further ado, let's get into it!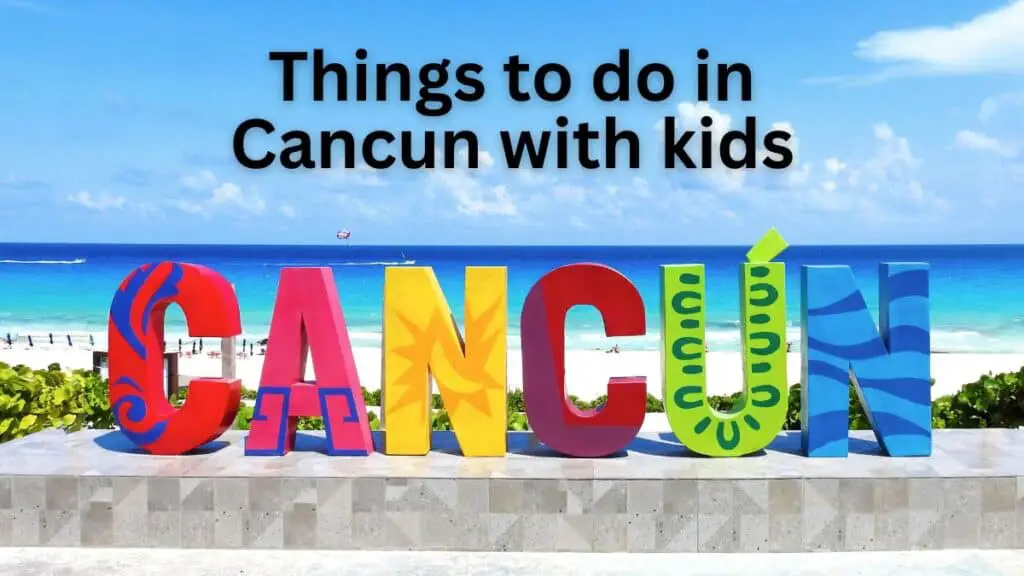 1. Play with Dolphins
Every kid loves dolphins, and Cancun has the best activity with dolphins for kids, adults, and everyone.
Cancun has a Dolphin Discovery, and it's a place where you can play in the pool with dolphins, swim with one, and even get a kiss on the nose from these friendly creatures! But, of course, wearing a life jacket is a must for the sport, and younger children might be unable to participate.
However, this is a great activity whether you are on vacation with toddlers or older children. 
You may choose a few pictures taken by the official photographer after this event and have them framed. You want to capture this moment so you may remember it fondly for life. 
To know more, read our article about Swimming With Dolphins in Cancun.
2. Visit the Interactive Aquarium
Most people see Cancun as a place for outdoor activities. However, many must learn that Cancun also offers indoor fun and activities. Among these are the interactive aquarium, it's best for families, especially with kids.
One of the most significant indoor activities is the Interactive Aquarium, one of the easiest things to discover within La Isla Shopping Village.
Since visiting this aquarium won't take up much of your time, you may combine it with visits to other Cancun attractions. It should take less than half an hour to view the entire aquarium.
However, several additional activities are connected to this aquarium, such as feeding sharks and swimming with dolphins. In addition, the aquarium's gift store is where you may purchase photos that document your travels.
If time is of the essence, all it takes is a half-hour at the aquarium, and that was also a wonderful experience.
3. Rent and ride an ATV
An ATV ride and excursion is something enjoyable for kids, and it's also one thing you'll enjoy when you're in Cancun. In addition, an ATV tour is one of the best ways to explore the city and the nearby destinations.
As several organizations and businesses can help, organizing this is relatively easy. Moreover, these activities are usually planned in the Cozumel rainforest.
Based on your time, it could be an entire day's adventure or just a quick tour. Some businesses could also lead you on an off-road adventure into the forest while pointing out cenotes, tunnels, and organic vegetation along the route.
Your children will undoubtedly love this experience, and it's a great chance to expose them to the native flora and animals.
After all, the organic plant and land structures people may encounter in Mexico are distinctive and different from those in other regions.
4. Snorkel with Whale Sharks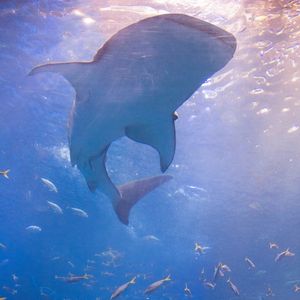 Whale sharks are fascinating creatures, and the possibility of spotting them and swimming with them in Cancun is something every kid will love, even adults like you.
July to September are the best for swimming with whale sharks. However, whale shark sightings generally start as soon as the middle of March.
Booking a trip to go whale shark swimming is simple, whether you do it before you travel to Cancun or after you get there.
Whatever hotel you book will likely be able to help you navigate and might have connections to one of the tour operators. These cruises usually depart from Isla Mujeres and Holbox, and you may get there by ferry or boat.
July to September are among the greatest for swimming in Cancun due to the optimum water temperature.
To know more, read our article about Cancun Whale Sharks.
5. Enjoy dining at Captain Hook Pirate Dinner Cruise
If you're searching for some kid-friendly activity that includes food, then the Captain Hook Pirate Dinner Cruise is among the best options. It's also among the most significant ways to enjoy a night in Cancun with your kids and the family.
The expedition, which includes food and beverages for a magnificent night, is a recreation of one particular Spanish sailing ship from the eighteenth century.
Every day at 7 p.m., this trip departs from a location close to Cancun's Hotel Zone. A little over three hours long, the trip will return you to the port around 10:30 p.m. Dinner, beverages, a variety of entertainment, and a ton of pirate-inspired activities are all included.
This activity is a must-do if your child or kid likes pirates or anything related to ships. A spectacular pirate adventure is something that even a grownup cannot resist.
6. Go on a trip to Xcaret
Xcaret is an ideal destination you'll enjoy if you're on vacation in Cancun with your kids. In general, Xcaret will make your vacation days relaxing and enjoyable, not to mention it's also kid-friendly.
This ancient site is one of the best destinations in Cancun, Mexico, for families. The park is a depiction of the local natural environments and embraces both Mexican and Mayan heritage.
There are ruins you can climb, rivers you can plunge in, and even species like sea lions, jags, birds, and other animals you can view.
You can end the day by seeing the beautiful cultural gala that honors Mexican and Mayan culture and heritage during the night. The Children's World, also known as Mundo de Nios, will be an excellent vacation spot for your kids.
This place is absolute to visit, and you will have an excellent chance to introduce your children to the past and traditions of the nation they are touring.
7. Play at All Ritmo Water Park
If there's one thing kids love, it's water. Lucky for you, Cancun has lots of water parks and resorts for you and your kids to enjoy. For instance, you can have fun for a day at All Ritmo Water Park.
Although All Ritmo Resort is among our best family-friendly resorts in Cancun, you are not obliged to stay at the hotel to use the water park.
No matter your age, you may enjoy the water activities at the site! For individuals of any age, you'll enjoy all of its slides and water-based entertainment. 
On any given occasion, if you're sick of having fun and want to unwind, you may do so on one of the numerous lounge chairs scattered throughout the park.
Enjoying the entire day inside this water park is fantastic since the admission fee includes free meals, drinks, and even alcoholic beverages. As such, you don't have to worry about anything since it's all taken care of.
8. Stroll the Parque Las Palapas
One of Cancun's most well-known and prominent parks is Parque Las Palapas. You can also have fun with your kids. It is a significant open space in the city's center and the site of several public events.
This park is the perfect destination if you want to unwind with your family while relaxing in Cancun. If you'd like to visit El Cristo Rey, it is located near the park's border.
Nevertheless, you might want to double-check before visiting the park on Sundays since the church frequently attracts crowds of fervent worshipers. Your kids may play free on several playgrounds throughout the park, and you may also ride a bike.
Anyone can set off on this excursion because it is located in the Cancun Hotel Zone neighborhood, which is Kukulcan Boulevard. Pick whichever day you like, as the boat departs from the exact location each day.
9. Interact with animals at Croco Cun Zoo
The Crocodile Zoo should be at the top of your list if you're still looking for activities in Cancun with kids. This engaging conservation zoo was formerly a farm for raising crocodiles.
The farm suffered significant losses as a result of an intense hurricane. However, the farmers rebuilt the farm, and those in charge gradually changed their focus from crocodile breeding to crocodile protection.
This zoo is dedicated to conservation and has taken several steps to safeguard these fantastic reptiles. You may register for a trip to the zoo, during which staff will show you around for an hour.
This activity is among the most excellent methods to gain an understanding of the local natural area to take in everything you can concerning the flora and animals.
You may also feed and touch a young crocodile, stroll around among the crocodile ponds, and feed cute creatures when thinking of strange activities to enjoy at the zoo.
10. Enjoy the Jolly Roger Pirate Show
You'll find plenty of pirate-themed activities in Cancun. Thus, if you're thinking about any activity in Cancun with kids, go to the Jolly Roger Pirate Show. This show should be a longer than three-hour tour of a real pirate ship.
Dinner and beverages are included in the trip, with deluxe and regular menu options.
Children under the age of twelve can select from a menu that offers kid-friendly options like hotdogs and chicken nuggets.
The trip departs at 6:30 in the evening and operates for the entire year. The Cancun Theater is nearby, and Playa Linda Pier is where the cruise departs.
Conclusion
With these ten kid-friendly activities, you will never run out of options to do in Cancun with the entire family throughout your vacation. As always, you can pick one or two of these activities if you only have a limited time and want to enjoy different tourist spots in the city.
However, if you want to do something for your kids and you want them to enjoy some activities, you'll know where to start. 
Now, another concern you may have when you're bringing your family to Cancun is accommodation. Luckily, Cancun has lots of accommodations that are family-friendly and all-inclusive. If you want to know more, read Cancun All Inclusive Family Resorts.