Akumal and Tulum are two of the most popular destinations in Mexico, so it's not surprising to see many people who find it difficult to choose between them. Now, if this is also a concern for you, we're here to help!
Both towns are laid-back, with picturesque beaches, cenotes, and Mayan ruins. However, Tulum offers a bit more activities, tourist spots, and accommodations, but it's also more crowded. On the other hand, Akumal has limited options but ensures a peaceful experience and better wildlife interaction.
Of course, this information is not enough to consider which one. As such, in this article, we'll tackle the highlights of both areas and see what each place has to offer. After reading, you'll have a better view of each place, and it will help you decide where to stay.
Without further ado, let's get started!
Akumal Highlights
Whether you want to see the extensive marine life in Akumal or walk through the ruins of an ancient city, there is a lot to see and do.
Water Activities
If you visit Akumal, you're in for a handful of water activities to enjoy. Here, you can find Yal-Ku Lagoon, a popular place in Akumal, to snorkel and enjoy a view of its rich marine life up close. You can swim with turtles and see some starfish, urchins, rays, and various types of fish.
Akumal also has Half Moon Bay, one of the best beaches in the area. This beach boasts of its fine white sand and a calm sea due to the reef breaking over a short distance. 
As such, it's also a perfect place for snorkelers, divers, kayakers, and paddleboarders. If you're lucky enough, you might be able to see some turtles swimming beside you.
Coba Ruins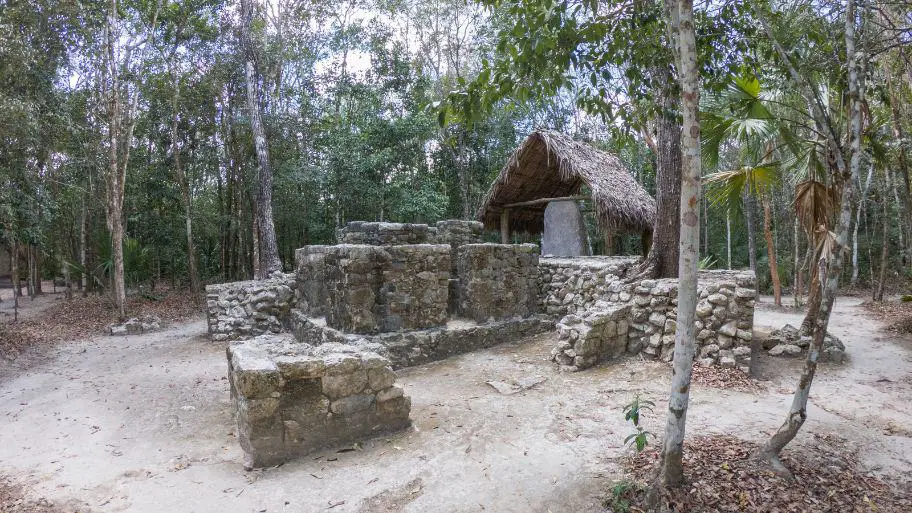 If you fancy some Mayan culture, you'll enjoy the Mayan Ruins at Coba. Unlike other famous ruins, this one in Coba doesn't get much attention. Thus, it's a perfect place to explore if you don't like crowds.
Also, the pyramid of Coba Mayan Ruins is climbable, and reaching the top will give you a picturesque view of the lush jungle surrounding the ruins.
Cenotes
Cenotes are sinkholes common in the entire region of Quintana Roo, and Akumal houses some of them. One of the famous cenotes in the area is Cenote Santa Cruz. In this cenote, you can enjoy a vast underground cave system, and it's a haven for snorkelers and divers alike.
Meet the Wildlife
Another thing that makes Akumal popular is its wildlife. Akumal is the home of Dolphin Discovery Akumal. In this place, you can swim and interact with dolphins while keeping the conservation and without hurting or harming the animals.
Akumal also houses the Akumal Monkey Sanctuary. Here, you can find different animals to interact with, such as several types of monkeys, lemurs, and goats.
Acktun Chen Natural Park
Finally, one of the highlights of Akumal is Acktun Chen Natural Park. Finally, you can explore the Riviera Maya's most extensive dry cave system underground and see a cenote situated on the upper ground. Additionally, this system has been around for five million years!
Some of the best things in this park give off a blue glow while you walk through the cave. As such, this park was voted among the best underground walkways worldwide.
Tulum Highlights
Although known for its laid-back nature, Tulum is a town that packs some activities and places to visit. Here are some highlights you can enjoy if you plan to visit this town.
Cenotes
Tulum is the ideal vacation spot even if you're not a lover of beaches due to its cenotes and lagoons. Cenotes are sinkholes or caverns that have, through time, accumulated large amounts of exceptionally pure rainfall and groundwater. They are often discovered in limestone sedimentary strata.
You'll discover some of the top cenotes in the area, each offering a stunning natural setting and even a plethora of marine life worth viewing through diving and snorkeling.
In summary, these cenotes and lagoons turn Tulum into a paradise and a must-visit location for amateur divers, snorkelers, and even novices and specialists.
When staying in Tulum for a short period and looking for the best options, check out our article about the Best Cenotes in Tulum.
Tulum Ruins
When you look for Tulum, images of Mayan ruins will be one of the first results you see. Generally speaking, Tulum is where the Mayan civilization reached its height. Tulum Ruins are located here, perched on a stunning cliff with a view of the stunning Caribbean Sea.
The Mayan civilization and culture are evident throughout Tulum, not only in these Mayan ruins. The Mayans also inspire other treatment facilities and some activities. To learn more about these ruins, read our article about Tulum Ruins.
Nightlife
Tulum is well known for its basic yet stylish way of life, which includes a relaxed yet sophisticated nightlife. Tulum is unlike Cancun and other towns with the best commercial enterprises since it is a tranquil town.
Tulum wants to be that tranquil location where you can unwind and take some time off from doing much. One thing to note is the premium nightlife at Tulum's bars, whether on the beach or in Pueblo. If you want to learn more, read our post about Tulum Nightlife.
Healing and Wellness
Some individuals travel to Tulum to escape their hectic lives, unwind, and refuel. People looking for a quiet place to relax will find Tulum the perfect choice because of its laid-back atmosphere. However, we are aware that the manner of life frequently demands a lot of energy and might be exhausting.
As a result, several individuals travel to Tulum to find a tranquil setting. People participate in health and therapeutic rituals like Temazcals, sound therapy, spa treatments, and yoga courses here.
These wellness-oriented activities in Tulum will provide your mind and body with the appropriate remedies. As a result, you'll feel energized and rejuvenated when you leave town.
Beaches
Some of Mexico's and the world's top beaches may be found at Tulum. This seaside community has three central districts, each with a separate beach along a long stretch of white sand beach.
Every beach in Tulum has the same beautiful white sand and Caribbean Sea waves that are clear and blue. As a result, it's one of the things that makes this unassuming seaside town feel like paradise to every visitor.
If you want to know more about the beach in this town, read our article about the Best Beaches in Tulum.
Difference Between Akumal and Tulum
One of the main differences that set these two destinations apart is the activities. Tulum and Akumal have that relaxed beach vibe, laid-back nature, picturesque scenes, and natural wonders. However, they offer different activities, though not so different if you look at them closely.
Tulum is ideal if you fancy some stunning Mayan ruins, excursions, and water activities. It's also the place to be if you want to enjoy healing and wellness activities like yoga, spa, and healing ceremonies. On the other hand, Akumal focuses on wildlife tours, calmer beach vibes, and a relaxing environment.
When compared, Tulum is a bit more crowded, though it remains a laid-back town. You'll also have more activities, accommodation options, cenotes to discover, and restaurants serving different cuisines in Tulum. However, it also comes with more crowds.
The options are a bit limited if you decide to stay in Akumal. However, you'll enjoy some peaceful time without dealing with the noise and crowds that continue to grow in Tulum.
Both locations have great beaches, fantastic snorkeling and scuba diving spots, cenotes close by, Mayan ruins, and a reasonably priced vacation destination.
There are a few resorts in Akumal, but most people stay in Airbnbs. Although there are eateries, the city shuts down at midnight.
Tulum has a wide variety of lodging options, but this also means that high-rise buildings may be seen from the shore. The city has late hours and is walkable. The streets are filled with intriguing clubs, pubs, restaurants, performances, and other activities.
Is Akumal or Tulum Better?
Your decision over which location to visit will depend on the ambiance you want and which offers better beaches, more activities, and a better range of lodging options.
On the one hand, Akumal will be a great option if you want a tranquil, laid-back atmosphere with active metropolitan experiences.
On the other hand, Tulum will be better for you if you want to explore more activities and tourist spots and enjoy a chill yet fun party night with a chic and bohemian vibe.
Beaches
When it comes to beaches, Tulum has a long stretch of beaches, giving you more options than Akumal. Still, Akumal has five bays with almost no waves, making its water crystal clear so you can see the sand through the water.
Both places have natural palm trees and better beach views because they contain beach houses instead of resorts. However, Akumal has the upper hand if you prefer less crowded beach areas.
The Mayan name Akumal means "place of turtles," Most people think diving and snorkeling are preferable in this area. However, Tulum also has some snorkeling and diving spots, mainly in cenotes near the ruins. 
Activities
Scuba diving, swimming, snorkeling, and beach lounging are available at both locations. Additionally, they are close to cenotes and Mayan Ruins; generally, Tulum offers a greater variety of activities.
Tulum offers a variety of dining establishments, nightclubs, bars, entertainment options, yoga courses, spa services, bike, and tour excursions, riding ATVs, and even plunge pools. Also more walkable in this town. At Tulum Pueblo, you may spend hours browsing the trendy stores that provide reasonably priced clothing, headgear, and accessories.
Famous bars include Casa Jaguar, Puro Corazón, Santino Bar Tulum, Gitano, and La Zebra Hotel. Some of these bars are known for their eclectic and jungle-themed parties.
Accommodation
There are a few hotels and resorts in Akumal, but most visitors rent houses near the shores of one of the five bays. Check out Akumal Bay Beach and Wellness Resort, Luxury Bahia Principe Sian Ka'an, The Grand Palladium, and Luxury Bahia Principe Akumal if you're searching for an all-inclusive resort.
To book a vacation rental, check popular sites like Airbnb and VRBO. You can find gorgeous villas on the beach; some even have their pool.
In Tulum, you're in for different accommodations, from beachfront hotels to couple-friendly hotels, family-friendly hotels, boutique hotels, and many more.
Some of the best beachfront hotels are The Beach Tulum Hotel, Hotel Esencial Tulum, Encantada Tulum, La Zebra Hotel Tulum, and Be Tulum Hotel. To learn more about these hotels, read our article about the Best Beachfront Hotels in Tulum.
Because of the extensive array of hotels and prices, Tulum offers various possibilities. With alternatives ranging from inexpensive to luxurious, it defeats Akumal in terms of accommodation.
Final Thoughts
If you're torn between Akumal and Tulum, the best thing to do is to list your preferred activities, accommodation, and budget. Remember that these two places are just 17 miles away from each other, so whatever your choice is, you can always visit the other through a day trip. Your choice of accommodation should depend on the activities you are most interested in.
Tulum will be a better option if your main priorities are sightseeing some Mayan ruins, lounging on the beach, and engaging in water sports. On the other hand, Akumal will be a better option if you like a quieter, more serene beach with wildlife-centered activities and a laid-back atmosphere.