There are taxis in Santorini. However, the number of taxis allowed on the island is limited, and they are local taxis or pre-booked cars and are not international chains. 
Because there are a limited number of taxis in Santorini, and if you are planning on spending the day, or night, somewhere and need a ride in a cab at a specific time, it is worth booking your taxi ride in advance to guarantee that there is a car available when you need it.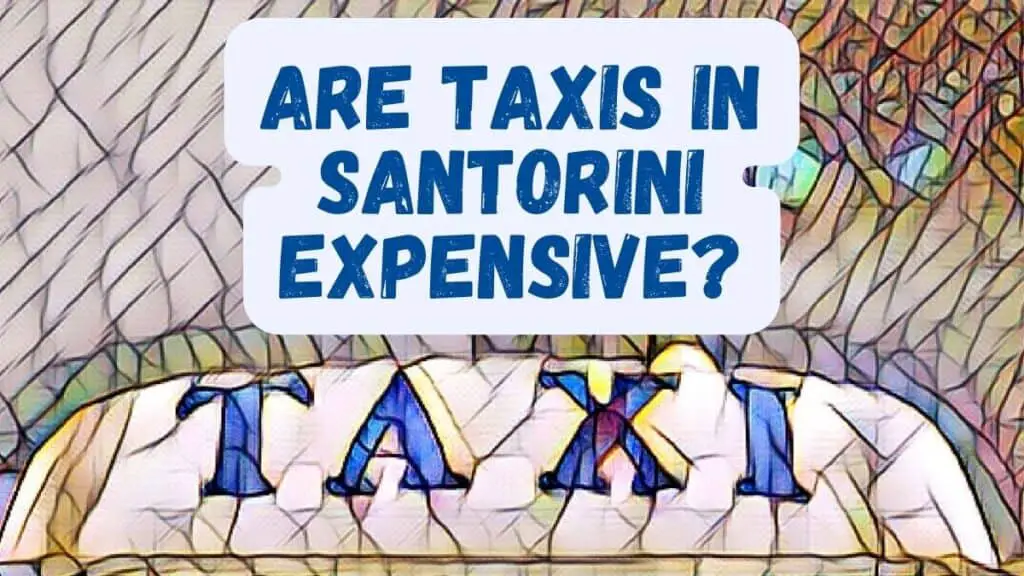 Cost of taxis in Santorini
The taxis in Santorini are all local cabs and do not operate in the same way you may be used to. Although in many places in the world you can know how much you will be charged for your taxi ride based on the meter, with the amount increasing with the distance traveled or the time is taken, Santorini cabs are different.
On the island, the fares are fixed. You will be charged according to where you are heading rather than on a ticking meter. So, if you do not want to be surprised by your charge at the end of your journey, you can always ask your driver before hopping in the taxi. They will tell you how much the trip will cost in advance.
However, taxis are expensive in Santorini, not extortionate, but costly. So, if you are planning on doing a lot of traveling around the island, it may be worth your while looking into booking a car so that you will not be paying a lot of money for taxis all of the time.
For a rough guide, getting a taxi from the port to the capital will cost you about 25 euros. A taxi from the port to Oia will be 40 euros, from the airport to the capital it will be 20 euros and from the airport to Oia will cost you 35 euros.
Where can I get a taxi in Santorini?
There are many different ways to get a taxi in Santorini. However, because there are so few taxis on the island, some methods are better than others as there can be long waiting times.
Perhaps the quickest and easiest way to get a taxi in Santorini is to hail one on the street. Of course, this does require a certain degree of luck and good timing as you will not only need to find a taxi passing by you but one that is also free.
Alternatively, you can choose to call Santorini Taxis to order a cab. Still, it is worth bearing in mind that this is a very popular way to order taxis, and you may need to be placed on a waiting list and wait a long time until a taxi becomes available.
There are also many taxi ranks on the island where you can almost always find a taxi. So, if you happen to be near a taxi rank on the island, this will be your best bet. You will find taxi ranks in the capital outside the airport and other popular locations.
What are the alternatives to taxis in Santorini?
Although taxis are a very convenient way to get around Santorini, especially if you do not mind waiting and do not want all of the hassles of navigating the roads yourself, some alternatives may suit your plans better.
Hiring a car
If you are planning on exploring the island at your leisure, or if you have a large number of people in your party, you may want to consider hiring a rental car and using this as your method for getting around the island. 
Hiring a car will help you avoid the long waiting times and give you the option to explore the best of Santorini in your own time without having to conform to the taxis' timetable or waiting times. 
Suppose you are traveling to Santorini with a large number of people. In that case, this may also be a much cheaper way to explore the island as taxis typically only accommodate up to four passengers.
However, remember that you will need to find a place to park and pay for parking, which is why some people prefer the convenience of a taxi even if it is more expensive.
Public transport
If you are planning on exploring the popular destinations in Santorini, then opting for public transport instead of a taxi may be a better option. However, you will need to look up and stick to a timetable.
Buses are a very cheap way to get around the island but note that they quickly become very crowded in the summer months of July and August. So, if you are traveling with a lot of luggage, then a taxi may still be your best option.
A quad bike
Because many of the roads in Santorini are very small and windy, you may see many people going around on quad bikes. If you have no children at your party, this may be another viable option for getting around during your stay.
However, remember that if you are planning on traveling a lot during the day, you will be exposed to the UV rays from the sun and so will need to cover up or account for this with sunscreen.
Read more about the weather on Santorini here: Santorini Weather – Month by Month
Quad bikes are also known to be more dangerous than cars and should be taken seriously as a form of transport. Remember that you will need to find a place to park your quad bike just like a car.
To sum up
Taxis in Santorini can be expensive and incur long wait times, but they are also a very convenient method for getting around the island. There is no need to use a map, park the car or pay for parking, and you can even have a glass of wine with dinner!