These days, ridesharing apps like Uber are one of the most reliable. They are secure, fast, and affordable. As such, if you're used to using these apps and are planning to visit Cabo San Lucas, you may wonder if they exist in this city and area.
Simply put, Ubers exist in Cabo San Lucas, and you can use your app since it will work the same way once you arrive in the city. Also, Ubers in the city is more affordable, available, and accessible.
Of course, Uber isn't that established in Cabo San Lucas and other Mexican cities, unlike in the US. As such, you'll want to know a few things about the use of Uber in the city to maximize your use and its limitations.
For this reason, we made this article to guide you on using Uber in Cabo San Lucas. In addition, this information includes helpful tips and insights about this ridesharing app to help you use this transformation method as you explore the city.
Without further ado, let's get into it!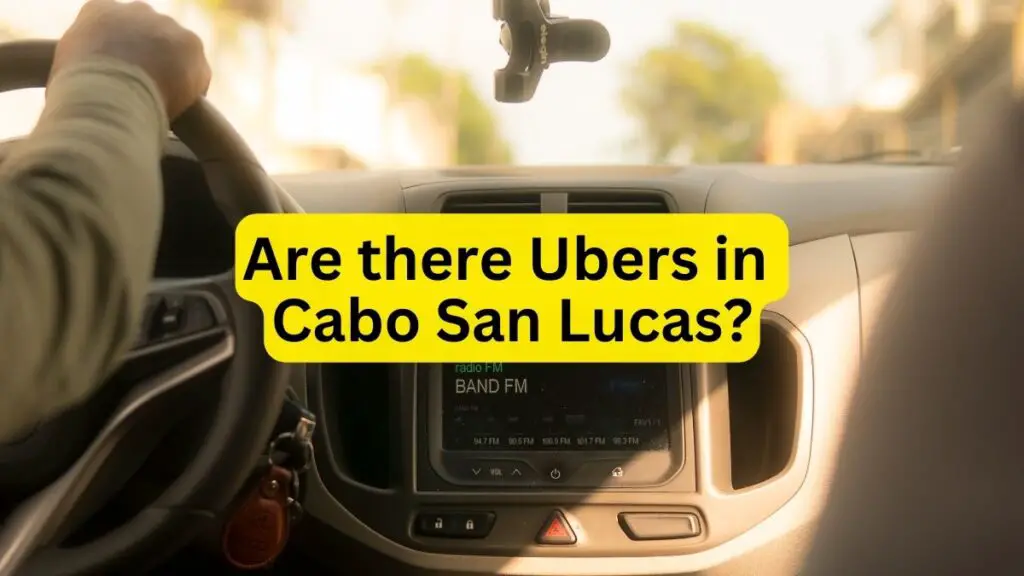 Does Cabo San Lucas Have Uber Services?
As mentioned earlier, Cabo San Lucas has Uber services. However, when you arrive in the city, you won't think they do, and it's because of the Taxi drivers. 
If you search for Uber online, you'll find lots of misinformation, and it's because of the taxi drivers who are pushing Uber drivers out of tourist spots. 
The thing about taxi drivers in Mexico is that they are known for overcharging tourists. In addition, they are unregulated, so they won't show you an exact fare guide and can charge you a lot, especially if they see you as a tourist who knows very little about fare prices in the city.
Since Ubers are affordable and regulated, most people choose them over taxis, which makes taxi drivers angry.
There has been some competition between Taxi and Uber drivers in recent years. Nonetheless, Uber remains available at the moment.
Is Uber Convenient in Cabo San Lucas?
If you're in the main areas of Cabo San Lucas, you can find plenty of Uber drivers to take you to your preferred destination. 
However, if you're booking an Uber from somewhere remote, you'll find it challenging to see available Uber drivers. 
For such trips, we recommend renting a car or booking a guided tour to help you explore the remote areas.
Nonetheless, most popular establishments and tourist spots are located downtown and accessible in that area. As such, you won't find it necessary to rent.
How Much Is Uber in Cabo San Lucas?
Traditional taxis in Cabo San Lucas charge a lot for every trip. As such, it can be surprising to see Uber apps offering five times less the price for the same ride.
For instance, a taxi driver may charge you as high as 20 to 30 USD, while it will only be around 3 to 5 USD on Uber. That's how much the price difference can be.
Since Uber charges way more affordable fares, we recommend giving a tip to your Uber Driver. This way, you can help him earn more. Even an extra dollar of a tip goes a long way since their fares are cheaper than taxis.
If you want to compare the prices of the two, read: How Much Is a Taxi in Cabo San Lucas?
Are Uber Services Legal in Cabo San Lucas?
Technically speaking, Uber isn't legal in the city. However, unlike taxi drivers, uber drivers don't go through the taxi licensing rules. As such, they are illegal. It's also one of the reasons why taxi drivers are against Uber services and thus try to push them out of the city.
Despite such, many people still use Uber in Cabo San Lucas and other parts of Mexico. However, you can't book an Uber upon arrival at Los Cabos International Airport because of this matter.
Another result of this concern is that sometimes Uber drivers will ask you to sit in the front seat rather than the back. This way, you will look like a friend rather than a customer as they drive you to your destination.
It can be inconvenient for some people, while others can tolerate it to save money. If you feel the same, you can always take a taxi or book a private transport service to help you through your vacation.
Can You Book an Uber from Los Cabos International Airport?
Since Uber services aren't technically legal in the region, you cannot book their service from the airport. However, most taxi drivers there can address you for doing so. 
For this reason, you won't find any available Uber drivers nearby. Nonetheless, if you're going to the airport, you can book an Uber to take you there.
If you feel like taxis are too expensive to take upon arrival at the airport, you can book a private transport service. Or, you can ask your hotel or resort to arrange an airport transfer service.
They offer complimentary airport transfers if you stay at an all-inclusive luxury hotel or resort. However, you must inform them of your arrival and departure to arrange a service.
Tips When Booking an Uber in Cabo San Lucas
Although Uber is convenient, you may still find these tips helpful when booking this ridesharing app in Cabo San Lucas:
Beware of Signal
When booking an Uber, you'll need access to the internet. So it's okay if you're booking somewhere with a Wi-Fi connection. However, if you're relying on your data, Cabo San Lucas' cell reception needs to be higher in some places. As such, don't rely on Uber if you're going somewhere remote since you can't book an Uber without the internet.
Avoid Airport Booking
Uber drivers don't legally operate, so they cannot do pick-ups at the airport. However, if you're departing the city, you can book an Uber to take you to the airport.
Ubers Aren't Allowed in Resorts
Some resorts don't allow Uber services, so they can't pick you up from the resort's lobby. If you book an Uber, you'll need to walk to an area where the driver can pick you up. However, they can drop you off if you're going to the hotel.
Ubers Don't Accept Card Payments
Unlike Uber services in the US, the ones in Cabo don't accept card payments. As such, you'll need to pay in cash. You can pay through the Uber app, but most Uber drivers don't accept bookings with online payment since they want cash.
Don't Rely on Uber for Remote Areas
If you're going to remote areas, you can't rely on Uber since you won't find any car available for booking. 
Many People Use Uber
If you're adamant about booking Uber since they're technically illegal, don't be. Almost everyone in the city uses Uber, and it's an affordable transportation option and a better alternative than a taxi.
Rental Car or Uber: Which One is Better?
Some Cabo San Lucas travelers are torn between Uber or Car Rental. While car rentals are way more convenient, they are more expensive than Uber services.
With Uber, it's easy to travel around the city and arrange private tours for activities, day trips, and excursions without needing a car. Now, if your itinerary involves a lot of off-beaten routes and remote areas, you'll need a car.
If you want to know more about this matter, read: Do You Need a Car in Cabo San Lucas?
Conclusion 
If you're visiting Cabo San Lucas and you plan on using Uber, this service exists in the city and is affordable, secure, and convenient. One thing to note is that Uber is only available within the city and cannot pick you up in high-end resorts or at the airport.
Tourists should avoid riding taxis in the city because they tend to overcharge. Instead, for excursions outside the city center, you can book private tours and use Uber to travel within Cabo San Lucas. 
If you want, you can always bring your car to Cabo. It's a long drive, but it's an experience, especially if you have the time. To know more, read: Can You Drive to Cabo San Lucas?