Tulum is a beach town known for its white-sand beaches and crystal-clear blue waters. The stunning beaches of Tulum attract thousands of visitors every year, and it's likely that you plan on visiting and enjoying some time on these beaches. Now, one thing you may wonder about is the accessibility of these beaches. As such, one of the things you may ask is: Are Tulum beaches public or private?
Tulum Beaches are all open to the public. However, some hotels and beach clubs design their establishments so that accessing the beach becomes almost impossible. It's their way of providing privacy to their guest. Most establishments allow non-guests to check out the beach, but it usually has a fee.
If you're planning a trip to Tulum, you'll want to know the beach areas to see and enjoy. Further, a part of this information includes an understanding of the public areas and the private beach clubs, which we'll cover in this article.
Here, we'll give you all the public beach areas in Tulum and also the Private Tulum Beach clubs. We'll also let you know what to expect in these areas to help you plan your trip and enjoy the beach in this town.
Let's get started!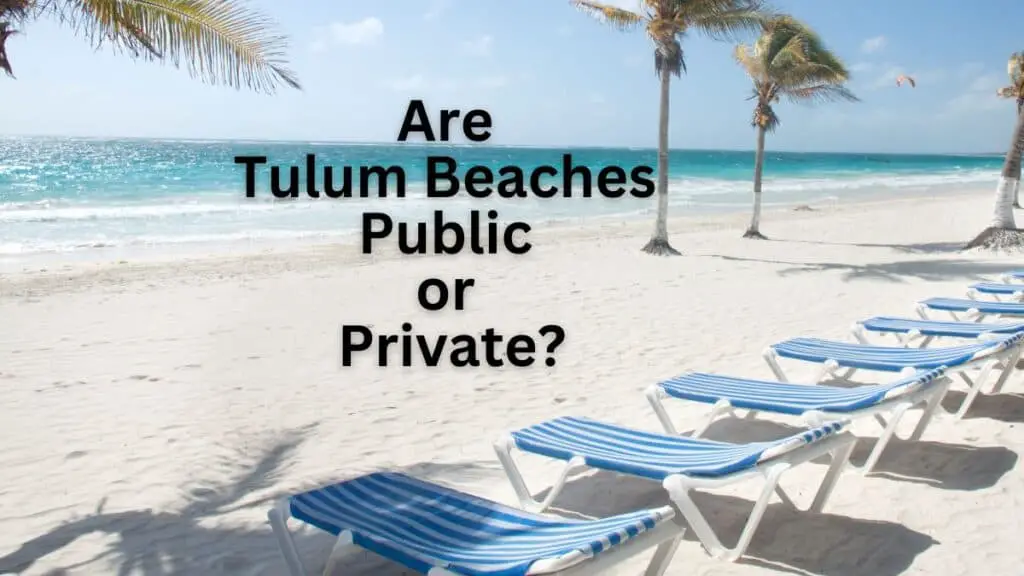 Public Beach Areas in Tulum
The public beach areas in Tulum are where you can enjoy the beach and everything in it without paying an entrance fee.
Although these areas are public, they still have that fine white sands and clear blue waters that are iconic to Tulum.
As I mentioned earlier, Tulum's beaches are public, which means they are free to access. However, some areas are difficult to access due to the surrounding establishments.
Now, if you're searching for public beach areas that are easily accessible, these are:
Playa Ruinas – The beach below the Tulum Ruins
Playa Santa Fe – The beach right next to Playa Ruinas
Playa Pescadores – A small beach area that's part of Playa Paraiso
Playa Paraiso – The beach between Playa Santa Fe and Playa Las Palmas
Playa Las Palmas – The end of Tulum's North Beach
Secret Beach in Sian Ka'an – The beach along the Sian Ka'an Biosphere
One thing to note is that the first five public beaches make up the entire Tulum's North Beach. On the other hand, the Secret Beach in Sian Ka'an Biosphere is the farthest in the south. 
The rest of the beach areas, mainly along the Hotel Zone, are pretty secluded and private. Further, entry to such beach areas would mean passing through hotels and other establishments, and they usually charge for it.
You can read our in-depth article here: Best Beaches in Tulum – A Guide for Travelers.
Things to Know About Public Beach Areas
Now, if you plan on spending time at Tulum's public beaches, you may need to know these things. In one way or another, these things can help you plan your Tulum beach trip.
The areas can get crowded
Since the public beaches are free and easy to access, these areas attract most of the crowds. However, if you want to enjoy Tulum's beach the cheapest way possible, these areas are for you.
Now, the crowds should not stop you from seeing this beach. Even with so many people, the long stretches of these public beaches will remain as enjoyable.
Lack of beach amenities
Another thing to note is that public beaches may lack beach amenities. For example, you won't find chairs, tables, and even umbrellas on some of these public beaches.
However, there are some spots where you can find beach clubs that offer beach amenities for rent. Now, if you don't want to spend on such fees, your best bet will always be to bring your own.
Parking can be limited
As public beaches gather crowds, the parking spaces can also be limited. As such, it's best to head to the beach early to secure a parking space. Now, if you're visiting during the off-season, you'll often find plenty of parking spaces.
If you want a complete guide about parking, we have an article for you. This information can be handy, especially if you're bringing or renting a car to this town. For more information, read Parking in Tulum.
Private Tulum Beach Clubs
The private beach clubs in Tulum offer a more relaxing and enjoyable time by the beach of Tulum. These beach clubs offer services, privacy, amenities, and other things to make your day by the beach a bit more relaxing.
Here are some of the beach clubs you can check out in Tulum:
Villa Pescadores Beach Club – The beach club beside Playa Pescadores
Papaya Playa Beach Club – The beach club at the center of the hotel zone
Coco Beach Club – The beach club at the end of Tulum's New Road
Taboo Tulum Beach Club – The beach club beside Coco Beach Club
Ziggy's Beach Club – The beach club beside Taboo Tulum Beach Club
Vagalume Beach Club – The beach club beside Ziggy's Beach Club
These beach clubs, except Villa Pescadores, are located in the southern part of Tulum Beach. However, since most of these private beach clubs are located in the south, these areas don't attract many crowds. 
In most cases, you'll only find checked-in guests roaming around these beaches. However, it offers a more intimate and quiet area within Tulum beach.
How to Access Hotel Beaches?
Some hotels make the nearby beach areas hard for crowds to enter. As such, they provide some privacy and seclusion to their guests. 
Overall, this concern will not be for you to worry about if you book your stay at a beachfront resort or hotel. If you're considering booking a beachfront hotel, check out: Best Beachfront Hotels in Tulum.
For instance, some hotels make the beach in front of them accessible only through the buildings. Therefore, the only way to access the beach is through them.
In some, very few, you can walk through relatively unnoticed. Only guests are permitted in, and all access to the beach is blocked.
The beaches of Tulum are not, technically, private. However, it is almost impossible to reach the beach from the beach road because of the hotels.
To access hotel beaches, you can ask the hotel if you can pass through to enjoy the beach. Some of the hotels are kind enough to let you pass through. 
However, in some cases, they ask that you pay an entrance fee or spend a minimum amount at their restaurant or bar.
If such is the case, it's up to you whether you want to avail or walk and find other passages to check out the beach.
Now, if you want to know more about hotels, you can check out our general guide about choosing the best ones in Tulum. For more information, read: Where To Stay In Tulum?
How to Access Private Beach Clubs?
When it comes to private beach clubs, most of them offer a day pass. A day pass is like an entrance fee that lets you access the area. This fee may or may not include free use of beach amenities. If not, you can pay an extra charge for it.
One thing to note is that the beach clubs are usually part of the hotels. Some clubs are meant for relaxation and chill, while others are places for parties and nightlife. Thus, it's up to you to choose which one you want to enter.
As I mentioned earlier, the entire beach of Tulum is free and open to the public. You can always walk by the shores and check the areas near the private beach club.
However, if you want to enjoy the beach amenities and order food or drinks, you'll need to pay for rentals and the orders.
Conclusion
In a nutshell, Tulum beaches are open to the public, and you shouldn't worry about paying anything as long as you're walking and enjoying the shores. However, there are areas where access can be complicated. Also, beach amenities will make your beach day more relaxing.
If you're on a budget and want to enjoy a beach day in Tulum, the best thing to do is bring your amenities and food. Now, if that's a hassle, paying for a day pass, renting some beach amenities, and ordering some food are always worth it.