An ATV (short for 'all-terrain-vehicle') is a standard vehicle you'll find in Tulum, and it's a handy vehicle in this town for many reasons. As such, you'll find many companies offering an ATV Rental and an ATV Tour.
An ATV rental lets you ride an ATV for a day (or more) without any guide. It offers flexibility, and it's a cheaper rental than a car. On the other hand, an ATV Tour is a package that lets you ride an ATV through Tulum's destinations and often includes other activities.
If you plan on renting or availing of an ATV Tour Package, you need to know a few things, including the inclusions, requirements, and prices. As such, we rounded up the best options for you in this article, including everything you need to know about ATVs in Tulum.
Without further ado, let's get started!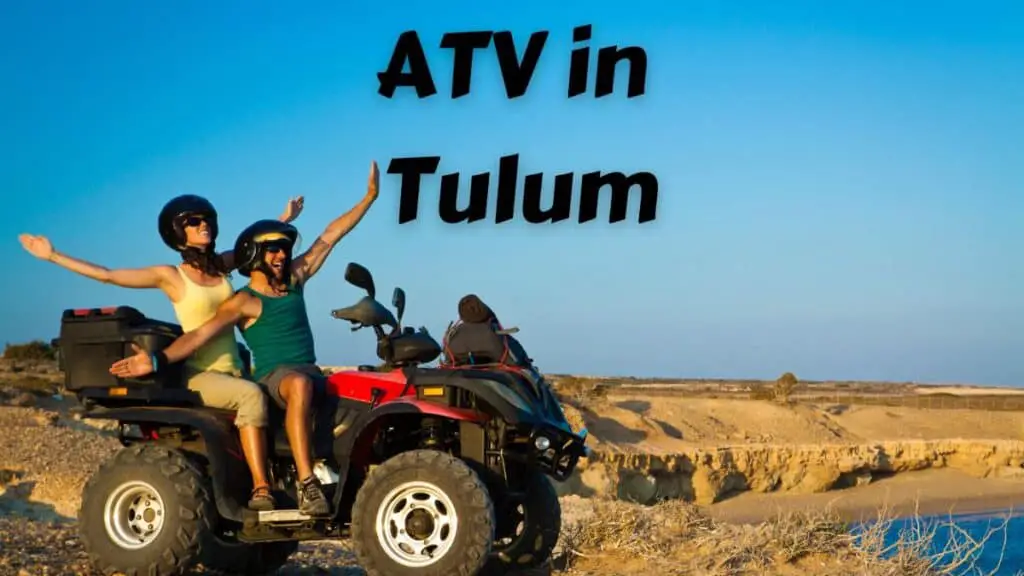 Why Should You Opt for an ATV in Tulum?
Driving in Tulum can be dangerous because most streets have bumps and cracks. However, when you use an ATV on these streets, you will most likely be safe while riding in Tulum's streets. 
Further, an ATV is cheaper to rent than a car. If you're considering a car but are still deciding if it's worth it, read about: Do You Need a Car in Tulum?
Now, there are two ways to enjoy an ATV in Tulum. You can either rent and drive it on your own or avail of an ATV Tour and enjoy riding with a guide while visiting Tulum's destinations.
ATV Rental in Tulum
ATV Rentals allow you to ride an ATV without a guided tour. As such, you can explore Tulum on your own without any tour guide with you.
This rental is ideal if you want to enjoy riding an ATV in town at your own pace. ATV Rentals offer flexibility since you can stop wherever you want and visit famous tourist destinations on your own.
It's also ideal if you have a planned itinerary and want to visit them on your own. 
ATV Rental Companies in Tulum
Here are some of the companies in Tulum that offer ATV Rentals.
Tulum ATV Rentals
Address: 77764 Tulum, Quintana Roo, Mexico (Pick-up and Drop-off Point Only at Starbucks Tulum)
Phone Number: +52 999 192 7621
Website: Tulum ATV Rentals
Price: 60 USD Per Day
Paradise Rentals
Address: Calle 7 sur, esquina con 6 sur, manzana 733, lote 21, zona 09, Colonia Veleta. Tulum, Mexico
Phone Number: +52 198 418 49368
Website: Paradise Rentals
Price: 110 USD Per Day
Wee Go Rentals Tulum
Address: Av. Tulum Manzana 892, La Veleta, 77760 Tulum, Q.R., Mexico
Phone Number: +52 999 242 4716 
Website: Wee Go Rentals Tulum
Price: 90 USD Per Day
The Lagoon Company
Address: Av. Coba Mz 59-Lt 1, Tulum Centro, Col Huracanes, 77760 Tulum, Q.R. (across Chedraui)
Phone Number: +52 984 212 4294
Website: The Lagoon Company
Price: 80 USD to 170 USD Per Day
Prices
An ATV rental in Tulum typically cost around 100 USD per day. Some companies have cheaper rental fees while others have higher ones. In most cases, the prices depend on the inclusions and the limitations of use in the ATV.
While ATV rentals can be paid USD in booking and reservations, the company may or may not accept foreign currency when paying in town. As such,  it's best to have some local currency at hand. However, if you don't know where to exchange, here are some of the Best Places to Exchange Money in Tulum.
Requirements
The ATV Rental companies in Tulum have different requirements. However, here are some of the standard requirements they may ask:
At least 18 years old and above – If you're renting an ATV, you can drive it independently, without any guide, unlike ATV guided tours. As such, you need to be 18 years old and above. However, if you're on a guided ATV tour, the company may allow even the young ones to drive an ATV independently.
Valid Driver's License – A driver's license may also be required for an ATV rental since you'll be driving the ATV on your own. Thus, if you plan on renting an ATV, it's best to bring your driver's license with you at all times. It will also be necessary, especially if you're driving around Tulum if a police or traffic officer asks for it.
Reservation Deposit – A reservation deposit is also an essential requirement for every rental, and it commonly applies to ATV rentals. It's usually required upon booking, although some companies may ask you to pay for the deposit upon getting the ATV.
Damage Deposit – A damage deposit is always refundable upon return. Some companies may ask for this fee, while others include it in the reservation deposit. Some companies may also ask for it before riding the ATV.
Inclusions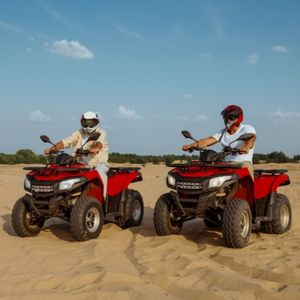 ATV Rental companies in Tulum offer different inclusions for an ATV rental, which mainly depends on the price and package you'll avail. However, some of the typical inclusions are:
ATV
Helmet
Unlimited Mileage
Full Tank of Gas (that you should fill up upon Return)
Tulum ATV Tours
Tulum ATV Tours has guided tours that will let you enjoy the best destinations in Tulum while riding an ATV. The packages can vary in price and inclusions, so list your preferred activities before booking a tour. 
Most packages include other activities besides ATV rides, giving you a satisfying experience during your stay in Tulum. 
Here are some of the best ATV Tour Packages you can avail yourself while in Tulum:
Maya Adrenaline Tours
Maya Adrenaline Tours is a travel agency that offers fun adventures, including ATV tours. As such, it's an excellent choice if you want a guided ATV tour to help you check out the best places in Tulum.
With only 99 USD, you can enjoy an adventure-filled tour for nine hours. This package essentially lets you visit most of Tulum's tourist spots.
With this tour package, you can ride an ATV across Tulum's jungle and do other activities like riding zip lines, cenote hopping, and visiting the famous Tulum Mayan Ruins. 
The package also includes a traditional Mexican lunch. As such, you'll enjoy Tulum's vibe at its best.
Price: 99 USD per person
Duration: 9 hours
Inclusions: ATV Riding, Rappelling, Cenote Hopping, Tulum Mayan Ruins Excursion, Zipline riding, Traditional Mexican Lunch, and Round-trip transportation
Website: Maya Adrenaline Tours
Tulum Tours
Tulum Tours is another travel agency that will give you one of the most enjoyable ATV excursions in town. With this company, you can ride an ATV through the jungles of the Riviera Maya.
With only 80 USD, you'll get the most out of your money while you enjoy the best things Tulum has to offer. Further, you can enjoy the scenery as you ride an ATV.
The tour only takes around 4 hours. So if you want to relax after tiring activities, you can have plenty of time for the day.
The tour includes ATVs and a tour guide. The package also lets you travel to discover a cenote and enjoy some time in it. Additionally, you can ride a zipline and see breathtaking views of Tulum's trees.
Price: 80 USD per person
Duration: 4 hours
Inclusions: ATV Riding, 4 Zipline Riding, Cenote Excursion, and Roundtrip transportation
Website: Tulum Tours
Aventuras Mayas' ATVs Xtreme Tulum
Aventuras Mayas offers an ATV tour called ATV Xtreme Tulum. This package would be an excellent option for anyone interested in exploring Tulum's natural surroundings for a day through an ATV ride.
The package includes an ATV ride and offers a cenote excursion. It also includes a tour of parks such as Tulum's National Park and Zona Arqueologica Tulum. After traveling to the ancient city, you'll ride an ATV to cross Tulum's jungle.
Among the unique aspects is exploring the cenote tunnels and admiring the stalactites and stalagmites. 
Also, their guides are multilingual and fluent in Spanish, French, and English. So you'll indeed have an exciting tour of the town's most popular destinations.
Price: 107 USD per person
Duration: 7 hours
Inclusions: ATV Riding, Snorkeling and Swimming in a cenote, Tulum parks tour, and a buffet-style lunch
Website: Aventuras Mayas' ATVs Xtreme Tulum
While ATV Tours may include some cenote excursions along the way, you may not reach the best ones in town. If you want to discover the best ones, check out the Best Cenotes in Tulum.
Conclusion
ATVs are among the popular rides for rent in Tulum since they are safer to drive against the streets bumps and the jungle terrains. With options like ATV Rentals and ATV Tour Packages, you can enjoy Tulum's famous spots and navigate around town with an ATV.
While both options have limitations, they can be your best expenses in Tulum, depending on your preference. As always, you can enjoy an ATV in Tulum, especially when you have chosen the best option.