Cabo San Lucas boasts incredible coasts, each area unique to another. Here, you can enjoy basking under the sun with fine golden sands that welcome the waters of the Sea of Cortez and the Pacific Ocean. As such, beach time is a must for everyone who visits this city.
If you're also planning a vacation in Cabo San Lucas, you may wonder about the best beaches in the area. For this reason, we made this article to give you all our top picks on the beaches you can check out around.
Without further ado, let's get into it!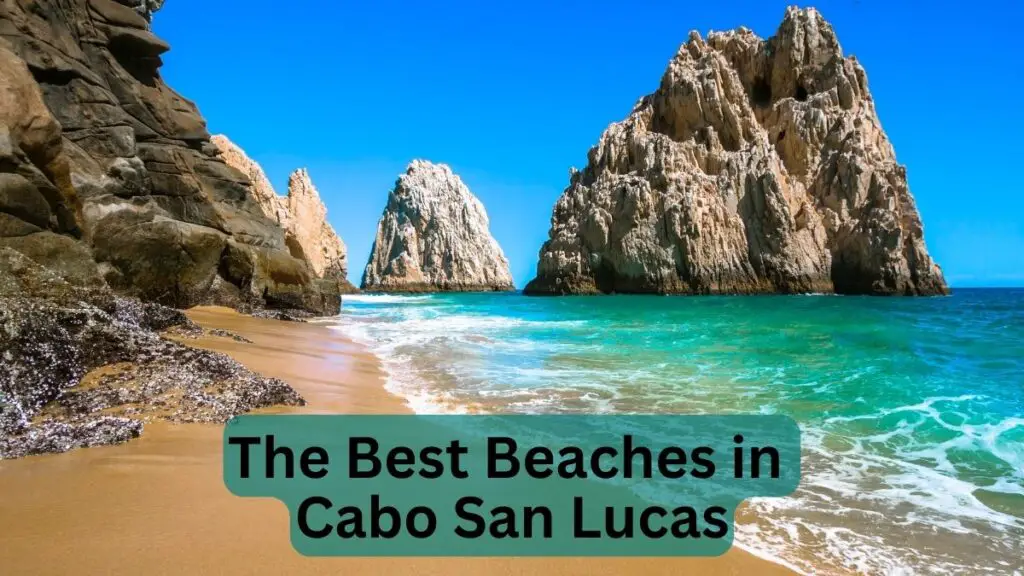 Medano Beach (Playa El Medano)
Medano Beach, also known as Playa El Medano, is probably the best option, especially regarding accessibility. This beach area boasts a two-mile stretch of golden-colored sand from the Marina. 
Medano Beach offers calm waters, unlike some city beaches, making it safe for swimming and other water activities. Further, you can enjoy the clear turquoise waters around. 
Due to its proximity to downtown and the Marina, it's the only beach area you can reach on foot. 
Here, you can enjoy the typical beach vibe, with vendors for easy access to food, drinks, and other amenities. It's also near some restaurants and bars if you want to dine in or get some excellent cocktails.
Another good thing about Medano Beach is its coast houses several hotels and resorts. As such, you can stay here for as long as possible if you book one of the nearby hotels.
You can enjoy many activities in the area, such as parasailing, jet skiing, kayaking, and many more. Once the day ends, you can head out to nearby bars to enjoy some meals and drinks.
Along with the Marina, this beach is a popular starting point for water taxis that take guests to Land's End.
Spend an evening watching people and drinking margaritas or beer on special at a beach table on the sand. A few bars even have lounge chairs where you can sunbathe while you're there.
Make sure you check out the beach vendors as well! They sell beach cover-ups, hats, jewelry, and many more.
One thing to note is that the proximity of bars and restaurants from the Marina can be loud. If you don't like such and want to relax, walk along the coast for a bit more for some quiet space.
To know more about this beach, read our guide article about Medano Beach.
Lover's Beach (Playa del Amor)
Lover's beach, also known as Playa del Amor, is a tiny cove of stunning fine sand embraced by a beautiful rock formation. 
This beach area isn't accessible by land, so you must book a private tour or ride a water taxi. However, it's worth visiting because of the scene it has to offer.
Here, you can enjoy a lovely beach away from the city. Further, since the waters are generally calm, you can do plenty of activities, such as sunbathing, swimming, and snorkeling.
Now, if you think it's a hassle to ride a boat, note that Lover's Beach is only one of the many spots accessible only by boat. 
When you visit Lover's Beach, you'll likely stop by several other areas like the famous arch of Cabo San Lucas, Divorce Beach, and many more. These areas are all near Land's End, and it's worth taking a tour to enjoy the best of Cabo San Lucas.
Now, if you plan on visiting Lover's beach, you'll need to wear your bathing attire since you won't find any bathrooms or facilities in the area. 
It's also best to bring protection from the sun and heat since you won't find any shade around here. Finally, bring your gear if you want to snorkel since you won't find any rental gear around.
Finally, the best time to visit is either early morning or late afternoon to avoid extreme heat and sunny weather.
Please read our guide article about Lover's Beach to know more about this beach.
Divorce Beach (Playa del Divorcio)
Divorce Beach, also known as Playa del Divorcio, sits beside Lover's Beach. As such, anyone who visits either of the two can also check out the other. But, unfortunately, no one can tell why if you're wondering about the name.
However, most locals say it's because it contrasts with its nearby beach area. While Lover's Beach is known for having calm waters, Divorce Beach has rough waves.
Nonetheless, both areas are surrounded by stunning rock formations, making them ideal for endless stunning pictures.
While sunbathing is ideal on both beaches, Divorce Beach is unsafe for swimming and snorkeling because of the intense waves. 
Chileno Beach (Playa Chileno)
Chileno Beach, also known as Playa Chileno, is among the best and swimmable beaches in Cabo San Lucas. From the name itself, this beach area is the coastal area of Chileno Bay Resort & Residences. If you're unfamiliar with it, it's a famous luxury hotel in the city.
This beach area offers calm waters, making it ideal for water activities such as swimming and snorkeling. It also boasts a well-maintained area that makes it more relaxing.
If you check out this beach, you can enjoy several amenities such as parking, outdoor showers, wide boardwalks, and public comfort rooms. 
Unlike other swimmable beaches like Medano Beach, Chileno Beach is quieter, making it a more relaxing option. Also, you won't find any vendors here that will always tail you and ask you to buy the stuff you don't need.
If you visit this beach, bring food since you will only find a few places to get some. It's also best to go early as the beach can get crowded, especially during weekends.
Santa Maria Bay (Playa Santa Maria)
Santa Maria Bay is another famous beach area, and it's a haven for snorkelers, swimmers, and divers.
Many divers and snorkelers like to spend some time here because of the tranquility. Furthermore, unlike other metropolitan coasts, this beach location is shielded from ocean surges. Because of this, snorkeling is permitted here and is perfectly safe.
In this area, you may see a variety of vibrant schools of fish. In addition, the beach's distinctive form, which resembles a scallop, adds to the scene's appeal.
Due to the calm seas, many snorkeling trips regard Santa Maria Bay as one of the best places in Cabo San Lucas and even the entire Los Cabos.
Its accessibility is just another fantastic quality that makes this place worthwhile. If you wish to check it out, you can go there by bus or private automobile.
If you want to know about other snorkeling spots in the city, read Snorkeling in Cabo San Lucas: A Guide to the Best Spots.
Cannery Beach (Playa Coral Negro)
If you want to check out some underrated beach areas in the city, look no further than Cannery Beach. This tiny beach area goes by several names, which can be confusing. However, most people consider it as the locals' beach, Playa Coral Negro, or Old Peoples' Beach.
From one of the names above, this beach is where locals often hang out. The beach has calm waters, and you can kayak around. 
It's a great starting point if you want to kaya towards Lover's Beach. However, some people prefer kayaking to escape the hassle of boat traffic from the Marina.
You can search for this beach area on google maps by writing Playa Empacadora, Cannery Beach, or Playa Coral Negro. 
Solmar Beach (Playa Solmar)
From the name itself, this beach area is the coast in front of Grand Solmar Land's End and the rest of the Solmar Resorts. 
This beach boasts a stunning view, but it needs to be swimmable since it welcomes the intense waves of the Pacific Ocean. It sits beside Divorce Beach, with a massive rock formation separating the two.
Another thing to note about this beach is that even though it's not swimmable, it's quiet, relaxing, and free from vendors. Here, you can enjoy sunbathing and see a perfect sunset view.
In some months, you can even see some whales from these shores. But, of course, you can always see them from this beach if you need a whale-watching tour in the city.
If you want to know more about the whale-watching season in Cabo San Lucas, read: The Ultimate Guide to Whale Watching in Cabo San Lucas.
Monuments Beach (Playa Monumentos)
Whether you're into surfing or want to watch some surfing action, the Monuments Beach is the beach to check out in the city. 
This beach area is a haven for surfers due to its excellent waves and reef breaks. However, even if you're not into surfing, you can check it out to watch some action.
If you're searching for this beach, you can find it beside The Cape Hotel. Here, you can find some daybeds to relax while watching surfers ride the waves.
Additionally, you can see the famous arch of Cabo San Lucas in the distance as you paddle out farther from the coast.
If you're a beginner at surfing, you should be careful since there are rocks on the shores. Such rocks have sea urchins and can cause accidents if you crash into them.
---
With this guide, you know about Cabo San Lucas's best beaches. We hope you check them out or squeeze a few into your itinerary. Depending on how long you stay, you can enjoy your time on any of these beaches if you visit the city for a while.