Mallorca is the largest of the Balearic Islands archipelago off the eastern coast of Spain. It is an extremely popular tourist destination and one of the best ones you can visit throughout the year. 
What makes it so desirable is its plethora of extraordinarily breathtaking beaches popular among tourists and locals alike.
Most of the roads are paved, and hence all the popular beaches are accessible by car. 
If you're wondering about the most popular beaches in Mallorca that you should keep a lookout for if you plan a trip to this island, you are in the right place. 
This article will give you important insight into deciding the beaches you want to visit and much more. So, let's get started!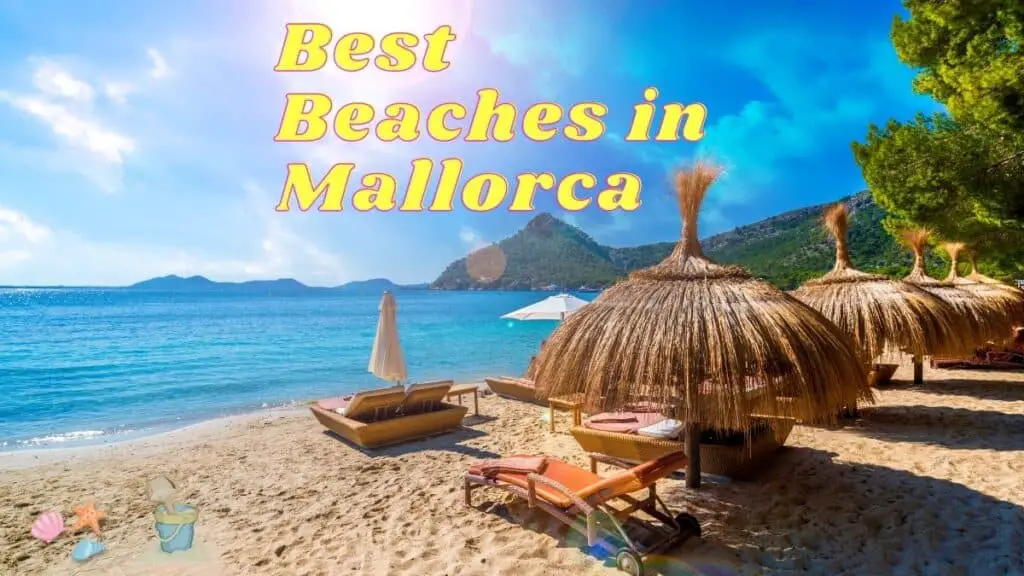 What is the Best Beach in Mallorca?
There are so many great beaches in Mallorca that this is not a question with one answer. However, we would name Cala Agulla as one of the top candidates.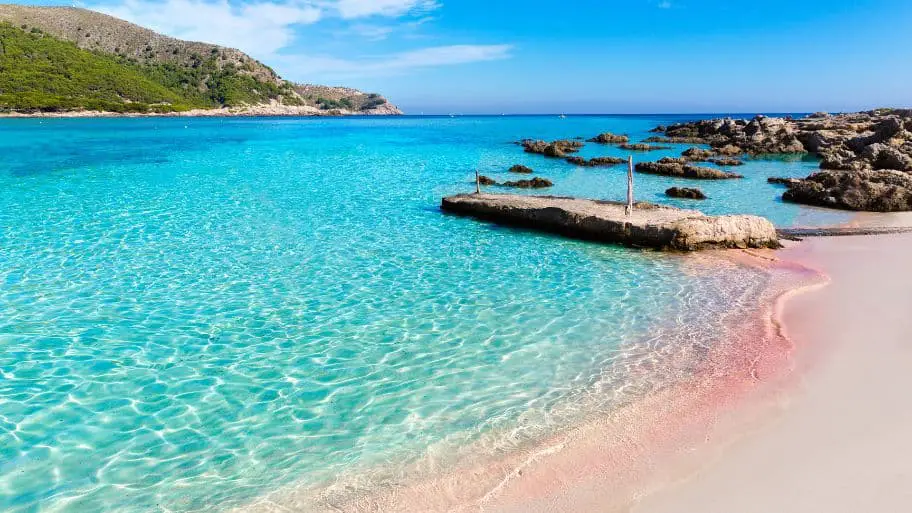 Located just about 80 km from Palma, Cala Agulla is one of the most beautiful beaches in Mallorca. With its pine trees and sandy shores, its beauty evades no one who sees it.
The sparklingly clean water that appears in a beautiful light blue is one of the best things to enjoy in this place. Moreover, you can pursue swimming and practicing watersports here. 
The place is dotted by pedestrian paths that lead to Cala Mesquida. Along the way, you can also see Cala Moltó, which is frequented by naturists quite often. The place comes with a snack bar and a paid parking area. 
The beach also offers amenities such as showers, toilets, and guards. Paid parking is located near the sea. The water is shallow, and the sand is ready for all types of activities. 
Is the Water Clear in Mallorca?
The waters around the island of Mallorca are clear and transparent, with the sand glistening in contrast with the dark areas of seagrass and rocks. Poseidon grass, also called green gems, are what makes the water appear so perfectly blue. This grass is abundant in the sea of ​​the Balearic Islands.
Mallorca has some of the clearest waters in the world, which is a big part of its appeal. These blue and clear waters can capture an adventurer's imagination and hold it in place. Such is the majesty of the waters by the beaches of Mallorca.
Which Side of Mallorca Has the Best Beaches?
The North Coast of Mallorca is famous for its spectacular cliffs on the Formentor peninsula and, most of all, its amazing beaches. The North Coast has a lot to offer with long beaches, calas, historic cities, ruins, and castles. It has everything a tourist needs and wants and then some.
We recommend the North coast side of Mallorca stay as it offers easy access to the whole island and is home to a wide variety of places and activities on its spectacular beaches. However, we also do have a runner-up of sorts: The East Coast.
Related articles: How Big is Mallorca? and Do You Need a Car in Mallorca?
The seafront between Cala Millor and Cala Bona is sandy and is one of the main beaches on the east coast of Mallorca. It is one and a half mile long. It is supported by a promenade suitable for hiking, biking, browsing gift shops, or drinking at one of the many cafes, bars, or restaurants.
More to read: Is Mallorca Expensive?
Beaches in Mallorca
Here we have listed some of the most famous and notable beaches in Mallorca and why you should visit them.
Cala Mesquida
Cala Mesquida is a sandy beach located between pine trees and dunes on the northeast coast of Mallorca. The beach at Cala Mesquida is about 1,600 feet [350 m] long, with a harbor of sand and gravel. The water is pure and clear, but the winds here can trap and cause coastal waves and currents.
It is very popular with tourists, especially Germans and Britons, under the age of 50 and is most popular with families who appreciate the easy access and a large area of ​​sand and sea. 
Loungers and umbrellas are available for rent. There is a single restaurant and snack bar that offers delicious food and drink, but the facilities are limited. There are showers but no changing stations, and there are small water sports except for diving boats, surfing, and paddling.
Read more on surfing here: Can You Surf in Mallorca?
Cala Mesquida is a popular base for diving tours, and a few dive companies in the area offer special trips. Snorkeling is also very popular here. 
The beach can see some waves, which makes it famous for surfing, but that is maintained especially when there are few crowds and large waves. There are rowing boats available for hire, but no other water sports equipment is allowed to keep this vast sea quiet and comfortable, a perfect place for sunbathing and swimming.
Puerto Pollensa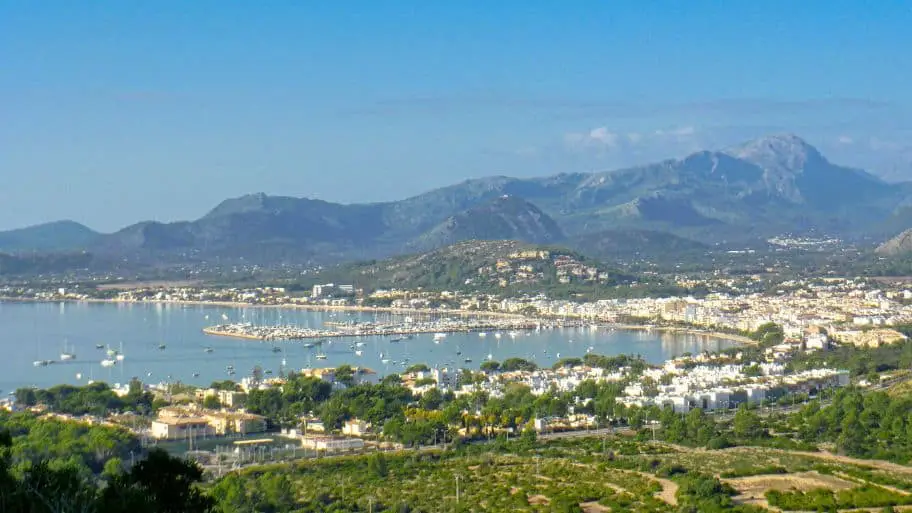 Like many of the island's busiest resorts, Puerto Pollensa can trace its roots to the fishing grounds. Its quick transformation began at the turn of the century when it became a popular summer destination for affluent Mallorca classrooms, many of which built a beautiful resort overlooking the harbor.
Artists and writers, too, are attracted to visit or stay in Puerto Pollensa because of the region's outstanding natural beauty. A few resorts along the cliffs of Cala Mesquida offer budget hotels and self-catering accommodation and are just steps from the beach. 
This is the village of Cala Mesquida. There are low-rise buildings separated by paved roads and some with pools with reclining seats. 
Ca'n Picafort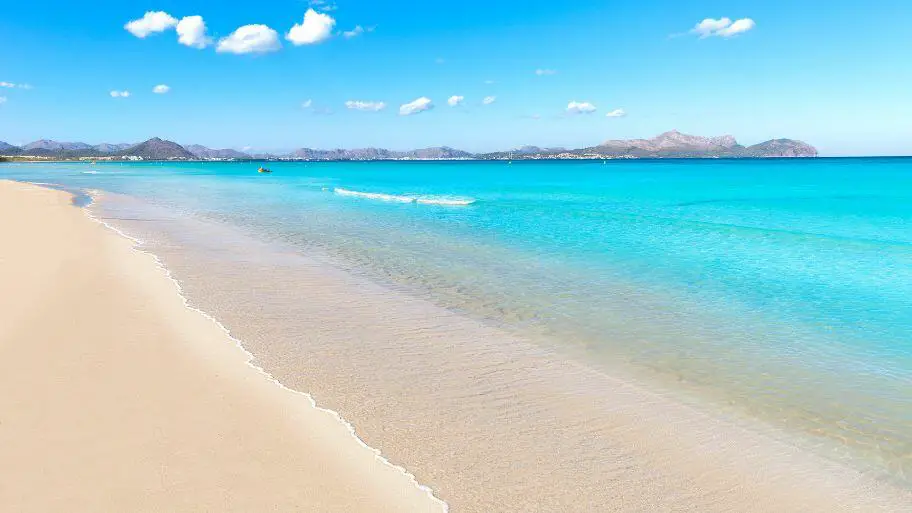 Can Picafort is an ideal resting place for families and couples. It is situated northeast of Mallorca, about 60km away from Palma Airport. Originally a small town, the resort has evolved into a popular tourist destination, with its long sandy beach and friendly atmosphere.
The village itself has a long, lovely sandy beach, which begins at sea and extends west to the Port of Alcudia. On the east, there is the small beach of Son Baulo, and to the west, the peaceful Playa de Muro.
This beach is the main attraction and earns that title due to its serene beauty and vastness. The hot and bright sun is a source of warmth and calm alike, while the cool refreshing water works great to create a fascinating contrast.
Both traditional and international restaurants can be found in C'an Picafort. German, British and Scandinavian tourists visit the place along with the locals. The restaurant offers good food to satisfy every taste.
Alcudia beach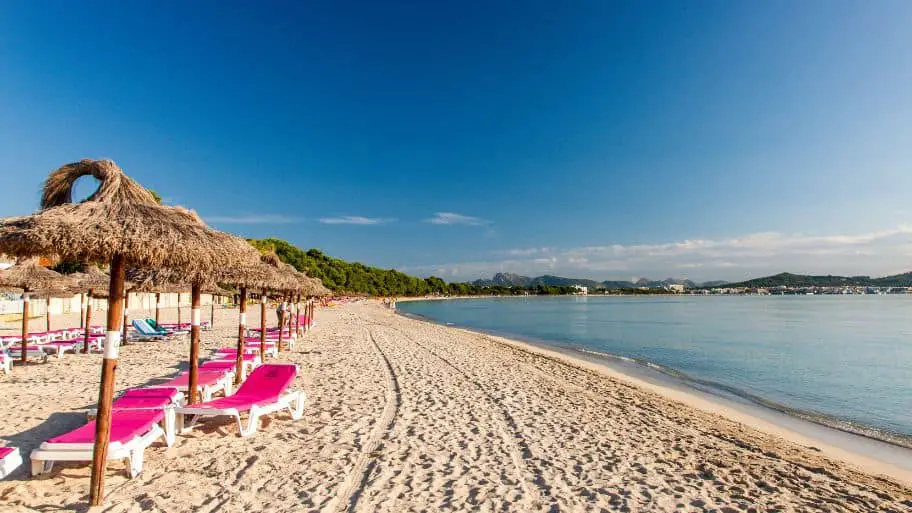 The port of Alcudia has a wonderful sandy beach! The sea is 10 km long and extends from Ca'n Picafort in the south to Port d'Alcudia in the north. It is perfect for the entire family. 
There are excellent facilities with showers, toilets, and changing stations, a special children's playground with exercise equipment, and tons of water sports such as kayak, SUP, and rowing boats, as well as large sand to build castles.
Seating Chairs and umbrellas can also be rented on the day. The water here is very clean, especially on a large recreational beach, and is usually calm. Still, sometimes the waves can rise in the north, so it is important to check the water conditions. This is not a party beach, although some bars and restaurants open in the evening.
There are many stages where it is possible to rent solar panels and sunshades, but there is also plenty of room for those who prefer to sleep in their towels. Utilities include showers and toilets. Hence you can have a good experience here with adequate facilities.
Behind the beach, there is a seaside resort with hotels, restaurants, shops, etc. You can buy everything from food and drink to sea balls and rubber boats here. Near the port of Port d'Alcudia, there is a large playground. If you come by car, it is possible to park on the roads behind the sea.
Es Trenc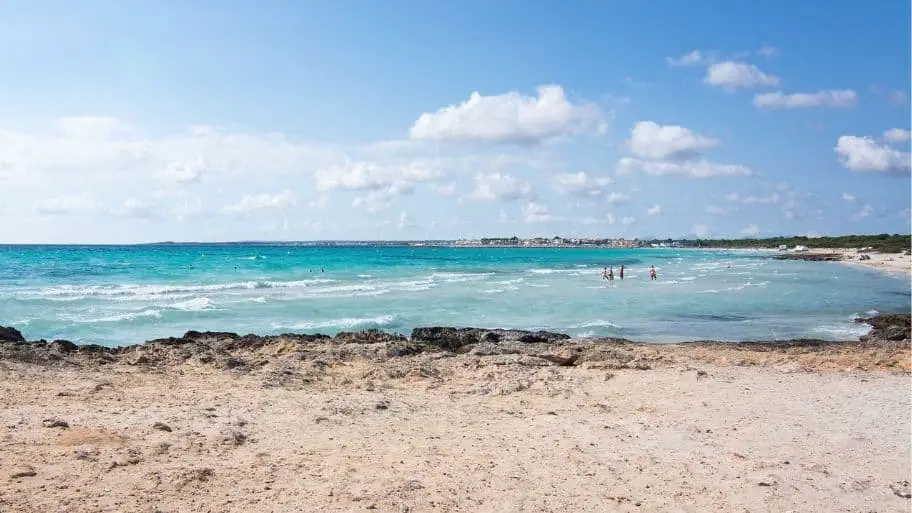 Es Trenc is the most famous beach in Mallorca and the last great natural beach, which has not been ruined by large hotels and a host of restaurants as of yet. 
The sea is now in a national park, so hopefully, no hotels or other facilities will be built near the sea in the future.
People came to Es Trenc to find the sea and escape. Sometimes one of the pubs will have live music after 18:00, giving a small party vibe, but generally, it remains a cool place. The beach is popular with tourists and locals, and it is rare to find naturists here, especially away from the large crowds.
It is recommended that you bring extra water and food as there are no shops or lodges nearby, and resources are limited to basic toilets, no showers, or charging stations. 
It is not uncommon to see merchants walking along the beach selling various items such as clothing, cold drinks, or handmade jewelry. The water is truly amazing here, and it attracts visitors.
A few paid parking lots can be reached by following the sign to Es Trenc. It is noteworthy that the beach usually has a lot of visitors in July and August. The beautiful beach is Es Trenc from above. The sea stretches for over 2 miles in a completely undamaged area.
Cala Deia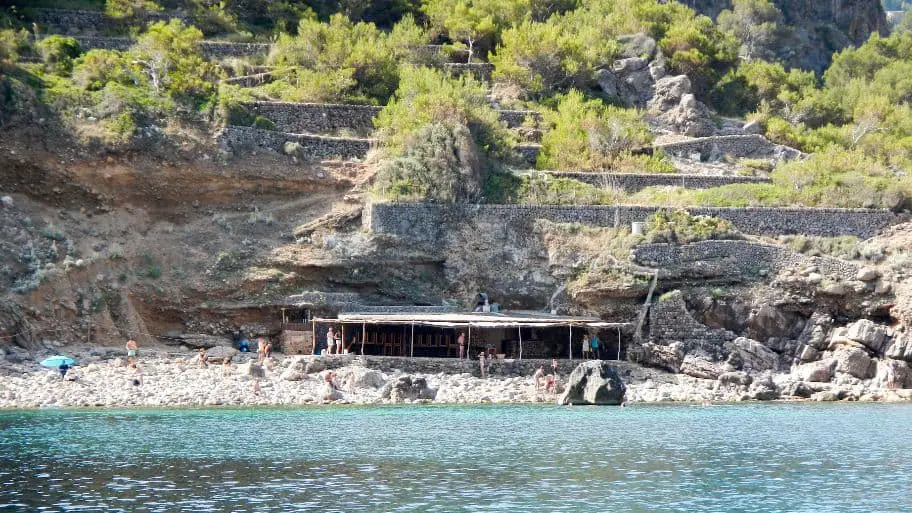 Cala Deia is a small beach just outside the popular mountain town of Deia, in the heart of the Tramuntana mountains northwest of Mallorca. The sea is only 70 meters long and mostly small rocks and large boulders. 
People live on the rocks and the surrounding rocks like lizards, enjoying the clear, blue water, the magnificent scenery of mountains and stone houses, and the delicious food.
The beach is provided with two excellent restaurants that offer traditional Mallorca cuisine. Another one of their specialties is seafood. You can decide to sit here and enjoy the beautiful surroundings while devouring your food. The harbor is protected by cliffs leading to pine forests.
There is a small jetty, but the harbor is not considered suitable to hold due to strong north winds at times. The water here is pretty clear turquoise and is very attractive for swimming. Due to the rocky nature on the sides of the cove is also a popular snorkeling area.
The sea is made up of rough sand and boulders and is only 6m deep, though it stretches 70m. The clear blue waters of Cala Deia are considered perfect for activities like deep sea diving and snorkeling. 
Some other activities you can pursue on the west coast of Mallorca include coasteering, canyoning, hiking, and kayaking.
Cala Torta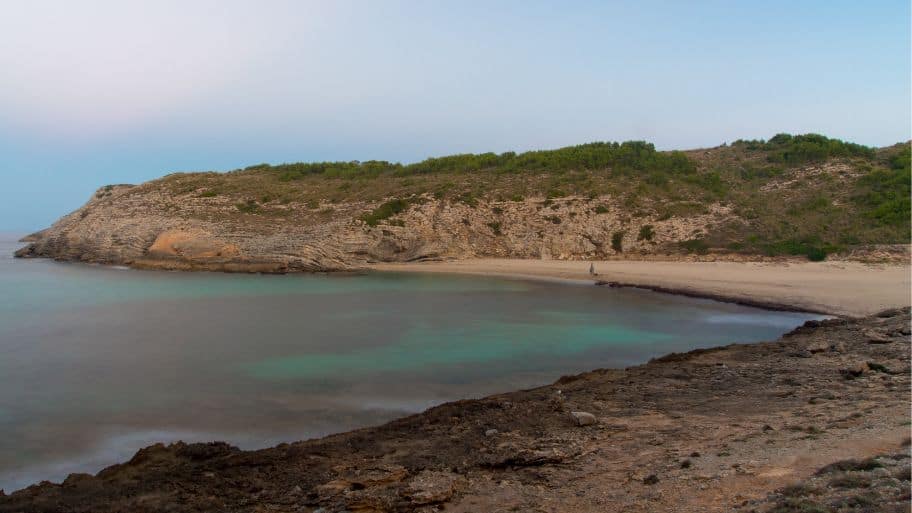 Cala Torta is a beautiful natural beach surrounded by wildlife and hills. The sand of this great beach is brilliant and clean. The water has gorgeous shades of turquoise and is very clear. Snorkeling conditions near rocks are ideal, especially on the left side of the ocean.
It is possible to reach Cala Torta from Artà by car through the MA-15 road. Follow the road to Cala Ratjada and, after a few kilometers, turn left at the intersection of the "Cala Torta" sign. After a few minutes, you will come to a slippery road on the right, marking the road to the harbor.
There are plenty of playgrounds on the beach; however, the water suddenly died. Observe the waves and the waves below when the wind blows from the north. Cala Torta is a real natural beach with no hotels or buildings nearby. The nearest resort is Cala Mesquida, located less than 2 km from the coast.
Conclusion
The Island of Mallorca and its beaches are incredibly beautiful – there is no doubt about that. No matter when you choose to visit the place, you will have a great time there.
Check out: Mallorca Weather – Everything you need to know
The bright and hot sun shines magnificently here. You are sure to have the time of your life in Paradise on Earth, which comprises the beaches of Mallorca's beaches, amazing resorts, unmatched restaurants, and beautiful stone-built villages.  
I hope you learned a lot from this guide and are ready to explore the best beaches in Mallorca with your family. There are tons of places you can go to and have fun, so get ready for the most memorable vacation of your life!