Many people notice Tulum because of its gorgeous beaches and the infamous Tulum Mayan ruins. Thus, most people find it surprising that this beautiful, laid-back town houses some of the best cenotes in Mexico and the world. 
There are many beautiful cenotes in and around Tulum for you to explore, and many are within walking distance. Thus, if you're visiting Tulum, you're in for a treat with a handful of beautiful cenotes.
This article will cover the ten best cenotes in Tulum and general information about each. We'll also answer some of the frequently asked questions about cenotes to give you a better idea before you tour this town's treasures.
Let's get started!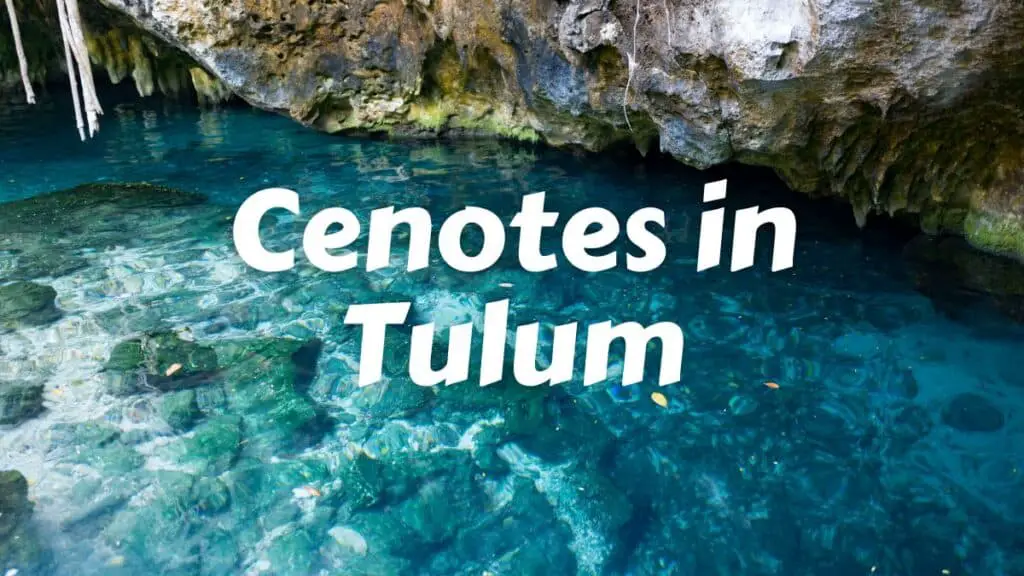 What Is a Cenote?
Cenotes are natural deep water wells fed by river currents and rain filtration from deep within the earth. For this reason, you can feel the freshness as you swim in one. In addition, the waters of cenotes average a maximum temperature of 75° F, making it an ideal swimming spot during summer. 
Cenotes are common in Mexico, and the term translates to sinkholes. The name came from the Mayans, who baptized them with the word Dz'onot, meaning 'cavern with water, from which their current name cenotes is derived.
How Many Cenotes Are in Tulum Mexico?
Cenotes are common in Mexico, particularly in the entire Yucatan Peninsula. While the area houses more than 6000 cenotes, Tulum houses around 226 of them alone. As such, you would never run out of Cenotes to visit.
If cenotes are the main reason you're interested in visiting Tulum, you may wonder how to reach the place. If so, we have an article about Tulum's location to guide you.
10 Best Cenotes in Tulum That You Must Visit
Since you probably have a limited time to visit hundreds of cenotes in Tulum, you may wonder which ones are the best, the ones you shouldn't miss when you're in town. For this reason, we rounded out the best for you as your cenotes guide.
El Gran Cenote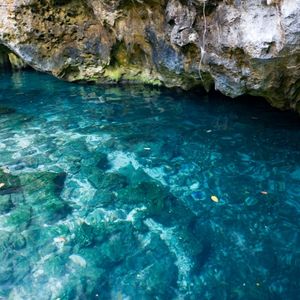 There are many cenotes to explore in Tulum, Mexico, but El Gran Cenote is one of the best. There are caves and caverns surrounding the open cenote.
An excursion to this cenote is best taken by diving. The site offers two diving sites frequently visited by snorkelers, scuba divers, and even sea turtles.
Besides being well protected, the ecosystem around this underground cenote is well preserved.
The cenote ecosystem caretakers require every tourist to wash under the showers on site before entering. In some caverns, bats hang from glorious stalagmites hanging from the roofs.
Since El Gran Cenote is one of the most popular, it often gets crowded. Thus, it's best to visit it earlier to enjoy the cenote with fewer people around.
Cenote Calavera
Cenote Calavera means "skull sinkhole" in English. It is located in the middle of the lake and has three swimming holes that look like two eyes and a mouth. As such, it resembles a skull.
If you're always online, you've probably seen this one on popular travel sites and social media pages. In addition, countless Instagram and Pinterest posts show their swing over the sinkhole.
When you jump into the pools from the ladder on the side of the cenote, you plunge 13 feet. Yet, with all its beauty, Cenote Calavera remains one of Tulum's must-see places.
Cenote Carwash (Aktun Ha)
Cenote carwash, also known as Aktun Ha, is a type of open-air cenote. Many people are curious why it's called 'carwash,' and it's not surprising. Local taxi drivers used it to wash their cars along the road, hence its name.
This cenote is easy to access. Nonetheless, it rarely receives many visitors. Therefore, you'll enjoy lounging in it if you want a place with fewer people.
Overall, this cenote is a popular place for snorkelers and sunbathers looking for a more laid-back vacation. 
One thing worth noting is that algae forms on the water's surface during the summer. This cenote is turned into a heated pool by capturing the sun's heat.
Cenote Dos Ojos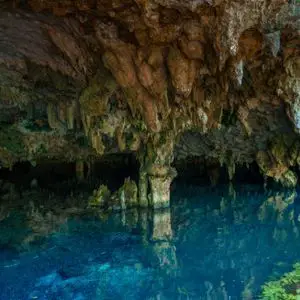 Cenote Dos Ojos, which means "two eyes," is a large cenote with plenty of room to explore. However, if I am to suggest, it's best to visit this cenote in the afternoon. During that time, the sun can light up the water as it hits the cave cenote.
Overall, Cenote Dos Ojos is famous for snorkeling. Here, you can enjoy seeing various fish, turtles, and impressive stalactites and stalagmites. 
The cenote also has large areas where you can dry yourself. There are also hammocks you can use by the waterside.
It's worth a visit, but it's one of the pricey cenotes to access as it costs around 200 pesos per person.
Cenote Zacil-Ha
Cenote Zacil-Ha is not on the beaten path, meaning it is less crowded than other sinkholes around Tulum center. It makes an ideal spot for those who want fewer people around.
This cenote is situated right along the Cenote Carwash, and it only takes 12 minutes of driving if you're starting from Tulum Pueblo.
With its discovery only 30 years ago, Zacil Ha is one of the most recent cenotes on this list. Locals only discovered these caves a few decades ago, but they are ancient. A unique feature of Las Lágrimas' cave chamber is the presence of teardrop-shaped stalactites.
While this cenote isn't great for snorkeling, it makes up for that by having a zipline running through it. For this reason, it's a cenote worth visiting if you love some thrill along your Tulum tour.
Cenote Angelita
Cenote Angelita might not be the most attractive cenote in terms of its appearance. However, its thrilling treasures lie beneath.
The waters of this cenote are around 196 feet deep, making it an ideal cenote for divers. One of the reasons this cenote is so attractive is the peculiar natural phenomenon that takes place in it. 
In this cenote, water densities differ due to a halocline phenomenon. Due to such a phenomenon, the cenote appears to have an underwater river flowing through it.
Another odd thing about the "river" is its egg-like solid smell caused by the gas, which some divers claim they can smell underwater.
Casa Cenote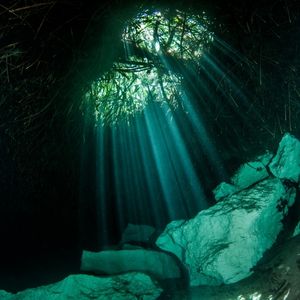 Despite the existence of several cenotes in Tulum, Casa Cenote seems to stand out due to its unique appearance. This cenote offers clear turquoise waters surrounded by the lush greenery of trees and mangroves.
What makes it ideal for visiting is that it's located near a beach, which means you can see both without traveling far.
Here, you can go for a swim or take in the scenery while riding a kayak or paddleboard. Also, it's a family-friendly cenote since it's only 6 meters deep. 
Lastly, snorkeling is popular here, attracting divers to an underwater cave system that leads directly to the sea.
Cenote Cristal
Cenote Cristal is an open-faced cenote that resembles an enormous swimming pool. Tall trees and shrubs surround the entire cenote. 
It almost seems like a natural swimming-friendly pond within a forest. Towering trees and shrubs surround this natural swimming pond in the forest. Its crystal clear waters make it a more attractive cenote to tourists.
In this cenote, there are three platforms with ropes in the water. These ropes provide a place for tired swimmers to hang on to. 
It is safe for the whole family to enjoy the cenote since the platforms are at different depths. You'll also find a 12-foot platform that allows divers to jump into a crystalline pool below after jumping from it.
Cenote Escondido is located next to the cenote, and tourists often buy one ticket for both.
Escondido Cenote
The Escondido Cenote means "hidden," and it's a literal meaning since this cenote is hidden within the center of Quintana Roo's jungle.
In this cenote, tourists can plunge into the waters from rocks using a rope. They can also swing themselves to the icy pools or even try fishing in the hidden pools.
Like most cenotes, Escondido is a favorite spot for divers. Both experts and newbie divers can enjoy this cenote with its 66-foot deep rock formations beneath the waters.
Kaan Luum Lagoon
Kaan Luum Lagoon is a cenote situated near Tulum Pueblo. The size of the cenote makes it look more like a lake than a cenote. However, since tourists or crowds rarely visit this cenote, locals love it and visit it often.
It looks like an eye because of the contrast between the light and dark blue waters. A light blue ring indicates shallow waters, ideal for relaxing and floating.
It is prohibited for anyone to enter the dark sinkhole supervised by the staff of the cenote. In addition, a net is placed in the middle of the pool to protect swimmers.
Are Cenotes in Tulum Free?
Most of the cenotes in Tulum charge an entrance fee of around 80 to 150 pesos. The cenotes have guides to see you through your visit, and they often have lockers to keep your valuables safe.
Further, these cenotes have restrooms and snack bars in case you need a quick bite or find a comfortable room.
How to Visit Cenotes in Tulum?
There are several ways to visit and check out the cenotes in Tulum. The convenient ways are to rent a car, ride a taxi, rent a bike (if you only want to visit nearby cenotes), or join a cenote tour.
Rent a Car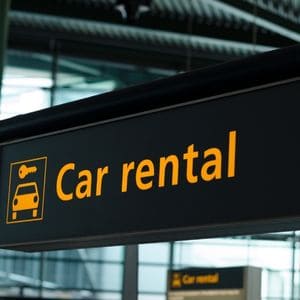 Car rentals are convenient if you want to check out the cenotes in Tulum on your own. It gives you the flexibility to enjoy one cenote at a time with no hurries.
Ride a Taxi
On the other hand, you can ride a taxi that can take you from one cenote to another. One thing to note, though, is that taxi drivers in Tulum are notorious for charging excessive fares. 
As such, you may want to know more about the price of taxis in Tulum to learn what fare is reasonable. Upon knowing the reasonable price, it's best to negotiate with the driver first to avoid excessive taxi fares. 
Rent a Bike
Lastly, you can rent a bike if you're up for it. Since most cenotes are near Tulum Pueblo, a few minutes of bike ride can let you reach some cenotes.
Join a cenote tour
While you can visit the cenotes on your own, you can also join a tour that will take you to several cenotes in Tulum. This option is ideal if you have limited time in Tulum and you want to make the most of it by visiting multiple cenotes at once. 
What to Bring When Visiting Tulum Cenotes
While visiting cenotes, you'll need a few things to bring. Some are necessary, while others will make your tour more convenient.
Cash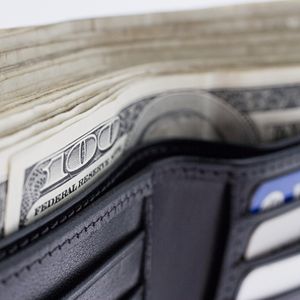 Like most establishments in Tulum, the cenotes don't have machines that accept credit card payments. As such, expect to pay in cash, from the entrance to snacks and other goods you'll buy.
Also, ensure that your cash is in the local currency rather than in dollars. If you don't know where to find local currency, you can check out the Best Places to Exchange Money in Tulum.
Towels
Most of the cenotes in Tulum offer towels for rent. However, if you want to save some cash, it's best to bring your own. It's also more accessible, especially if you're visiting several cenotes. 
If you're buying a towel before going to Tulum, we suggest you choose a microfibre towel since it's lightweight, soft to the touch, absorbs lots of moisture, and dries quickly after a few minutes of hanging. 
Sunscreen & Mosquito Repellant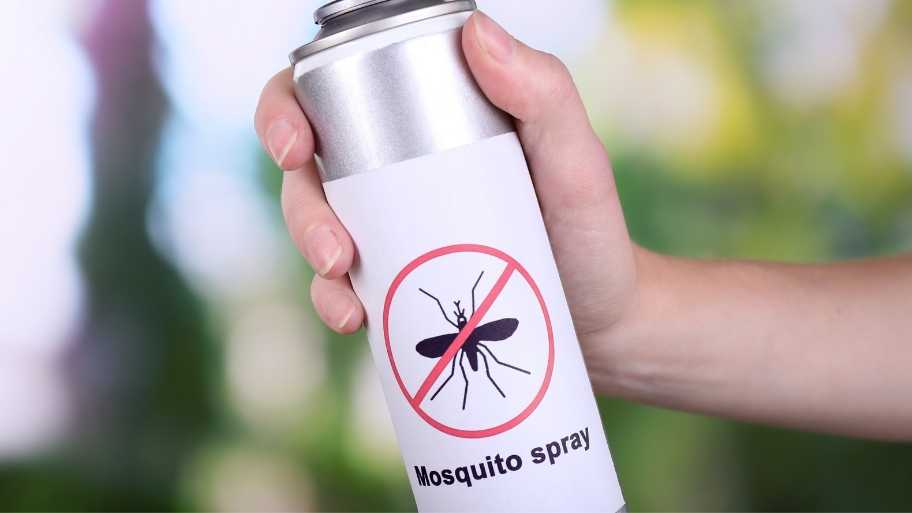 Another thing we recommend you bring is sunscreen and mosquito repellant of any kind. Since you'll be swimming in cenotes, most of your time would be under the sun's heat. As such, you need some sunscreen to protect you from sunburn.
Another thing is that cenotes are situated amidst trees and jungles, so there might be some mosquitoes lurking around. Mosquitoes are one of the concerns when visiting this town, and if you want to learn more, you can read our article about mosquitoes in Tulum.
Anyway, the last thing you'll want is to get bitten by such insects. As such, we suggest you bring some mosquito repellant with you.
Here are some you can use: Travel Size Mosquito Repellent Spray.
Action Camera
The picturesque scenery offered by cenotes would be a waste if you couldn't take pictures. However, since cenotes involve a lot of jumping and snorkeling in the water, we recommend bringing a waterproof camera with you.
With this in mind, the ideal camera would be an action camera like a GoPro, DJI, or Insta360 action camera. These cameras can capture wide-angle shots, which means you can take a picture of the entire cenote, even in a small or cramped space.
Conclusion
Tulum is home to several fantastic tourist destinations, but one of the highlights is the cenotes it offers. In general, you can enjoy hundreds of cenotes in Tulum, but a few stand out. Such cenotes are a must-visit for every tourist visiting this small town.
With this information, you can enjoy Tulum with knowledge of the best cenotes and have an idea of preparing for them. The rest of the concern is meant for you to enjoy each cenote. So take pictures, let your eyes feast on these natural wonders, and enjoy each one while you're at it.