In every place, there is its best time of the year when it offers the best experience to its visitors. If Cabo San Lucas is your chosen destination for a vacation, you would want to know when the best time of year is to visit.
The best time to visit Cabo San Lucas is during the spring and fall, such as May or November. These months have excellent weather, and the expenses, such as plane tickets and accommodation rates, are cheaper. However, the best time will vary if you plan on engaging in other activities.
Cabo San Lucas has a lot to offer, which means any time you decide to visit, it is worth it, regardless of the season. Nevertheless, if you want to travel at a specific time, you may need to know what months are best for you.
Throughout this article, you will learn everything you need to know about the best time to visit Cabo San Lucas. Travelers can use this information to determine which months are the best for their preferences. By reading this article, you will learn about the advantages and disadvantages of each season, which will help you plan the perfect Cabo San Lucas vacation.
Let's get started!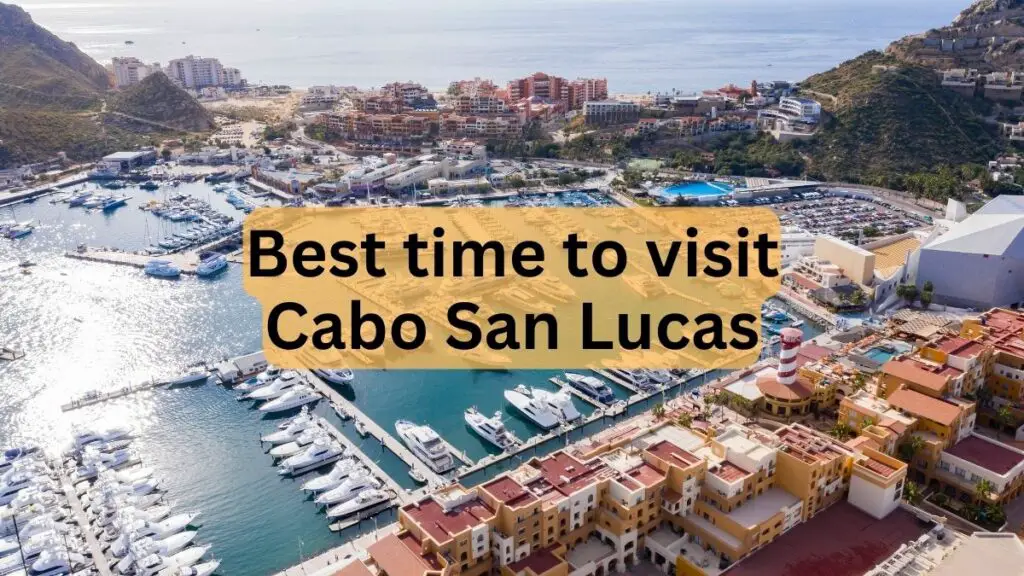 Best Time to Visit Cabo San Lucas
The best time to visit Cabo San Lucas depends on the preference of travelers. As such, it will vary from traveler to traveler.
Some people prefer to visit when the weather is perfect. If you also want the same, you can expect many people wanting to visit that time, meaning you'll find more crowds and expenses are higher.
On the contrary, some people want to enjoy the city with fewer crowds. As such, they are ready to deal with a bit of rain or bad weather. It's also the preference of travelers on a budget since the expenses are lower.
Based on travelers' preferences, here is a short and direct guide to the best time to visit Cabo San Lucas.
Cheapest Time to Visit Cabo
Traveling on a budget is always a goal, and most people can bear minor inconveniences in exchange for cheaper expenses.
As was already said, many people visit Cabo San Lucas during the winter season. For this reason, summer and fall are two of the most affordable seasons to visit Cabo.
Although the temperatures in Cabo hover over 90 degrees Fahrenheit from June to August, only some people intend to visit there due to the region's reputation for being blisteringly hot.
The fact that hurricane season falls in the summer and fall deters many tourists from visiting during those times. For this reason, the best time to visit Cabo San Lucas if you're on a budget is the months of June to August.
Least Busy Time to Visit Cabo
On the other hand, some people prefer to visit when there are lesser crowds to enjoy tourist spots on their own, or at least with only a few people around.
Some travelers also like having the city to themselves, which makes a vacation relaxing and peaceful.
With this in mind, May and November are ideal times to visit Cabo. In both months, tourism is lower, and prices are usually lower. 
The climate is also more excellent in these seasons, among other things. The evenings are significantly more relaxed than the days, which range from 85 to 90 degrees Fahrenheit. Colder temperatures occur from May to November, typically between 68 and 72 degrees Fahrenheit.
Worst Time to Visit Cabo San Lucas
While there are best times to visit Cabo San Lucas, there are also the worst. The most unfavorable dates to travel to Cabo frequently are not related to Cabo San Lucas. You must consider the decisions that other travelers will make when deciding when is the best and worst time to travel.
Spring Break Season in Cabo San Lucas
Most American universities and elementary schools have spring breaks in March and April. As a result, Cabo may become popular, especially among college kids.
College students should have fun, but planning your getaway at this season may limit the amount or how less you love it. As such, it's best to avoid the spring break season unless you want to party among the college crowds.
Rainiest Time to Visit Cabo San Lucas
The last thing you'll want is for the rainy days to ruin your vacation. After all, most of the activities in the city are worthwhile on a sunny day. As such, it's best to avoid rainy days as much as possible. 
Another time to stay away from visiting Cabo is during the hurricane or rainy season. As such, the worst times you can book your Cabo trip may be between August and September.
August is when the weather is at its best. A vacation in the heat, with constant rain and the odd hurricane, is not recommended.
Several tours and experiences stop their operations from August to September, so it's best to keep that in mind. Although Cabo features stunning landscapes, it's the activities that really make a trip stand out.
If you want to know more about the hurricane season in the city, read: When Is Hurricane Season in Cabo San Lucas?
Overall Best Time to Visit Cabo
Most travelers visiting Cabo San Lucas think of the same thing. As a result of this approach, most of them would believe it is best to travel to Cabo San Lucas in wintertime. However, this ideal is false.
Most travelers prefer to visit during the winter to avoid the cold or even to enjoy the benefits of what they believe to be lower prices. The height of the summer, in contrast, from July to August, is also not the ideal time to travel to this city.
The ideal times to visit Cabo San Lucas are spring and fall. Both traffic and crowds have decreased. The activities you try out affect the best time to visit Cabo.
In the summer, whale watching is prohibited due to the whales' migratory habits. The final aspect you must consider when making trip plans is hurricane season.
If you're interested in whale watching, read: When Is Whale Watching Season in Cabo San Lucas?
Typically, the hurricane season lasts from June through November. However, storms follow predictable outcomes, and Cabo San Lucas is typically not in their path. It's crucial to remember that tropical storms, as opposed to hurricanes, do often occur in the city.
Conclusion
For most tourists, the ideal weather will always be the best factor to consider when visiting Cabo San Lucas. Still, some tourists have individual preferences, particularly regarding their spending habits and inclination toward crowded places.
In the end, Cabo San Lucas will remain accessible, and all seasons and periods may appreciate the beauty of its well-known locations. The rest of the fun is up to each tourist. The only thing left for you to do is take pleasure in your trip to Cabo San Lucas as long as their tastes are satisfied.
If you want more helpful tips about the city, read An Insider's Guide to Visiting Cabo San Lucas: Tips and Tricks.