Barcelona has become more bike-friendly due to its efforts to develop new bike routes. As such, many locals and tourists prefer exploring and getting around the city with bikes. Since biking is cheap, easy, and healthy, so it's not surprising to see if you're interested in using bikes in the city.
In this article, we'll cover everything you need about biking in Barcelona. This information can guide you to explore the city through pedals rather than commuting. 
Without further ado, let's get into it!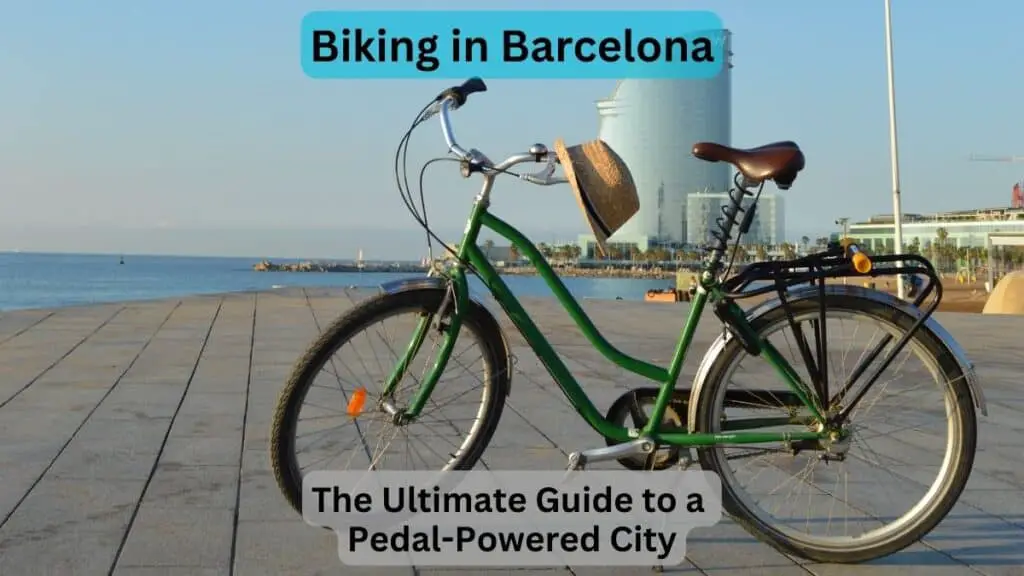 Is Barcelona Bike Friendly?
Over the past few years, Barcelona has become one of the world's most bike-friendly cities. With around 300 kilometers of bike lanes and plenty of bike rental providers, discovering Barcelona by bicycle is a great way to see the city.
Bicing: the Public Bike-Sharing System
If you're visiting Barcelona, you'll see hundreds of red-colored bikes parked or used by locals. If you're curious about it, that's from Bicing, the public bike-sharing system in the city.
One thing to note is that while Bicing is a famous bike rental service, it's exclusive to residents, which means tourists cannot use such. 
For this reason, you'll have to find other options if you don't live in the city. However, we'll cover some alternatives later on.
How Does Bicing Work?
Bicing works as a subscription service for Barcelona locals or residents. With such a plan, the first thirty minutes will be included. The following two hours will be an additional fee of 0.70 EUR every thirty minutes. If you go past two hours, you'll be charged 5 EUR for every additional hour.
Can Tourists Use Bicing?
As mentioned earlier, Bicing is only available to Barcelona residents since a subscription to this service requires a resident ID, NIE, or resident card.
In general, Bicing isn't designed for the leisure of tourists. Instead, it's to promote biking as a mode of transportation for locals and residents. Therefore, you can only use Bicing if you're from the city.
Now, it should stop you from biking since you can find other alternative bike rentals in the city to explore. Here are some of them:
Mattia 46
Mattia 46 is one of your best options for renting bikes in Barcelona if you're on a budget. Their rates are incredibly affordable at just 5 EUR per day! In addition to a bike lock and a city map, that price includes your bike transportation around town. If you want to reserve a bike in advance, you can do so online and pick it up at their accessible, conveniently located area between 9:30 AM and 7:30 PM.
Click here to book or learn more: Mattia 46
Barcelona Rent a Bike
Barcelona Rent a Bike is one of the most flexible services in the city that rents bikes. It has four locations around the city. There are a variety of styles of bikes available for rent starting at just 6 EUR. The company also offers a unique bike tour around the city in several languages. This option is a fun, relaxed way to experience Barcelona while working out!
Click here to book or learn more: Barcelona Rent a Bike. 
Bike Tours Barcelona
Bike Tours Barcelona is another excellent option for a bike rental, and it shows its customers just how much fun and sustainable biking can be! A professional mechanic regularly inspects the rental bikes here to ensure their safety and quality. The company also offers bicycle tours within and outside the city, including a grand tour through the Penedès vineyards.
Click here to book or learn more: Bike Tours Barcelona.
Green Bikes
Green Bikes is one of Barcelona's top bike rental places with top-of-the-line, quality equipment and friendly staff. Their bike rentals are great value, and they have fun bike tours and a full-service repair shop.
Click here to book or learn more: Green Bikes.
Bike Rental Barcelona
Bike Rental Barcelona also offers bike rentals in Barcelona. Though it is an option, they don't require you to pick up your bike in person. Instead, their bike delivery service can deliver your bike to your preferred location! You can rent good quality bikes here for a reasonable price and purchase low-cost secondhand bikes of good quality.
Click here to book or learn more: Bike Rental Barcelona.
Barcelona's Cycling Infrastructure
As a growing bike-friendly city, Barcelona's cycling infrastructure is worth understanding if you want to maximize the use of bikes during your stay in the city.
Bike Lanes
The cycling network in Barcelona is over 200 kilometers long. These are generally located on sidewalks in marked one-way or two-way lanes. One thing to remember is that when bike lanes are on sidewalks, they give pedestrians the right of way.
Bike Routes
The Diagonal and Avenida Meridiana are among Barcelona's wide main roads with marked cycling lanes. 
Unlike the narrow streets of areas like the Gothic Quarter, more grid-like neighborhoods like Eixample are better for biking because of their more open layout.
Cycling is easy in Barcelona proper since it is primarily flat. However, Biking Montjuic is a more challenging option within city limits if you want to venture further outside. 
You can enjoy spectacular mountain biking views on the Passeig de les Aigües trail, just 20 minutes from the city.
Here are some of the popular bike routes in the city:
Ciutat Vella Bike Route – 5.75 miles or (or 9.25 kilometers)
Diagonal Bike Route – 6.68 miles or (or 10.75 kilometers)
Eixample Bike Route – 5.13 miles or (or 8.25 kilometers)
Montjuïc Bike Route – 6.83 miles or (or 11 kilometers)
Barcelona Bike Route – 15.22 miles or (or 24.5 kilometers)
Bike Parks
Because of the growing popularity of bikes in the city, Barcelona offers ample parking spaces for bike users. 
You'll generally find bike parks in most visited areas like residential zones, urban spaces, tourist attractions, parks and squares, and transport stations. You'll find two main bike park types: anchor points on the ground level and underground parking.
There are bike parking spots called anchor points throughout the city, and anchoring the bike by the wheel and frame is recommended. 
You can also find bicycle parking spots on public streets only for bicycles. In the city, underground parking and car parks at specific locations have more than a thousand spaces.
A recharging station will be set up near municipal buildings, facilities, bike lanes, and other frequented places by e-bikes to make using e-bikes easier.
Conclusion
Over the years, Barcelona has continued to grow in tourism, partly because of the city adapting to bikes as one of the modes of transportation. With plenty of bike rentals and the continuous development of bike lanes and parking spaces, you'll surely enjoy the ease of transportation using bikes.