Cabo San Lucas boasts several stunning beaches, and if you're searching for the best ones, Lover's Beach will always be included. As such, it's not surprising to see many travelers wanting to visit this beach whenever they go to Cabo San Lucas. 
As one of the most visited tourist spots in Cabo San Lucas, Lover's beach is also a must-visit. This secluded beach area is stunning, and it's something you'll love to experience when you're in the city.
Now, if you want to visit this beach, this article is for you. Here, we'll cover all the essential things you need to know about Lover's beach. This information includes its location, how you can go there, and the activities you can enjoy around the area.
Without further ado, let's get into it!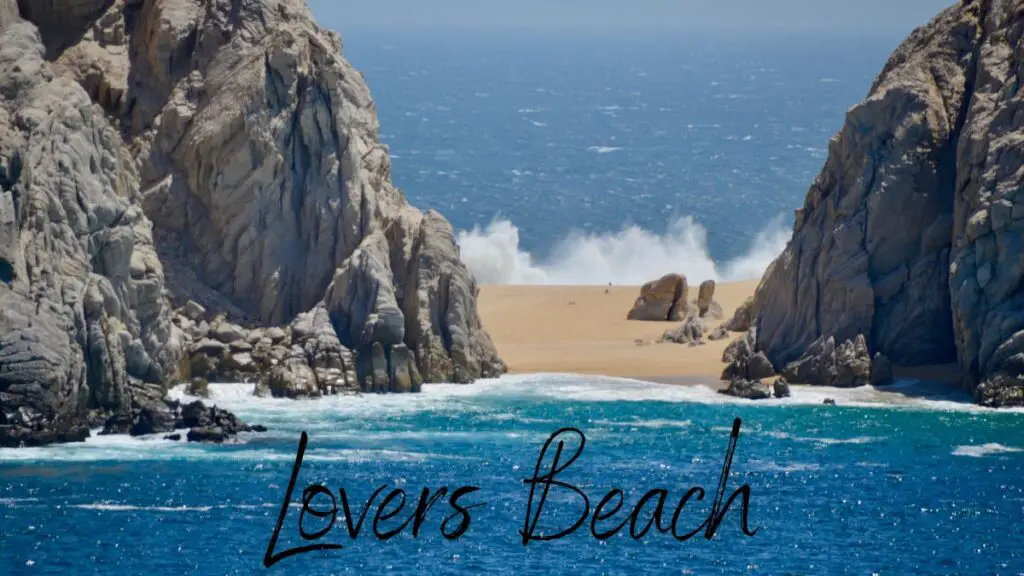 About The Lovers Beach
Lover's Beach is a popular beach area within Cabo San Lucas, also known as Playa del Amor. This beach is a tiny and secluded area sitting between massive granite stones. It's easily accessible by sea, and it's one of the best swimmable beaches in the city. 
Location
Lover's Beach is located in the southern part of Cabo San Lucas, and it's near other popular tourist spots like Playa del Divorcio (or Divorce Beach) and the famous Arch (also known as El Arco).
How to get there
If you're wondering how to get to Lover's Beach, it's pretty simple. The best way is to hop in a water taxi from the Marina, which will take you to it. You can also hire a panga, a small fishing boat, or book a tour to take you to the area.
If you're thinking of kayaking or swimming in this area, we advise against it. The water current and waves going to the beach is quite rough.
Although the beach area is swimmable, the waters going to it from the main dock can be extreme. For your safety, it's best to hop on a water taxi or book a tour. This way, you can be safe with locals and professionals.
Depending on what kind of experience you want, boat tours or water taxis can cost anywhere from 10 to 50 USD per person.
Can You Walk to Lovers Beach?
If you want to walk to the lover's beach, it's possible. However, be prepared for a challenging hike on the rocks. It can take several minutes to an hour to hike the rocks and reach this area.
Now, if you prefer such, keep in mind that you won't get to visit other nearby attractions, such as the arch, since the waters separating this beach and the arch can be rough. So if you continue hiking, you'll see the arch only from the top, which will only look like a pile of granite stones.
For this reason, it's best to hop in a water taxi or glass boat or book a tour company to help you reach Lover's beach.
From Downtown Cabo San Lucas
If you're from downtown, you'll need to head to the Marina since the water taxis pick up passengers. You'll also find tour companies offering tours to this beach area.
Parking
The arch can't be accessed by car, so you'll have to leave it at the pick-up point and ride a boat instead. However, the Marina offers plenty of parking spaces, so you don't have to worry about securing parking. 
Hotels and Restaurants
As mentioned earlier, lover's beach is only accessible by boat, so you'll start at the Marina. As such, hotels and restaurants within the Marina are the closest to Lover's beach if you want easy access.
If you need to get more familiar with this area, it's one of Cabo San Lucas' main hubs. You'll find many hotels, shops, and restaurants surrounding the dock. Additionally, it's the starting point for most tours heading to Lover's beach. 
For information about hotels and restaurants in this area, please read our guide to visiting Cabo San Lucas Marina.
Activities
Lover's beach is one of the famous tourist spots in Cabo San Lucas, as it is nestled between two prominent granite rock formations. Here, you'll find plenty of activities to enjoy.
Among the popular water activities here are snorkeling and scuba diving. Neptune's Finger, an underwater sand fall, is one of the most beautiful dive sites in the world. 
Look no further if you only want a quiet walk with your loved one and maybe even a swim to cool off. Wear shoes during the afternoon, as the sands can be scorching, and you will want to keep your feet protected.
If you're still planning your trip to Cabo San Lucas, you can use our guide to help you. Read: Plan the Perfect Trip to Cabo San Lucas: A Guide to the Best Itineraries.
Nearby Attractions
If you book a tour of Cabo San Lucas' arch, you can also enjoy nearby attractions. You can visit attractions such as the Sea Lions Colony, the Arch, the Land's End, the Pirate's Cave, and the Pelican Rock. You can also check out nearby beach areas such as Divorce Beach. 
Conclusion
The Lover's Beach is a popular beach area in Cabo San Lucas, and it's because of the stunning scenery it offers. Here, you can enjoy a secluded beach between two massive granite cliffs. What makes it better is that it's near some of the other popular attractions, and it's a must-visit when you're going to Cabo San Lucas.
Of course, if you want to make the most of your visit, you'll want to know what to do in the city. For more information, please read our article: Experience the Magic of Cabo San Lucas: Top 10 Things to Do.