Packing things for a trip can be a tedious task, and most of the time, we forget to bring one or more things. For this reason, it's essential to have a packing list to ensure you get everything you need. So, if you're packing for your trip to Cabo San Lucas, this article is for you.
This article includes a complete packing list of things you'll need to bring for your Cabo San Lucas Trip. With this list, you can have whatever you need for your trip and avoid bringing unnecessary items.
Without further ado, let's get into it!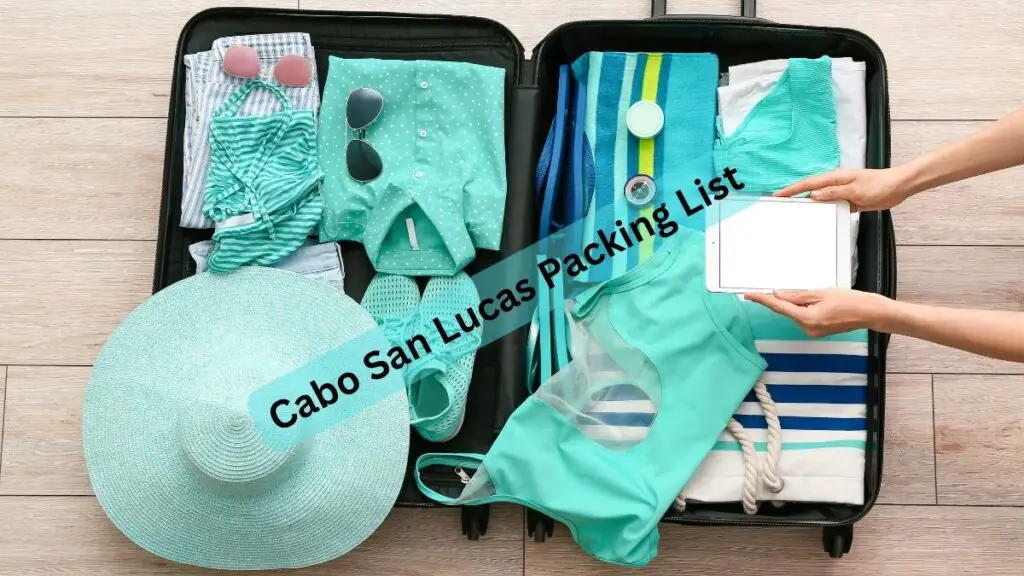 What Do I Need to Travel to Cabo San Lucas?
If you're wondering about the things you need when traveling to Cabo San Lucas, we made this list to help you. As such, you can use them to make your list or refer to this article as your note to ensure you get everything.
If you want an overview, the things you'll need revolve around documents, clothing, money, and items. Of course, we'll tackle each and give you a complete list of things to bring to Cabo San Lucas. 
Below are all the essential items you'll need. While some might be unusual, you'll want to bring them since you're visiting Cabo.
One thing to note is that you can buy whatever you need in the city. However, bringing these items will save you money, especially since you own them. 
Also, this list will help you avoid overpacking and bringing items you don't need in Cabo San Lucas. This way, you're maximizing your luggage, and you'll only bring the stuff you'll use.
Travel Documents
The last thing you'll want is your trip delayed because you forgot some essential travel documents. As such, you'll want to ensure you have them. Here are some of the standard documents you'll need:
FMM
All international visitors to Mexico must complete the FMM or the Multiple Immigration Form. We advise you to complete these forms and download yours online before traveling, as certain airlines cannot provide them aboard. Further, you must print this page on both sides.
The FMM form is frequently filled out when traveling. Forms will be available to you throughout the journey by the airlines that will transport you to Mexico. When you arrive in Mexico, you must complete the form and bring it to the reception desk.
If you want, you can apply online for the FMM here.
Customs Declaration Form
Before entering and leaving Mexico, you must complete the customs declaration form. When you arrive, hand this paperwork to the customs official.
You will receive a QR code once you have completed the form; keep it so you can present it at customs. You can fill it out here.
Passport and Other Identification
Whether traveling by plane or driving to Cabo San Lucas, you'll want to ensure you have your passport and identification. In addition, you'll need your plane ticket or boarding pass if you're flying. If you're driving, you'll need your driver's license.
Clothing
The first thing you'll wonder when packing for your Cabo San Lucas Trip will be clothes, and if you're unfamiliar with the outfits, here's an idea for you.
General Look and Outfit
The clothing style and vibe in Cabo San Lucas is a casual beach chic look. As such, you'll find it best to bring light-colored clothes. 
If you want to blend in, you can bring any beige or earth-colored clothing. However, it's also best to bring light and airy clothes for a more comfortable outfit yet still fashionable while in the city.
Swimsuits
Cabo San Lucas is a coastal city with stunning beaches. As such, swimsuits are one of the obvious things to pack. 
The number of swimsuits you'll need depends on how long you stay, but the general rule of thumb is around 3 to 4 sets.
Although you can wash swimsuits every after use, it's challenging to dry them around because of humidity. As such, it's best to bring more.
Beach Cover Ups
A beach cover-up will also be necessary since you'll likely walk or roam around the beach areas. By bringing such, you can be comfortable walking around, whether in the resort or the beach. It will also help you feel comfortable walking in lobbies or dining at restaurants. 
Dining Outfits
Dresses are the most common dining outfit, so bringing a few will be excellent. If you're staying for a week, you'll need at least four sets, but it can be less if you are okay with repeating some outfits.
It's also best to bring a semi-formal dining outfit if you're planning to dine in a fancy restaurant once or twice during your stay. 
Whether or not you are dining out, it's best to have some with you should you ever need to wear some nice outfits.
Men's typical dinner dress code is collared shirts, slacks or long pants, and closed-toed shoes. 
We have an article to guide you if you're wondering about the best options to get some food, drinks, and parties. Read The Best Restaurants, Bars, and Nightlife in Cabo San Lucas.
Excursion Outfits
Cabo San Lucas has tourist spots requiring some excursions or day trips. As such, it's best to bring at least one or two sets. In addition, such outfits will help you stay comfortable, especially if the excursion is a bit active.
Outfit for Cold Weather
Cabo San Lucas is a moderately cold place. However, if you're visiting from November to April, you'll find a light sweater handy. Also, it's nice to have an extra layer of warmth as the evenings in this place can be a bit chilly. 
Footwear
Footwear is always a crucial thing to bring when packing for Cabo San Lucas. After all, you'll want the best footwear for every activity and place in the city. Below are some of the footwear you'll want to pack:
Sneakers or Walking Shoes
Most travelers wear comfortable sneakers or a pair of walking shoes when traveling. So you can take this one off the list if you're also the same. 
Besides the travel, you'll want comfortable walking shoes when excursing or roaming around since sandals or slippers can be uncomfortable.
As always, remember that a sore foot can ruin your day, so it's best always to bring footwear that's comfortable for you. 
Sandals 
Upon arriving at Cabo San Lucas, a pair of sandals will be ideal. You can use such whenever you're at the resort or roaming nearby. Sandals also pair well with dresses when dining around.
Slippers
Some people don't like the idea of using slippers whenever traveling. However, a pair of flat slippers in Cabo San Lucas will always be handy.
In Cabo, most hotel rooms have tile floors, which are cold and brutal to walk on. As such, you will always be comfortable wearing flat slippers rather than shoes. 
If you're not yet booking a hotel or resort in the city, you can look at the best options through this article that we've written. Read: Escape to Paradise: The Best Places to Stay in Cabo San Lucas.
Hats
Cabo San Lucas can get pretty sunny, especially from mid-morning, mid-day, to mid-afternoon. Therefore, hats are a must-pack when preparing for a Cabo San Lucas Vacation.
In general, you can always buy a hat upon arrival. However, most hat stores in the city offer the price significantly when you buy near your place. Or, it will be less if you already own one.
When it comes to style, you can bring and wear any hat you want. However, it's best to get something that can help you avoid direct sunlight on your eyes.
Sunscreen 
As mentioned earlier, Cabo San Lucas is sunny, so you should always include sunscreen in your packing list. 
You can also buy some at Cabo San Lucas, but they're expensive. However, if you already have a bottle of sunscreen, bringing it can save you a lot of money.
You'll want a reef-safe sunscreen if you plan on snorkeling or scuba diving. This way, you won't harm the environment and marine life. It's a policy, especially when snorkeling in Cabo Pulmo National Park, but you don't need it to save marine life.
Rash Guard
Some people don't bring a rash guard, but it's a must-have if you plan swimming, snorkeling, or scuba diving. 
A rash guard helps protect your skin against the harsh sun and sea environment. If you don't own one yet, it's best to pick a rash guard with sun protection. This way, you can save yourself from applying some sunscreen.
You'll usually find a rash guard for sale in Cabo San Lucas' stores. However, the price can be pretty high, so it's always best to bring your own.
Waterproof Case for Phone
Cabo San Lucas is a place with lots of beach or water activities. Therefore, you'll want to pack a waterproof case to secure your phones or gadgets. These cases will also allow you to take pictures of your water activities while keeping your gadgets safe from water damage.
If you don't have one yet, we suggest buying a waterproof phone case with a lanyard so you can keep it attached to you to prevent losing it during your day's activities.
Cash for Tipping and Small Transactions
Cabo San Lucas is a tourist destination; most visitors are from the US. As such, you can expect most stores and establishments to accept US dollars.
Now, while most hotels and restaurants accept card payments, you'll still want cash on hand, whether in dollars or pesos. This way, you can have something to hand out if you're paying for small transactions or tipping.
Tipping is always appreciated and is a fantastic method to guarantee excellent service. It's polite to leave a tip even at an all-inclusive resort in Cabo San Lucas during your vacation.
You can give tips to the bellhop, wait staff, housekeepers, mini fridge workers, bartenders, and everyone else who makes your stay exceptional. 
Mexican pesos are another option; you can tip in your twenties, fifties, or even hundreds. You can give one, five, or ten-dollar bills if you're tipping in dollars.
Things You Shouldn't Bring to Cabo San Lucas
Now that we have the list of things to bring, we'll cover the things you want to leave out of your list.
Bath Towels
Most hotels and resorts in Cabo San Lucas offer complementary towels; they are usually supplied once every day. As such, it's unnecessary and will only take up some space in your luggage.
Hair Straightener
Because of the humidity in Cabo San Lucas, any hair straightener will be useless once you head out. As such, don't worry about straightening your hair. Instead, embrace a beach vibe and the frizziness of your hair since it's part of the vacation.
Denim
Most people make denim a part of the packing list. However, denim jeans are only ideal during the cold months. Moreover, the warmth and humidity of Cabo San Lucas will make you avoid wearing denim, so don't bring any of it.
Refillable Water Bottle
Most travelers bring a refillable water bottle when traveling. While it may seem handy, Cabo San Lucas' tap water isn't safe for drinking. As such, refilling stations take a lot of work to find. Rather than bringing a refillable water bottle, it's best to buy bottled water during your stay. This way, you can consume safe drinking water and avoid tap water.
Conclusion
This list gives you all the essential things to pack for your Cabo San Lucas trip. The only thing you'll need is to start packing and get everything ready for your departure. We hope you enjoy Cabo San Lucas for your vacation!