If you're planning a vacation in Mexico, you have probably already encountered the famous places: Cabo and Tulum. However, if you look at the two, they are on opposite sides of Mexico. Thus, if you're torn between these two places, you may wonder where you should go. Should you go to Cabo? Or should you go to Tulum?
Tulum is best known for its ancient Mayan ruins, stunning cenotes, calm and picturesque beach, laid-back nightlife, and an overall relaxing and intimate vibe. On the other hand, Cabo is best known for its luxurious vibe, with luxury hotels, fine dining, and sports like golfing and fishing. 
In this article, we'll compare Cabo and Tulum to help you decide which place is the best for you. Here, we'll include the highlights of each place, along with the main differences. Thus, after reading, you should know which place offers the best vacation for you, based on your preference.
Without further ado, let's get started!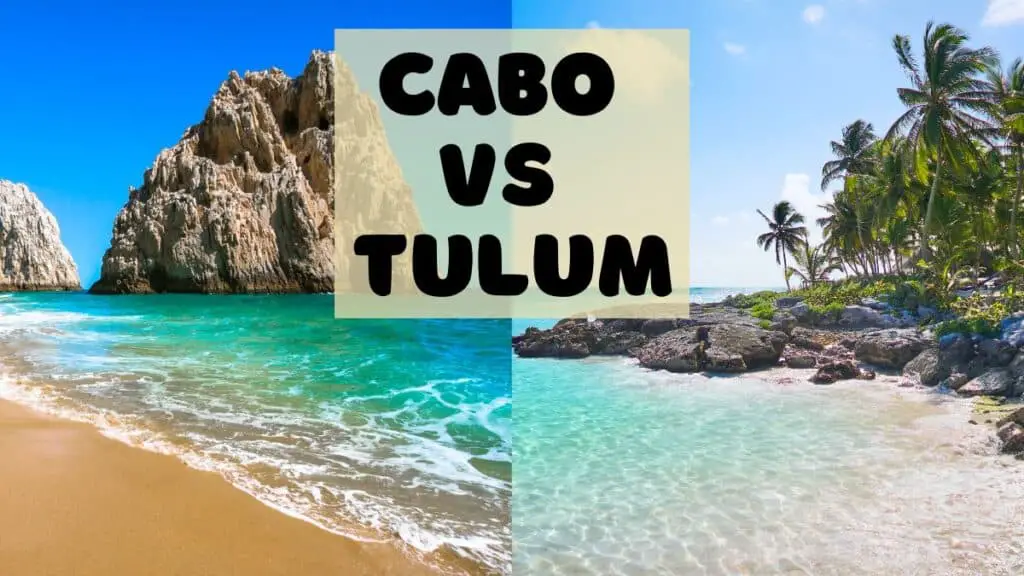 Cabo Highlights
Cabo is a luxurious place facing the Pacific on the far left side of Mexico. Overall, it has a relaxing yet luxurious vibe for people who want something fancy in a chill way. 
In general, Cabo offers stunning tourist spots and engaging activities that will make your vacation worthwhile. For instance, you can enjoy some luxury hotels on pristine beaches and sports like golf and deep-sea fishing. 
Here, you can visit Land's End, do some hiking and snorkeling at Santa Maria Bay, and swim with whale sharks and dolphins.
To give you a better idea, here are some of the highlights you will enjoy in Cabo:
Beaches
Cabo has many fancy hotels if you want to splurge on such and maximize your time at the beach. We recommend hotels like One & Only Palmilla, Grand Velas Los Cabos, and The Cape.
These resorts will give you excellent beach access. However, if you want to visit and enjoy more beach areas, you can check out the most popular in Cabo, Medano Beach. 
You can also visit Lover's Beach, a small yet stunning beach area situated amidst the towering cliffs of Land's End.
Golfing
If you love golf as a sport or even as a hobby, Cabo is the ideal option for you. Here, you can enjoy playing on excellent golf courses known for being the best in the world. 
The best golf courses in Cabo are Palmilla Golf Club, Puerto Los Cabos, and Cabo Real Golf Club. In addition, there's also the Diamante's Dunes and Cabo Del Sol Cove Club Golf Course. In short, you will have plenty of golf course options around this place.
Fishing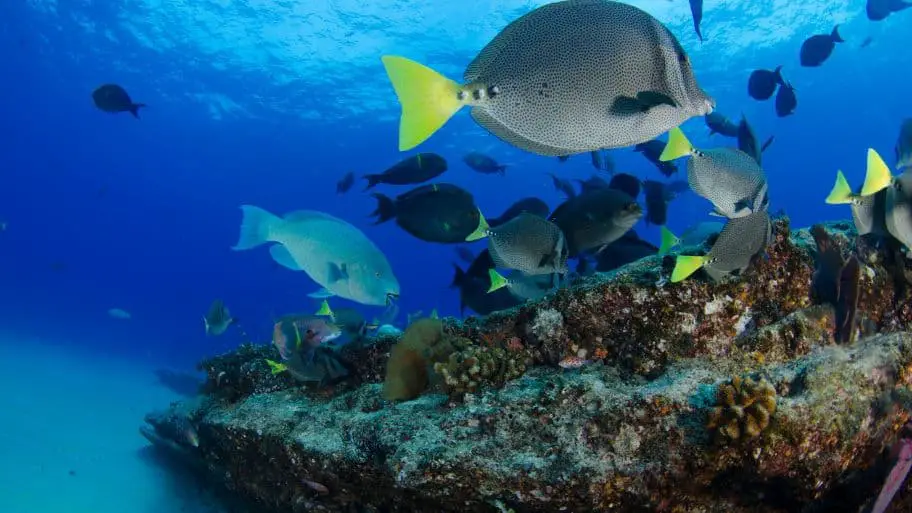 Another highlight of Cabo is its abundance of marine life. In fact, Cabo is known for being the Marlin Capital of the World. From the title itself, you'll know that fishing is something you'll enjoy in this place.
Here, you can score some high-end types of fish, such as snapper, swordfish, yellowfin tuna, wahoo, mahi-mahi, and Marlin. 
When fishing in Cabo, you'll need a fishing license, which you can purchase on the same day. You'll also need to charter a fishing boat, which usually costs around $350 to $9500 daily. Fishing can be expensive, but it's worth it if you're a fan of this sport. 
Sightseeing
No vacation is complete without some sightseeing, and Cabo ensures you get the best out of this activity.
Here, you can do some hiking at Pedregal and let your eyes feast on the best views of Cabo. Or, if you want to see some diverse marine life, you can snorkel at Santa Maria Bay, where you can even enjoy a view of some whales.
Swim with Wildlife
Last but not least, you can enjoy a swim with wildlife here in Cabo. Here, you can enjoy swimming with whale sharks and dolphins and see several other types of marine wildlife.
If you like this activity, you can visit La Paz and book an all-inclusive tour leading you to whale sharks. You'll also find the Dolphin Discovery, where dolphins live in a natural ocean cove.
If you're a scuba diver, your place is at Cabo Pulmo. You can see various marine life, such as sea turtles, octopuses, moray eels, porkfish, and sharks.
Tulum Highlights
Located on the opposite side of Mexico is Tulum. This place is a small chic town boasting pristine beaches that welcome the calm and crystal clear waters of the Caribbean sea. Tulum is a place where you can enjoy some wellness activities, explore an array of natural wonders, and learn more about ancient Mayan culture.
Tulum's vibe is more laid-back and relaxed, unlike Cabo, yet it's still rich in engaging activities that will make your visit worthwhile. Below are some of the highlights you can enjoy in this town.
Tulum Ruins
The Tulum Ruins are one of the highlights if you search for this town. This spot is on top of a cliff, facing the beautiful Caribbean Sea. With its beautiful scenery, this tourist spot attracts hundreds of thousands of visitors annually. 
Tulum's Mayan ruins are just one of the pieces of evidence of Mayan civilization and culture. There are also some activities and treatment facilities inspired by the Mayans. 
If the Mayan architecture and culture attract you, Tulum makes a better place for a vacation. If you want to know more, read our article about Tulum Ruins.
Beaches
One of Tulum's main attractions is the beach, one of the best in the world. Tulum offers a long stretch of stunning beach with its fine white sand and crystal clear turquoise waters of the Caribbean sea. 
Unlike Cabo, with a more sound wave from the Pacific, Tulum's beach is often calmer, making it a perfect beach to swim, snorkel, and relax. 
The long stretch of Tulum beach is divided into three main areas, each with its share of a public beach. Nevertheless, every beach boasts of that fine white sand and crystal clear blue waters, and a line of palm trees.
Unlike Coba, the beaches in Tulum give more of a tropical and paradise vibe, and it's something to note if you love such a scene.
If you want to know more about the beach in this town, read our article about the Best Beaches in Tulum.
Cenotes
Even without the beaches, Tulum remains an attractive town because of the cenotes you can find in it. Cenotes are natural sinkholes that offer a magical scene, and the waters make an excellent spot for snorkeling and diving. 
In general, cenotes are underground caverns that have accumulated rainwater and groundwater that is exceptionally pure. 
Mexico is known for housing thousands of cenotes; Tulum alone has hundreds of them. Thus, if you choose Tulum as your destination, you're in for some cenote excursion.
Tulum is an ideal destination for amateur divers and snorkelers alike because of its cenotes and lagoons. If you want to know the best cenotes around, read about the Best Cenotes in Tulum.
Nightlife
Tulum is renowned for its simple yet fashionable way of life, which features a laid-back yet chic nightlife. Due to its tranquility, Tulum differs from Coba and other cities with the best bars.
Tulum aspires to be that serene setting where you can relax and take a break from doing much. One thing to note is the chill but upscale nightlife at Tulum's bars, either on the shores or in Pueblo. If you want to learn more, read our post about Tulum Nightlife.
Healing and Wellness
Some people go to Tulum to get away from their busy lives, relax, and replenish. Tulum is an excellent option for anyone searching for a peaceful area to unwind due to its laid-back environment. 
In short, many people visit Tulum in search of a peaceful environment. In this town, people partake in yoga classes, spa treatments, sound therapy, and other health and therapeutic practices.
You may heal your body and mind in Tulum by participating in these wellness-related activities. Thus, when you leave town, you'll feel refreshed and invigorated.
The Difference Between Cabo and Cancun
Cabo and Tulum are two different places offering a completely different vibe from each other. But, as I mentioned earlier, the most significant difference is the location. While Tulum is located on the far right side of Mexico, facing the Caribbean sea, Cabo is on the far left side of Mexico, facing the Pacific. 
Cabo is a place for people who want to splurge on high-end accommodation and amenities while enjoying a lovely beach. On the other hand, Tulum is a place for people who want to enjoy a tropical paradise without spending too much on luxurious amenities. Also, the activities between the two differ in vibe and price, as Cabo has some expensive activities while Tulum has budget-friendly packages.
Here are some distinct differences between the two:
Beaches
Cabo and Tulum have different waters. Therefore their beaches differ as well. The Pacific coast makes the water in Cabo rougher. Even though Cabo beaches are famous for their pristine waters, some are too rough for swimming.
On the other hand, Tulum offers a beach that welcomes calm waves from the Caribbean waters. You'll find it has a lighter, almost turquoise shade. The sands are also more refined and whiter in this town.
Vibes
Regarding vibes, Tulum is more of a simple town, while Cabo is more of a luxurious place. Both places have that laid-back nature, but Cabo has that pampering vibe from all the luxury establishments. 
On the other hand, Tulum has simple yet chic establishments. Also, Tulum is centered more on being a tropical paradise designed for wellness, relaxation, and healing. 
Activities
At both locations, you can dive, swim, snorkel, and relax on the beach. However, Cabo has more expensive activities, such as golfing and fishing. On the other hand, Tulum offers more affordable activities such as cenote hopping, Mayan excursions, and wellness activities. 
Accommodation
Most of the accommodations in Cabo are luxury hotels or at least high-end ones. Here, you can find tons of all-inclusive hotels and resorts. 
You can also find luxury hotels in Tulum, but they aren't the accommodations that dominate the town. Instead, you'll most likely find more affordable hotels and resorts in town. You can even score a chic Airbnb property for an affordable price. If you want to know some options, read Best Airbnb in Tulum.
Overall, the difference in accommodation between the two is more in the price. Tulum has more affordable options, while Cabo is more on high-end accommodation.
Conclusion
Whether you want adventure, laid-back nightlife, ancient ruins, or cenote diving, Tulum is your best bet. However, Cabo will be better suited to you if you prefer something more relaxed, with dramatic coastlines, golf, and deep-sea fishing.
How would you like your holiday to be? Would you like it to be wild and fun or elegant and elegant? The bottom line is that Cabo and Tulum are both fantastic destinations, and you'll indeed have a great time in either.