Even though Tijuana sits alongside San Diego, it's in a different country, meaning the traffic regulations differ. While most travelers prefer bringing their car, some may want to save the hassle of driving into a different country with their car since it entails many requirements. If you feel the same, you may wonder if you can park and walk into Tijuana. 
You can park in the San Diego border area and walk through the crossing into Tijuana, which most people do for convenience. This way, they don't go through the hassle of traffic regulations and other concerns with their car in another country. 
Other concerns may arise if you know you can park your car and leave it when visiting Tijuana. Among these is the security of your car, like where you would park it and how much it costs to park your car somewhere public.
In this article, we'll walk you through the concerns about parking your car and leaving it at the San Diego border as you walk into Tijuana. This way, you can enjoy your trip while keeping your car secure until you return.
Without further ado, let's get into it!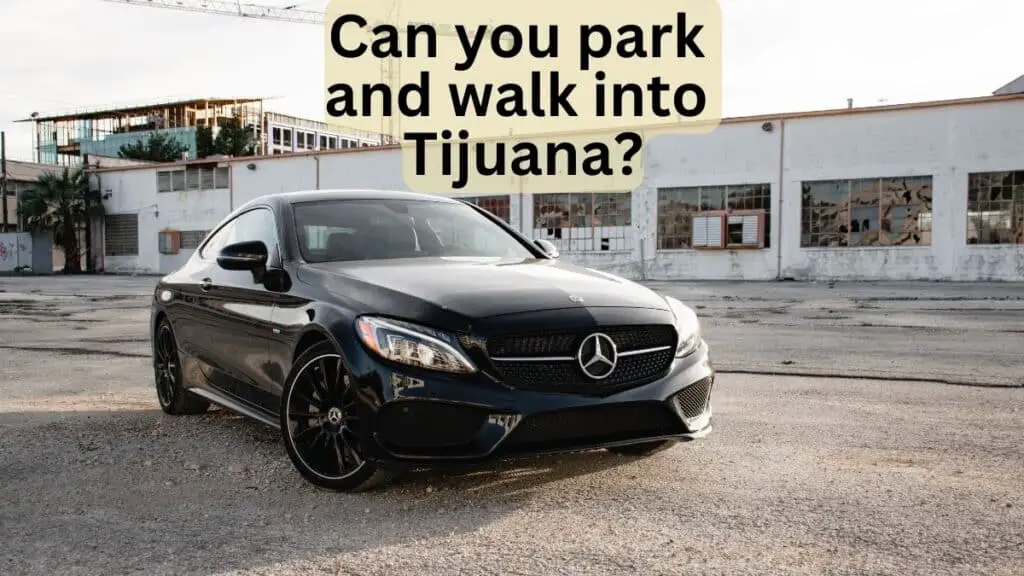 Where to Park Your Car Before Walking into Tijuana?
The US-Mexico border between Tijuana and San Diego is the busiest in the world, accommodating hundreds of thousands of vehicles and people per day. Thus, if you're leaving your car in such an area, you'll want it to be safe and secure. 
Border Station Parking is the best and safest place to park your car. You can find it on the map with the address 4570 Camino de la Plaza. 
To reach this area, you need to exit the freeway through the final exit before the crossing. You'll see it through the clear signs that say it's the last exit parking.
How to Park and Walk into Tijuana?
Many people are interested in visiting Tijuana since it's a walk away from a different country. However, since it's on the opposite side of the border, most people don't want to risk any problem related to their car. 
If you have the same concern, here's how you can park your car before walking into Tijuana:
You can take the last exit by easing into the right lane. A traffic light at the end marks the exit. The Border Station Parking Lot is 20 yards away when you turn right at the signal. 
You will likely see the shuttle bus waiting for passengers once you enter the parking lot to your right as you enter the lot. 
It is a simple and smooth experience from start to finish. Remember, though, that you are about to enter a foreign country. 
Once you park your car, you can take the shuttle to any of the four border crossings. If you want to know how to cross the border on foot, read Can You Walk Across the Border to Tijuana?
Advantages of Leaving Your Car Before Walking into Tijuana
While you can take your car when crossing the border into Tijuana, many people wouldn't do so for several reasons. Here are some advantages you can enjoy when you leave your car before crossing the border to Tijuana:
More convenient
When you leave your car at the US Border, you won't have to deal with the stress of taking buses, trolleys, and other forms of public transportation. Instead, upon returning from Tijuana, you can walk straight to your car.
Less stress in driving
The traffic and road scene in Tijuana is different than California, and many people find it stressful. However, you don't have to worry about traffic rules and regulations when you leave your car. 
The roads in Tijuana are filled with potholes and speed bumps. Such things can cause damage to your car, and it's the last thing you'll want when you're in another country.
Avoiding corrupt police officers
Police officers in Tijuana are known for being corrupt, as they stop tourists and ask for bribes. If you're driving, you have higher chances of suffering from these officers, and leaving your car and commuting when in Tijuana is best.
Quicker Crossing
When you're taking your car across the border, you'll have to undergo a more complicated process, and it can be a hassle, especially if you're visiting Tijuana for leisure. As such, it's best to leave your car on the US side of the border.
No need for Auto Insurance
When you leave your car behind before walking into Tijuana, you save 20 USD per day worth of Auto Insurance since it's a requirement for your car into Mexico.
Things to Know about the Border Station Parking
Below are some things you need to know about Border Station Parking, where you'll park your car before walking into Tijuana.
Convenient shuttle service
From Border Station Parking, you can take the Tourismo Express bus to Tijuana and back for a reliable round-trip bus ride, as the company does not own the bus line. Thus, you won't have to worry about being in a car accident or finding parking in Tijuana. However, the traffic patterns in an international city can be confusing.
Safe parking space
This 24-hour attended parking lot has surveillance cameras for safety and is well-lit at night. You can leave your car there without a doubt because it is the safest and most convenient place to do so. 
Parking fee
For ten hours, the parking fee is ($9) Monday through Thursday. After that, it jumps to ($18) for ten hours on Fridays and Saturdays. On top of that, it's even higher on holidays and special occasions. 
Best days to park
The best time to travel to Mexico for the day is Monday through Thursday. A tourist information center is located in the parking lot and is open daily from 9:30 AM to 5:00 PM. You can catch the Turbo Express to and from Tijuana here. 
Bus system
The Tourismo Express Shuttle Bus departs from the Border Station Parking Lot en route to Downtown Tijuana's shopping district and Depot. The schedule is every half hour from 7:00 AM till 3:00 PM daily. In Tijuana, buses leave every half hour, bringing you back to your well-protected car after a fun-filled day.
Passport
When you consider the complexity of international travel, this is a great and reliable way to take a day trip to Tijuana and return to your car safely and securely. 
Remember to bring your passport, as you cannot enter or leave the US without it. One-way fares are 6 dollars, round-trip fares are 10 dollars, and cash is the only form of payment.
If you want to know the essential documents to bring when crossing, read What Do You Need to Cross Tijuana Border?
Bus vs. Walking
Indeed, you can walk both ways, but why bother, especially after walking a quarter-mile to the border crossing and then another mile to the shopping districts? 
In addition, if you need to declare many items at the border, it will be a hassle. As such, the bus is the best option. 
The bus service has been used by me dozens of times without incident. Also, many people have parked their cars in Tijuana hundreds of times without incident. 
However, the biggest issue is waiting in long lines to re-enter the country. The shuttle will also help you avoid the hassle of invalidating your American insurance in Mexico.
Conclusion
Border Station Parking offers a secure way to leave your car behind before walking into Tijuana. The convenience and other advantages it brings will always be the selling point of leaving your car on the US side of the border. This way, you can enjoy Tijuana and what Mexico offers while your car is secure until your return.
If you're curious about crossing the border on foot, you can read Can You Walk to Tijuana from San Diego?