If you're a beach lover interested in visiting Cabo San Lucas, you may have heard rumors saying that the beaches in the city aren't swimmable. As such, it can be a deal breaker for someone who wants to plunge and relax into sea waters. So it's not surprising if you're wondering whether you can swim in Cabo San Lucas.
You can swim in Cabo San Lucas, but only on some of its beaches. Some beaches in the city need to be swimmable due to risky conditions of intense waves and sudden descent on the depth of seabeds. Nonetheless, you'll find beach areas with calm waters to swim and even snorkel without any issues.
The last thing you'll want when going on a vacation is to put yourself at risk, especially on the beaches. As such, if you're planning to visit Cabo San Lucas mainly for its beaches, this article can help you.
Here, we'll cover everything you need to know about the beaches of Cabo San Lucas and have a deep dive into their safety and risks for swimmers. This way, you can better understand what to expect with its waters and know how to stay safe as you enjoy swimming in the city.
Without further ado, let's get into it!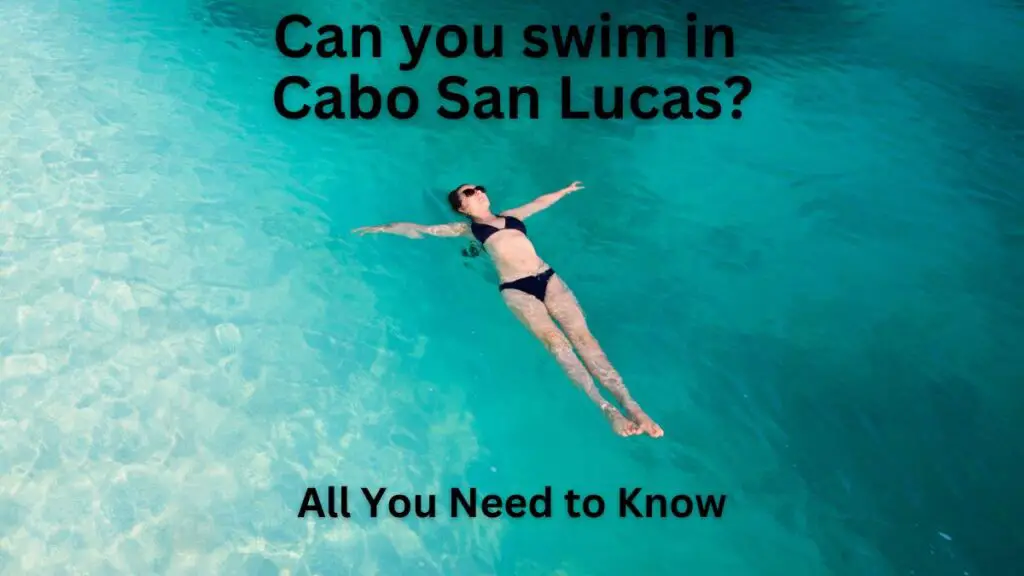 Are There Swimmable Beaches in Cabo San Lucas?
You can find swimmable beaches in Cabo San Lucas. However, the truth is that swimming safety in the city varies, and the outcome relies on the beach area and the season. 
You can find many possibilities when deciding which Cabo San Lucas beach is ideal for swimming. However, it would be best to settle your preference for better decision-making.
What Are the Swimmable Beaches in Cabo San Lucas?
Although some beach areas have rough waves and challenging currents, you can always find calm waters in several areas. 
For instance, Medano Beach, situated in the center of Cabo San Lucas, is the most excellent swimmable beach in the city. 
Besides having calm waters ideal for water sports and activities, this beach also offers reasonably shallow shores within fifteen feet. As such, you can let your kids play in the sea without worries.
Besides Medano Beach, here are other swimmable beaches in Cabo San Lucas:
Chileno Beach
Palmilla Beach
Playa Santa Maria
While some of these areas have lifeguards on duty, some still need to. As such, it's always best to be safe and watch out all the time, especially if you're letting kids play and swim. 
Another way to tell if a beach area in the city is swimmable is by looking at the color of the flags posted along the coasts.
A green flag means it's safe to swim, and a red flag means it's not. As such, never swim or come close to a red-flagged beach since it can be risky.
If you can't see any flag, you can ask around if you see any locals walking around. Overall, you can find some beaches with calm waters that are ideal for swimming and snorkeling. 
What to Expect with the Beaches in Cabo San Lucas?
Several beaches in the city are suitable for swimming, yet it's vital to heed caution and follow swimming safety precautions. 
Most frequently, colorful flags that signal if or not it is safe for people to swim in the ocean are put along the coast. 
Additionally, several of the beaches are patrolled by lifeguards who are actively on duty, adding a layer of protection for swimmers.
It is simple to determine if you can swim or not on the beaches by observing if people are swimming in the waters. 
Nonetheless, it's still worth searching for the safest swimmable beach in the area, particularly if you're visiting with kids who may require calmer waters or intend to engage in any alcohol that could impair your swimming skills.
Why Is Cabo San Lucas Not Swimmable?
Some beaches of Cabo San Lucas aren't swimmable mainly because of the harsh waves and dangerous currents they have.
For instance, while the beaches facing the pacific ocean are stunning, they bring intense waves on the surface and powerful currents underneath. Also, some seabeds have undertones and sudden descent.
As such, it's always risky to be in these waters as they can overpower you and cause you to drown or get pulled into the deep parts. 
Is Cabo San Lucas Safe to Swim?
Only a few beaches in the city are safe for swimming. However, you'll find calmer waters in such areas that you can enjoy through swimming and snorkeling. 
As such, you only need to know what areas are best for swimming and avoid those that aren't. But, of course, even the non-swimmable beaches are perfect for strolling, and the fine white sand will always be a breathtaking scene to enjoy.
Safety Tips When Swimming at Beaches in Cabo San Lucas
If you're planning to swim on the beaches of Cabo San Lucas, here are some safety tips that can help you.
Practice Swimming Safety
It is essential to practice swimming safety whether swimming at a beautiful beach in the city or one you will have all to yourself in a remote region.
Check the Flag Colors
Looking at the colored flag indicating the state of the ocean is the most important thing to do. You should stay out of the water if you see a red-colored flag. However, if it's green, you can swim.
Beware of the Waves' Strength
The next thing is to be aware that waves occur in sets, with the largest waves often coming last if you want to swim in an area with waves. So before entering the water, please ensure you can handle their pace and strength.
Observe Before Swimming
Please search for a floating item and keep an eye out for a while as an extra measure. Then, depending on your observation, determine if you're good enough to swim in the water. Don't continue if the item appears to be dragged downstream, don't continue.
Stay on the Shallow Waters
If you are still deciding, the best option is to stay close to the shore. This way, you can maintain your balance quickly and manage to find your way to the coast if the current tries to pull you. 
Don't Swim on Your Own
As always, avoid swimming on your own. It's best to have someone on the shore for you to shout at or ask for help if necessary. If you're alone, no one can assist you should there be any trouble. 
Conclusion
Cabo San Lucas has some beaches where you can swim, but not all of them. Due to intense waves and sudden descents on seabeds, some beaches in the city are not swimmable. Even so, beach areas with calm waters allow you to swim and snorkel without problems.
As always, safety is a priority that you should never compromise. So, regardless of whether the beach is safe for swimming, always be cautious and stay safe to enjoy your vacations without risks.
If you want to know the best beaches in the city, read our top picks on The Best Beaches in Cabo San Lucas.