Tijuana and San Diego are neighboring cities, but they are different countries. As such, while the two areas are within walking distance, a border separates them. Therefore, you may wonder if you can walk from San Diego and enter Tijuana.
You can walk to Tijuana from San Diego, the fastest way to reach this Mexican city from the US. You save time and space by doing so. However, even walking means crossing the border between the US and Mexico. As such, you need some documents along with you.
If you're from San Diego or anywhere in the US and you plan on visiting Tijuana or other Mexican towns or cities, you'll need to cross the border. As such, this article will guide you through the entire process.
Without further ado, let's get started!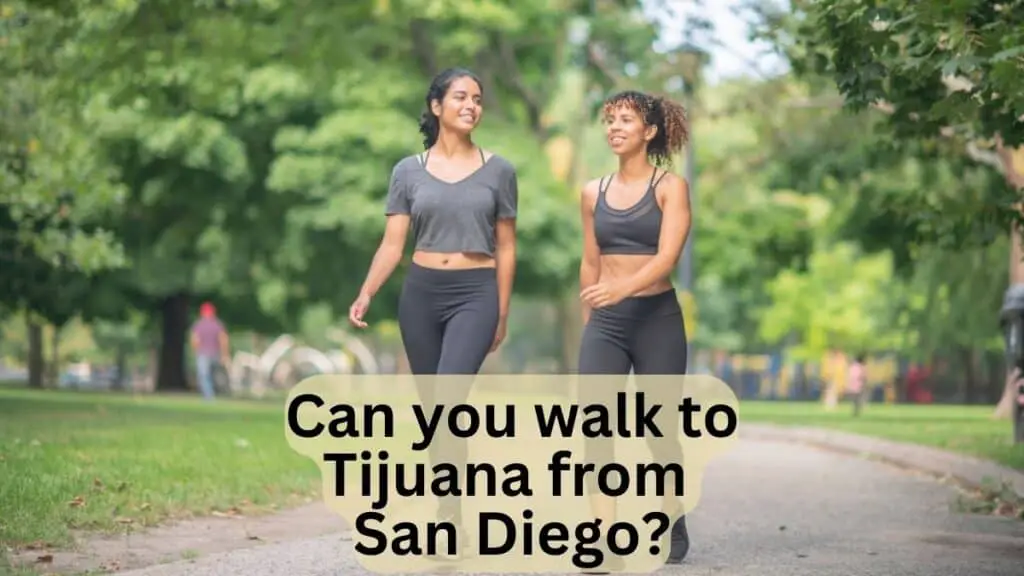 How Long Does It Take To Walk to Tijuana from San Diego?
San Diego and Tijuana are cities from different countries, but they are situated right next. As such, it takes minutes to walk from one city to another. However, since there's a border between the two, you'll need to present specific documents and go through the crossing. 
Since the border crossings between Tijuana and San Diego are packed by other people who also cross the border, the entire crossing can take a while. If you want to know how to walk to Tijuana from San Diego, below is the process:
How to Walk to Tijuana from San Diego
The area's large size and high security can be overwhelming, but you'll manage with this guide. Here's a step-by-step guide to walking from San Diego to Tijuana. 
Get to the border
The first thing to do is reach the border. Trolleys, public buses, and Greyhound buses stop at San Ysidro Trolley Station. Then, in a few blocks, you'll reach PedEast.
Walking along the parking lots may take a few blocks. However, many companies offer free shuttle services between their parking lots and the border. Your ride may drop you at PedWest or PedEast crossings if you prefer.
The same setup is found at the crossing at Otay Mesa, where buses drop off near pedestrian crossings. Parking lots are nearby as well.
Head to the Mexican Immigration
You can find buildings for Mexican immigration by following the signs once you arrive. Everyone is following the same path and heading on the same route. As such, you can go with the crowd for directions.
A pathway leads you to a massive turnstile and a Mexican immigration office. The US does not have an exit procedure. As such, you can walk directly to the Mexican immigration office.
Upon immigration entry, you will see two lines. First, those who are Mexican citizens or residents wait in one line. Then, everyone else goes in the other line. 
If you want to speak with an immigration official, you should wait in line two. You will likely have to wait between 10 and 20 minutes.
If you want to know what you need when crossing the border, read What Do You Need to Cross Tijuana Border?
Go through the Mexican Immigration
Mexican immigration officials check passports and provide you with immigration forms to complete. It is also possible for them to complete the form on your behalf based on questions you ask about your travel. In this case, it is called a Multiple Migratory Form (FMM).
The staff will stamp your passports and the filled-out FMM form if you intend to stay less than seven days in Mexico. 
If you stay in this country for seven to 180 days, an official will direct you to a payment counter to pay for your FMM permit. The cost of this is around 30 USD. 
The official must receive your receipt after you have paid the fee. After that, customs stamps the FMM and sends you through. Therefore, keeping a copy of your receipt and FMM form is essential.
Go through the Customs and Security
Proceed to the customs line if there's nothing you need to declare. Once you arrive at the start of the queue, you will first put your luggage on the belt. Then, like at an airport, it will go through an x-ray. 
During the walk, you'll pass metal detectors. It is a fast-moving line, and it usually doesn't take more than five minutes.
You'll need to make a statement and settle taxes at the customs window when you declare something. Then, after passing through customs, you'll be on your way.
Depart from the Immigration and Enter Tijuana
Following customs clearance, you can take your luggage out of immigration. The crowd is moving along the same path, so follow it. 
After leaving the border area, you'll walk several blocks into the city, and then you're officially in Tijuana. Then, you can take a walk or ride a taxi, bus or Uber.
How to Walk Back to San Diego from Tijuana
If you're heading back to San Diego or other parts of the US, you can also walk back through the border crossings. Here are the steps you can take when walking back:
Get to the border
If you want to return to the border, you can take a taxi, Uber, route taxi (shared minibus), or walk.
When taking a taxi, tell the driver you're going to the border. It's also important to clarify which crossing you plan to use. As I mentioned, there are three options: PedEast, PedWest, and Otay Mesa. 
The destination on Uber will be the border crossing you wish to pass through. For example, you can catch a road taxi heading for the border if you are downtown. It usually takes 15 to 20 minutes for these to leave. 
You can also do daytime crossings by walking to the border.
Cross at the PedEast crossing if you are taking the trolley or Greyhound back to San Diego. The majority of border parking lots are also accessible via PedEast. PedWest is the best crossing to use if you want to shop at Las Americas Premium outlets.
Head to the US Immigration
Following the border path will lead you to the US immigration building. There will be signs pointing the way. Alternatively, following the crowd is an option since everyone goes in the same direction. Mexico does not have an exit procedure. Therefore, upon exit, you are not subjected to an FMM check. The only thing you'll need is a passport.
There is a good chance you will have to stand in line. The majority of Tijuana's pedestrian crossings have three lines. A general public lane, Ready Lane, and Sentri Pass lane are available.
It is convenient for most travelers to go through Ready Lane. A DHS-approved RFID-enabled card compliant with WHTI is required to use this lane. An enhanced driver's license or passport card are examples. 
Walking across the border from Tijuana to California can take a while. Generally, it takes around an hour to wait. 
In some cases, you'll want to steer clear of busy times. For example, it's hectic on Sundays and holidays, and if you're unlucky, you may need to wait up to two hours. 
You'll usually find the shortest lines in the morning from 7 AM to the evening at 8 PM. However, lines can be unpredictable, so it's best to allow some time for the crossing. 
Go through the US Immigration
You will hand over your passport to a US immigration official once you start the queue. After that, you will be asked to submit your document for scanning and declare anything you wish.
Anything you bring back from Tijuana, such as tobacco, medicines, alcohol, gifts, and other items, must be declared. Exceptions apply to personal belongings and gifts worth $800. Tobacco and alcohol products are prohibited. 
Go through the Customs and Security
You'll pass through customs once you've passed through immigration. The process is similar to Mexican immigration. You will place the bag on the moving belt before being scanned by the x-ray. 
You can pick up your bag after it passes through and leave. From there, you're officially back in the US.
Depart from the Immigration and Enter San Diego
Upon reaching Otay Mesa or San Ysidro, follow the paths back to your car. Returning to San Diego is as simple as catching a trolley, taking the Greyhound bus, or walking to your car.
Conclusion
In a nutshell, you can walk to Tijuana from San Diego. It can be daunting and stressful since the border crossings are always busy and packed. However, the crossing process is simple as long as you have the necessary documents. Now, if you don't have a passport, you may wonder: Can You Cross Tijuana Border Without a Passport?