The weather can make or break our vacation, so we always check it before visiting a particular place. Although Cancun offers many activities, most would be best under sunny weather, with clear skies and warm temperatures.
In general, your vacation planning would not be complete if you don't do a weather check, which also applies to Cancun. For this reason, we made this article to assist you by giving an overview of Cancun's weather every month. This way, you can know what weather to expect if you plan on a particular date or month.
This complete weather guide allows you to plan and enjoy a relaxing holiday in Cancun, depending on your preferred weather condition.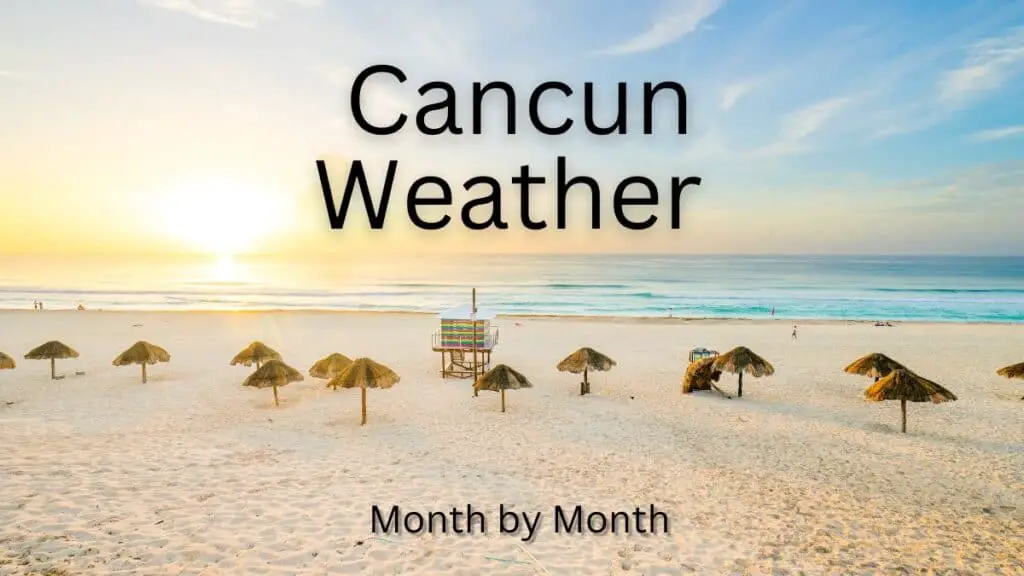 Quick Overview of Cancun Weather Month by Month
| | | | | | | | | | | | |
| --- | --- | --- | --- | --- | --- | --- | --- | --- | --- | --- | --- |
| JAN | FEB | MAR | APR | MAY | JUN | JUL | AUG | SEP | OCT | NOV | DEC |
| 66.2-82.4°F | 66.2-82.4°F | 68-84.2°F | 71.6-86°F | 75.2-89.6°F | 77-89.6°F | 77-89.6°F | 75.2-91.4°F | 73.4-89.6°F | 73.4-87.8°F | 69.8-84.2°F | 68-82.4°F |
| 19-28°C | 19-28°C | 20-29°C | 22-30°C | 24-32°C | 25-32°C | 25-32°C | 24-33°C | 23-32°C | 23-31°C | 21-29°C | 20-28°C |
What Is the Weather Like in Cancun?
The climate in Cancun is tropical, just like all the neighboring areas of Quintana Roo. It has a muggy and rainy season that starts in May and ends in October. Further, it has a cool but dry season which starts in November and ends in April. 
While the cool season is relatively dry, it may experience some rainfall, but it's not that frequent. Some wind and overcast weather may also occur during December and January.
Of course, the weather would vary per month in Cancun, just like in other places. Therefore, you should look at the monthly weather if you plan to visit Cancun during a particular month or date.
January
When visiting Cancun in January, you'll enjoy hot, clear, and dry weather. It comes with daytime highs of about 28 degrees Celsius and evening lows of around 20 degrees Celsius. 
In general, Cancun is situated along the outskirts of a tropical rainforest. Nonetheless, this month remains the driest, notably as it progresses. 
Besides exploring the center and the beach, this is a terrific month to venture outside and see the Mayan ruins and nearby rainforests. 
You can experience sporadic rain showers, although they are usually relatively light and short-lived, lasting only a few hours. Despite being cooler than in other months, the ocean is still pleasant for swimming. 
This month is ideal for water activities such as snorkeling or diving since you can enjoy the clear and visible waters.
February
If you're visiting Cancun in February, you'll enjoy a few degrees hotter and drier weather than the previous month. However, it comes with fewer and quicker rain showers, and the weather continues to be suitable for tourists. 
Even though there aren't many clouds, the humidity rises a little. As a result, it can be slightly muggier but still bearable for touring the city. 
The beach remains in suitable condition for snorkelers and divers, with warm water ideal for swimming and decent visibility for diving and snorkeling. To know the best beach areas, read our article about the 5 Best Beaches in Cancun.
March
If you're visiting Cancun in March, you can enjoy beautiful weather with warm days averaging highs of 29 degrees Celsius but with cozy temperatures during the evenings. 
On average, rain barely occurs once a week, and even then, the showers are brief and go away fast, leaving the skies clear and brilliant.
Further, the beach breezes keep the shoreline fresh despite the rising humidity, which is still pleasant for hiking, touring ancient ruins, or exploring colonial pueblos. 
Visibility and water temperature have stayed the same since the previous month, so it's still ideal for those who like swimming, diving, and snorkeling. If you want to know more about the best time to snorkel, read our article When Is the Best Time to Snorkel in Cancun?
April
If you visit Cancun in April, you can enjoy the city during its driest month. April only receives three days of rain, and even then, the downpours are often brief and gentle. 
Both day and night during this month remain warm, and the afternoon with a few sweltering. Although there is a lot of humidity, the temperatures are often not too hot. Thus, it's still possible to explore the forest and Mayan ruins. 
With lots of sunny, windy days and increasing water temperatures, particularly later, the beach is almost ideal for those seeking water activities.
May
If you're visiting Cancun in May, you can still enjoy the dry season, but some quick storms can develop in the last few days. You can see more clouds in May, and humidity becomes relatively high.
Nonetheless, clear skies, mild mornings and nights, and scorching afternoons characterize the bulk of the days. Because of how windy the beach can be, you might need to realize the humidity. 
However, if you want to travel to Chichen Itza and other day-trip destinations, it's best to start the day early before it becomes hot. It's also best to visit in the first weeks of May. 
Finally, May is an ideal month to see some marine life since whale sharks and sea turtles start to show up. If you want to know more about whale sharks, read Cancun Whale Sharks.
June
If you're visiting Cancun this month, expect summer weather and lots of rain. Most days have a significant amount of cloud cover, but only around 25% of those days really have storms, and even then, it won't likely rain for very long.
In the last weeks of June, summer's first genuinely warm days begin. Although the hurricane season officially begins in June, big storms are uncommon and often develop later. 
In June, the beaches are suitable locations to unwind since a constant breeze reduces the feeling of heat. Pack lots of water and prepare to cool yourself in one of the nearby cenotes if you travel around.
July
This month's storms are more intense and last shorter, with fewer rainy days. Compared to June, days are warmer and more humid. 
The warmest weeks of the year occur in the second part of this month and the early half of August. The ideal places to hang out are the beach areas or the nearby cenotes, which are always pleasantly chilly. It's best to pack lots of water with you if you decide to head near the ruins. 
Since June, the water temperature has stayed the same. The first turtle hatchlings are emerging, and they swim to the ocean during the evenings. 
In general, July is another ideal month if you seek a vacation with interaction with marine life. This is because the month involves a lot of whale sharks and nestling and hatching turtles.
August
If you visit Cancun in the first few weeks of August, you'll find it scorching and oppressively humid. However, it eventually starts to cool off if you visit in the last weeks. Even more so near the end of the month, rainy days rise as ambient temperatures drop. 
Most days see spells of sunshine interspersed with gloomy clouds. However, showers typically last a little longer than an hour or two on days when it does rain. 
Try to spend as much time as possible at Cancun's beaches or in a nearby cenote. Whale sharks, nesting sea turtles, and young turtles are all present for the best marine life in this year's final month. 
September
If you visit Cancun in September, expect it to be filled with gloomy days. Further, you'll experience a bit of rain for around a third of the month. Despite being more frequent and intense, showers typically only last two to three hours. 
Hurricanes seldom impact Cancun, but when it is, it generally happens during this month or the next. The heat and humidity will be less consistent over the past week.
Nonetheless, the days will remain sticky. Compared to August, the water is a little warmer. On most days, you'll find the beach the best place to unwind, but it's still best to plan some activities suited for rainy days. 
Although sea turtles continue nesting and hatching, whale sharks are starting to leave the region this month.
October
If you visit Cancun in October, you can experience more rainy days but less overall rain than the previous month. This is because most of the month's overcast, wet, and humid days occur in the first few days. 
Further, the weather will seem to improve with the passing of days. Therefore, it's best to visit by the end of October to enjoy a clear sky, warm temperatures, and the perfect beach weather. 
The water temperature is a little lower than it was in earlier months. Although storms are infrequent in Cancun, this is the final month of hurricane season. 
If you're looking for marine life, you can still see nesting turtles depositing their eggs one last time before heading back to the ocean. 
November
If you visit Cancun in November, you'll enjoy the gradual drop in temperature, brighter skies, and fewer wet days. But, unfortunately, the first weeks of this month are pretty humid and rainy. 
Further, the rain showers seldom stay longer than a few hours. Most days in late November are ideal for adventure seekers. 
Thus, it's the ideal month to go to the beach, on day trips, or to Mayan ruins. In addition, water temperatures remain constant as the final nesting sea turtles depart the region in October.
December
If you visit Cancun in December, you can enjoy the beginning of the dry season. The weather usually is warm during the day and calm and pleasant at night, with a sunny sky. 
Most days are sunny, and very seldom does it rain. As a result, Cancun's beaches offer pleasant swimming conditions and adequate visibility that divers and snorkelers will love. 
Also, you can still enjoy some marine life as the final few hatchling turtles will make their way into the sea.
Conclusion
As a city in Mexico, Cancun offers tropical weather that's perfect for every traveler searching for a pleasant destination to relax and unwind. Still, the weather in the city varies per month, so it's best to know the weather during your stay.
While Cancun provides pleasant weather throughout the year, the best months would still be from December to April. During these months, you can enjoy clear skies and generally warm weather. You can expect temperatures of around 75 to 90 degrees Fahrenheit and a bit of rain. Also, you can expect some cold breezes blowing some chilly weather during some days.
Overall, if you plan a trip to Cancun, consider the activities you want to do and the best month to visit. This blog will be helpful and make your stay in the city memorable.