Mallorca is one of the most beautiful islands in the world, and visiting this island is definitely one of the things you should have on your bucket list. And once you get there, choosing the apt mode of transportation is also very important.
A lot of people tend to ask if cycling is the way to go in Mallorca. Where can I stay in Mallorca for cycling? Well, if that's your concern as well, then you're in the right place because that's what I'm here to tell you.
In this article, we are going to talk about cycling in Mallorca, whether you can explore Mallorca on a cycle or not, why cycling can be great there, and where you need to stay in Mallorca to get a good deal on a bike rental. 
So, let's get started.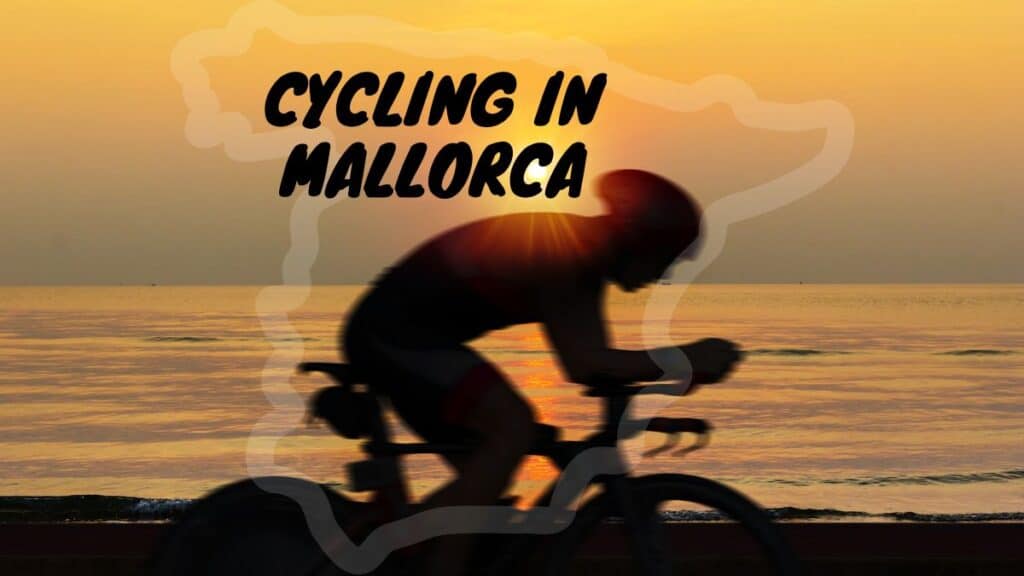 Cycling in Mallorca
Mallorca is considered the best region in the world when it comes to enjoying scenic cycling because the road surfaces are perfect, and the terrain is variable. The weather is also warm all year, making an ideal atmosphere for going out, cycling, giving yourself good air, and taking a breeze.
Read more about the weather here: Mallorca Weather – Everything you need to know
You can rent bikes for yourself and your loved ones and cycle around the streets and roads of Mallorca. You can visit different places, have a good time, enjoy yourself all around, let the fresh air hit your face, and make the most of your time when you're in Mallorca.
So, without a doubt, it is a good decision if you choose to get bicycles to travel around Mallorca and have a fun time. The place is perfect for cycle traveling and offers great opportunities to bikers there.
Can You Explore Mallorca on a Road Bike?
Mallorca's weather and roads make it the perfect place for road cycling, even though Mallorca is a large island. But still, you can most certainly explore Mallorca if you want to, on a bicycle.
Read about the size here: How Big is Mallorca?
The whole tour will take around three days if you're going on a cycle, taking breaks, exploring, taking pictures, enjoying the scenes, witnessing the beauty, and everything in between.
During this time, you're going to take the opportunities to explore the various tourist attractions, eat tasty and delicious local cuisine, have the time of your life partying, go to bars and clubs, and enjoy yourself throughout the tour.
You can even go bike hiking, camping, and mountain climbing while traveling on your bike. The overall experience is going to be perfectly amazing. So, you need to get a cycle for yourself and your loved ones and have a blast exploring Mallorca on it.
Why is Cycling in Mallorca Great?
Cycling, in general, has many benefits for physical and mental health. But that's not the only reason cycling in Mallorca offers such a great experience. Let's take a look at some of the major benefits cycling in Mallorca offers.
Fresh Island Air
The island air in Mallorca is incredibly serene, sweet, and fresh. So, riding a bicycle is definitely going to help you feel in tune with nature, and the lovely atmosphere will make you feel happy and rejuvenated.
Related article: Is Mallorca Windy?
Beautiful Cycling Routes
The cycling routes in Mallorca are crafted to perfection. That's why there are so many amazing cycling routes available on the island. So many cyclists can be found on the island throughout the year.
Amazing Visuals
One of the best things about cycling in Mallorca is constantly seeing the most-impressive, high-quality, stunning visuals and natural sceneries around the island, which captivate and mesmerize your souls.
Clean and Perfect Road Surfaces
A very important condition for cycling is the cleanliness and perfection of road surfaces. Trust me when I say this, Mallorca's roads are perfectly crafted for cyclists, so they can enjoy their time.
Where to Stay in Mallorca for Cycling?
Some places in Mallorca promote cycling more than others, so making sure that you get accommodation near them is an important aspect of your trip.
There are many wondrous cycling routes around Mallorca. Still, if you want to visit a few specific ones, Cap de Formentor is a beautiful and must-visit. Then there's also Sa Calobra. 
Another beautiful road is the Tramuntana Coastal Road. So, there are a lot of spaces you can check out and have a fun time bike riding on. That's why Mallorca is so famous for cycling for both tourists and locals alike.
Cycle Renting in Mallorca
One of the cheapest, healthiest, and most efficient ways of going around Mallorca is on a bike. But obviously, you're not going to bring a bike on the plane or buy a bicycle when you're in Mallorca. That's why the ideal thing to do when you're in the area is to get a cycle on rent.
There are a bunch of different cycle rentals available around the city near many cycle routes that you can get a hold of and find amazing deals at. From Berganti Bikes to Just Rent a Bike, there are a bunch of different cycle rentals you can find there.
For a fraction of the cost of cabs, you will be able to exercise and explore Mallorca simultaneously. So, without a doubt, it is going to be an amazingly wild ride!
Read more on the prices in Mallorca here: Is Mallorca Expensive?
Conclusion
Mallorca is one of the most popular destinations in all of the Balearic Islands in Spain. You can find amazing views, beautiful scenes, beaches, resorts, attractions, history, and culture there. However, the best activity everyone can participate in is cycling or biking. 
It's easy to rent a bicycle in Mallorca for any age, so you can enjoy breathtaking scenic rides with your entire family. There are also guided bike tours arranged by locals, which are great if you're visiting the place for the first time. 
You can decide to stay in a local village or town if you want to enjoy cycling in Mallorca. Another choice is to stay at a resort like Port de Pollenca or Port d'Alcudia if your budget allows.
Check out the beaches here: Best Beaches in Mallorca.