Tenerife is the largest of all of the Canary Islands off the coast of Spain. This island is filled with beautiful colors, cultures, views, peaks, restaurants, beaches, and resorts. But getting around Tenerife might not be as simple as you might have thought.
That is why transport is something you need to plan ahead if you are thinking of visiting the island in the near future.
Whether you need a car in Tenerife or avail of other public transport options like buses and trams, you are going to find out today. You will also learn about the rules and regulations regarding driving licenses on the island.
So, keep reading on to get answers to all your burning questions.
You are going to need a car in Tenerife. Multiple competing car rentals are available on the island, offering high-quality cars and amazing service depending upon your transport requirements. So, you should hire one if you want independence and time flexibility.
But there is much more to it if you are willing to learn. So, first, let us talk about all the available transport options in Tenerife for tourists of all kinds. So, without further ado, let us get into this right away.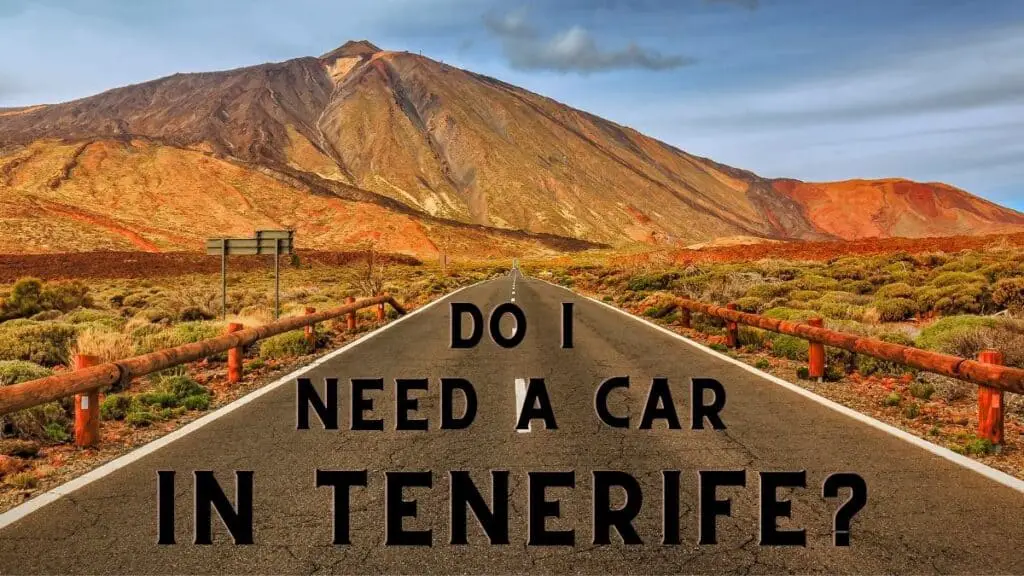 Using a Car in Tenerife
We already know how big Tenerife is. With the ginormous Mt. Teide in plain sight and unique resort areas like Playas de Las Americas and Los Cristianos, there is a lot of space on this island, and traveling on foot will not be the best idea if you ask me.
If you have not read the article, here it is: How Big is Tenerife?
If you have got relatives or have access to a car within the island, that is perfect, but not everyone comes to a holiday to the Canary Islands with a vehicle.
For the people who want to travel to Tenerife on their own, or with their friends and family in their leisure and time, the best thing to do would be to get a car, because you will need it.
Transportation Options in Tenerife
Although getting a car might be an option in Tenerife, it is not the only option. Multiple modes of transportation can take you around the island through different routes. Let us take a look at some of the significant ways so that you can plan your trip to the island accordingly.
Public Buses
There are a bunch of buses that operate all over the island of Tenerife at different points. People of the Canary Islands call these buses Guaguas, and they are usually green in color. Most of the buses you will see in Tenerife are operated by a company known as TITSA, also called Transportes Interurbanos De Tenerife, S.A.
Trams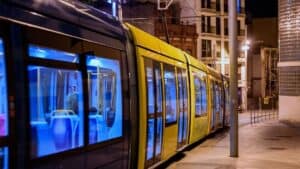 Trams in Tenerife are beautiful. They cover the entirety of Tenerife Island. The MTSA is in charge of all the operations of trams within the island. They are cheap and a fun and exciting way of moving around the island while having the time to sightsee on the way.
Taxis
You can find several taxis belonging to different private companies on the island. Typically, the taxis that belong to the official government are white in color. You can find these taxis all over the island and take them to places you want for affordable prices.
Getting a Driving License in Tenerife
Like every country, driving in Spain, and Tenerife specifically, you are going to need a proper driving license to be legally operating on the island if you have a car in your possession.
To legally drive in Tenerife, you will need to be at least 18 years of age because that is when you will be able to give a driving test and receive a license in Spain.
If you are a citizen of the European Union, you are all set as long as you have a driving license in the country you belong to. You can bring that driving license on holiday and quickly drive a vehicle legally.
Did you know this? Read the article: Are the Canary Islands in the EU?
The rules and regulations of driving in Tenerife are pretty similar to other European countries, so you will not have to learn driving from the get-go if you are worried about that.
Will an International Driver's Permit Work in Tenerife?
If you are thinking of driving in the Tenerife region of the Canary Islands, you will need a driving license. But if you do not possess a driving license, there is another way around it.
You can also use an International Driver's Permit to drive legally in Tenerife. However, it is not a requirement as long as you have a driving license in your name with you. It could be a viable option if you do not, though.
Top Car Rentals in Tenerife
If none of those above public modes of transport suit you, and you are thinking of getting a decent car from a trustable car rental service company so that you can travel at your leisure and comfort, then you can choose that option as well in Tenerife.
If we talk about the car rental prices, they depend upon the per day charges of the car you are renting. You can choose a simple sedan, an SUV, or even a luxury car. Let us take a look at some of the central car rentals available in the region.
Thrifty
Thrifty is one of the top-rated car rental companies in the Tenerife region. You can find their offices in the central area of the island. They offer a bunch of different vehicles and a variety of options ranging from sedans to luxury.
Their rates per day are pretty affordable, and you can book a vehicle very easily and quickly. It will surely be a good experience if you choose to get your rental car from here.
Top Car Canary
Mostly known for their luxury rental cars, Top Car Canary ranks high in the list of the top car rentals on the island. You can find their office in the Santa Cruz De Tenerife region.
One of the best things about them is that they offer a very affordable per day rental rate. So if you are looking for a luxurious and safe tour, getting a car from there would be a good option for you.
Avis
Avis Car Rental is another excellent option that you can go for if you want to rent a car for your trip to Tenerife. You can find their office and get your rental car from Playa de Las Americas in Tenerife.
The pricing of their cars is expensive, but the security features, the protocols, rules and regulations, and their insurance policies are great. So, you will not be worried when you are in an Avis car which is excellent when you are on tour, especially in the Canary Islands.
Sunnycars
Another popular option available if you want to rent a car for your trip to Tenerife with your friends and family is Sunnycars. It is a high-quality car rental company, and you can find its office in the Santa Cruz de Tenerife region.
This company is known for its wide variety of SUVs and larger vehicles meant for the whole family. Their rates are not costly either, so you are going to have a good experience with them.
Cicar
The final and probably the best car rental service on this list is the Cicar Car Rental service. You can find their office in the Tenerife-South Airport region and book your car now.
The prices are meager, the quality of cars and the people behind the desk are outstanding. You are going to have a pretty fantastic time with the vehicle that you rent from there. They will make sure your experience is worth your while.
Best Car to Drive in Santa Cruz de Tenerife
You might think that any rental car would perform nicely and give a comfortable riding experience when moving from one place to another in the Tenerife Island region.
But that is not the case. If you want to have the best experience and save money, you are going to need to make sure you get a specific car for your rides.
The car we are talking about is the Seat Ibiza. If you look at different car rental sites, you will find this car a lot because of the high demand that comes with it.
This car is a nice-looking, powerful, yet affordable rental car that you will easily find in Tenerife. Plus, it comes with a reliability rating of around 90%, which is fantastic, along with a lot of space for a whole family. So you are going to have a good driving experience in the Seat Ibiza car.
Conclusion
Tenerife is a beautiful tourist destination. The colors, the vibe, the culture, and the views are incredible. You are going to have great fun if you go there with your friends and family. In addition, if you choose to travel by rental car or a bus or any other kind of public transportation available in the Tenerife Island area, you are going to be able to save money as well. So, that is a great plus. It is advisable not to waste any further time and pack up your bags to reach Tenerife as soon as you can!