Playa Del Carmen in Mexico happens to be a stunning place to travel to and stay in when in Mexico. As such, the town has become one of the premier resorts in Mexico. If you're starting to plan a trip here, do you need a car in Playa Del Carmen to enjoy the best of the resort?
You don't need a car to get around in Playa Del Carmen, but travelers usually rent one if they want to expand their travels off the resort. If you are considering renting a car while in Mexico, there are some important tips to make it as easy as possible; driving in this gorgeous resort town is easy, as the roads are wide and clear.
You can enjoy the best that Playa Del Carmen has to offer regardless of your preferred method of transportation, but knowing how to navigate the town is always recommended before travel.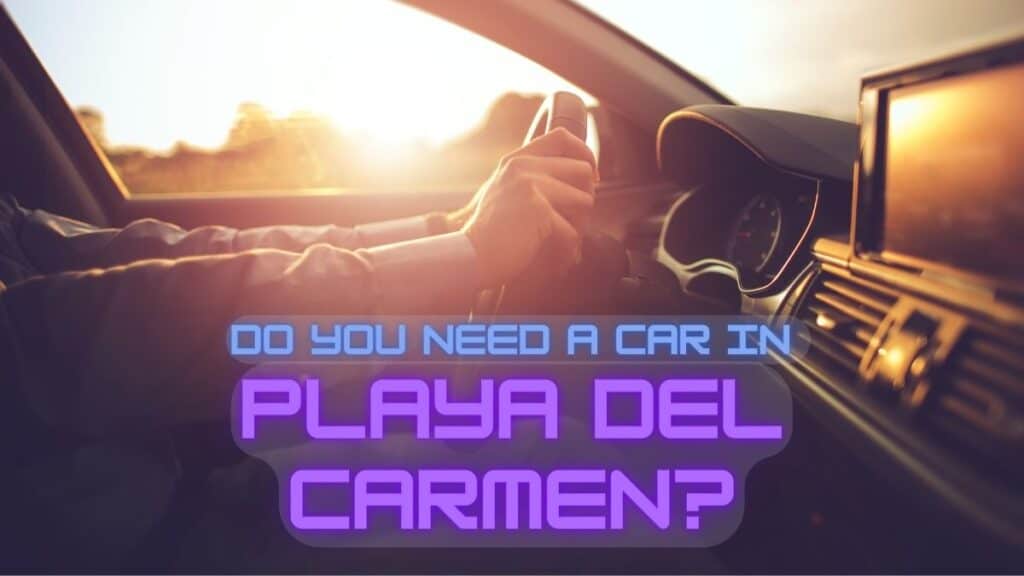 Do You Need A Car In Playa Del Carmen?
You can rent a car or call a taxi should you want to get somewhere in Playa Del Carmen but don't want to walk. That said, the town is easy to walk through and around. No bus service runs through Playa Del Carmen, so you'll either have to drive, use a taxi service, rent a bike, or walk.
Renting a car can come in handy when you fly into Mexico or are preparing to fly out. Not all hotels offer a shuttle service that'll take you from the airport to the hotel, so you should check ahead of time. However, if renting a car isn't ideal because you won't be leaving the resort, you can also hail a taxi.
Do you know what airport you land at to visit Playa del Carmen? Check out this article: Does Playa Del Carmen Have An Airport?
Where you're staying in the town will also determine what method of transportation you find most suitable, as will the weather. In the downtown epicenter of Playa Del Carmen, walking is the easiest way to get where you want to go. There are pathways reserved for pedestrians so you can avoid traffic while exploring the beach and surrounding hotspots.
Ultimately, whether or not you require a car will depend on the itinerary, you have set up for yourself while in the town. If you are only planning on staying on the beach or within the quaint town, having a car isn't necessary. 
How Do You Rent A Car In Playa Del Carmen?
Renting a car is much easier in Mexico than it is in some other countries. You want to ensure you have your driver's license with you, and you want to spring for insurance coverage. You can have a rental car set up to pick up at the airport, or you can find a rental agency in and around Playa Del Carmen. 
It's recommended that you book your rental car online before getting to Mexico, so you know one will be available for you. Once you pick up your vehicle, you'll make your payment for the car, taxes, and insurance. You might also be able to make a deal if you decide to call a rental agency and chat with an associate. 
Is It Easy To Drive Through Playa Del Carmen?
Playa Del Carmen is not difficult to drive through, regardless of your familiarity with Mexican roads. If you want to drive when you're in Playa Del Carmen, there are quite a few rental car agencies nearby to make an arrangement. Just don't forget that insurance, as it's required when you rent a car in Mexico. 
If you don't feel comfortable driving around a different country yourself, you can call a taxi service for occasions when you don't want to walk. Cab fare is fairly inexpensive in Mexico, but it's recommended that you tell the driver your destination first and ask for an estimate. 
How Walkable Is Playa Del Carmen?
Playa Del Carmen is a nice area to walk around in. If you're staying close to the beach, walking up and down the surrounding area is where you'll find an endless amount of exciting things to do. Furthermore, some areas of the town, such as La Quinta Avenida, can only be accessed on foot. 
This town is one of the most beautiful places to walk, regardless of the time of day. You can also feel safe walking along the beach or on the streets at night, as Playa Del Carmen has a reputation for being safe for tourists. That said, it's not a crime-free area, so being cautious is important. 
Where Is Playa Del Carmen?
Playa Del Carmen can be found on Mexico's Caribbean coast within Riviera Maya in Quintana Roo, a picturesque and lively province. It's close to Cancun, one of the top destinations in the sunny country. When visiting Playa Del Carmen, you'll likely fly into Cancun's airport, as the resort town doesn't have an airport. 
Things To Do In Playa Del Carmen
The breathtaking beach is one of the biggest draws for many tourists vacationing in Playa Del Carmen. The beach is situated amongst gorgeous palm trees and sparkling sand and runs along a 75-mile coastline. The pristine beaches tend to be what draws people to stay in the town, as is the bounty of activities that one can do on the beach.
Want to go surfing or scuba diving in Play del Carmen? Check out these articles: A Guide to Surfing in Playa del Carmen and Top Places to Scuba Dive in Playa del Carmen.
In this resort town, you'll discover some beautiful restaurants to enjoy fresh seafood and authentic Mexican cuisine. If you're looking for a break from the beach, there are various little shops to explore, golfing, and scenic nature to walk through. Fifth Avenue is also a great place to head to for a day, with little cafes and shops to discover.
Final Thoughts 
If you're looking for a getaway in a tropical, warm town with friendly people and a plethora of activities, Playa Del Carmen is the place to go. What's more, you don't need a car to explore everything the town offers, though renting one should you want to explore around and outside the city is possible.