Uber is one of the most popular modes of transportation in many countries. If you're used to use a Uber, you may wonder if it's available in Barcelona. After all, Uber offers a convenient and easy way to travel from one point to another with simply an app, and you won't need to understand public transport routes.
Barcelona generally has Uber, but it's not as accessible as other modes of transportation. Of course, you can always try to use the Uber app to see if you can find a uber-car nearby.
If you're always using Uber, you may find it a better option, especially if it's your first time visiting the city. Nonetheless, it's best to expect less from this ridesharing app to avoid ruining any schedule or plan. If you want to know more about Uber in this city, this article is for you.
This article will discuss everything you need to know about Uber and how to use it while staying in Barcelona. You can then take advantage of this option whenever necessary and be aware of the fares, benefits, and downsides before you arrive.
Without further ado, let's get into it!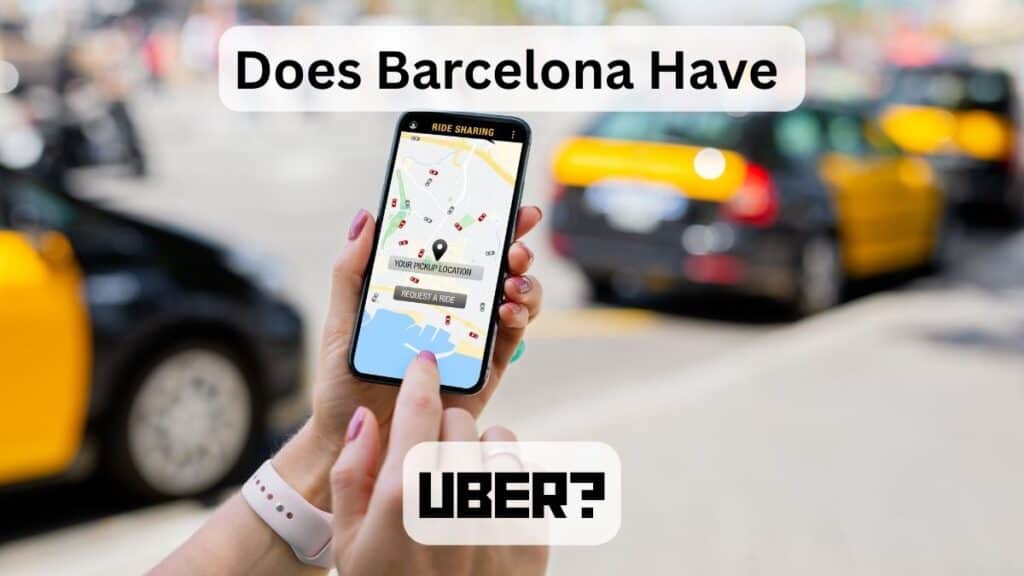 What to Know About Uber in Barcelona?
The Uber app works in Barcelona, and it works better in Spain than it does in Italy about functionality. However, you may find that the service isn't quite as fully functional as you're used to. 
If you want to check if Uber is in the city, you can open the Uber app from anywhere in the world. Although Uber currently operates in Barcelona, it isn't fully functional yet.
The Uber company has won a legal battle in Spain and has been allowed to operate there. As a result, Uber is fully expected to operate once travel is resumed and demand for the service rises again.
Is Uber the Best Mode of Transportation in Barcelona?
Every traveler has a specific preference and point of view when determining the best mode of transportation. 
As such, while Uber may be the best mode of transportation in other places, most people in Barcelona may disagree. If you stay in the city for a while, mass transit is a better alternative to Uber. 
Barcelona has a pervasive mass transit system, especially its subway system. Of course, using your phone to hail a ride is always more convenient than flagging down a taxi, but a metro app should work just as well. 
The app for the mass transit works like Uber. Of course, it won't give you that point-to-point service, but it will surely be enough to take you near your destination. 
Another benefit of riding the subway is that you're free from the hassle of traffic. Barcelona can be crowded as a tourist city, and its streets are always filled with cars. 
Hence, traffic is considered part of the trip. When you use the subway, you'll have a quicker trip and save yourself from all the traffic.
If you're unfamiliar with the city, Uber is the best way. However, it's easy to understand the mass transportation around, and once you do, you'll find it more accessible, cheaper, and convenient than an Uber.
How Much Does Uber Cost in Barcelona?
The price of Uber in Barcelona varies on the distance you're traveling. You'll see the exact price in the app once you book a car. 
As mentioned by the company, their prices are around 15 to 20 percent lower than taxis. To give you a better idea, the rates are around 0.18 USD for every minute or 2 USD for every kilometer.
It can be a cheaper alternative, especially if you plan to ride an Uber frequently during your trip. However, understanding public transport like the Metro would be the best option if you plan to save.
Is Uber Cheaper Than a Taxi in Barcelona?
When it comes to prices, Uber fares are cheaper than a taxi. However, the difference isn't too much. For instance, traveling from the airport to Barcelona's city center will be a 20 to 25 minutes ride. 
This trip can cost around 33 to 38 USD in a taxi, while an Uber can cost around 30 to 35 USD. So even if you're saving money, the difference won't be much, and you'll have more availability with a taxi than an Uber.
Of course, it's an expensive fare because the drivers pay mandatory entry and exit fees. Nonetheless, you'll have to pay almost the same price for either.
Are Taxis in Barcelona Expensive?
Comparing the taxi prices for Barcelona with those of other big European cities, you will find that they are pretty moderate. 
One thing to note is that Barcelona is a small city, which makes the typical trip much shorter. As such, the per kilometer price is about 15% cheaper than the capitals such as Paris and London due to its smaller size. 
A typical ride within the city center will cost you between 12 USD and 23 USD, depending on your route.
Is It Easy to Use Uber in Barcelona?
As mentioned earlier, Uber's app works right here in Barcelona and works better in Spain than in Italy in terms of functionality. However, as you get used to the service, you may find it less fully functional than you used to. 
The Uber app can be opened from anywhere in the world, so if you want to check if Uber is operating in the city, you can open the app from anywhere. Even though Uber is currently available in Barcelona, it still needs to be fully functional.
Alternatives to Uber in Barcelona
If you want to find another mode of transportation in Barcelona, you can try Cabify. It's also a ridesharing app you can book through your phone, and it works exactly like Uber. As such, it's best to have both apps on your phone to see which is available when you need a ride.
You can use the Metro, Buses, Trams, and the city's suburban rail service if you want better transportation alternatives to Uber and other ridesharing apps and taxis.
The advantage of using these modes of transportation is that they are faster, cheaper, and contribute to the environment.
Conclusion
In a nutshell, Barcelona has Uber, and you can use the app in this city the same way you do in other places. The only thing to note is that it's not widely available, so you'll find it challenging to book an available car occasionally. Further, while Uber fares in this city are cheaper than taxis, the difference isn't much for budget-conscious travelers.
Another thing worth mentioning is that Barcelona has excellent mass transportation. Such types of transportation are cheaper, traffic-free (which means faster), and eco-friendly. Thus, we highly recommend you understand how they work. This way, you can save time and money rather than booking an Uber or hailing a taxi.