If you're heading out on a trip, you might wonder how you can get around. Do you hire a car or can you rely on taxi services? Here we'll tell you everything you need to know about Uber in Cancun.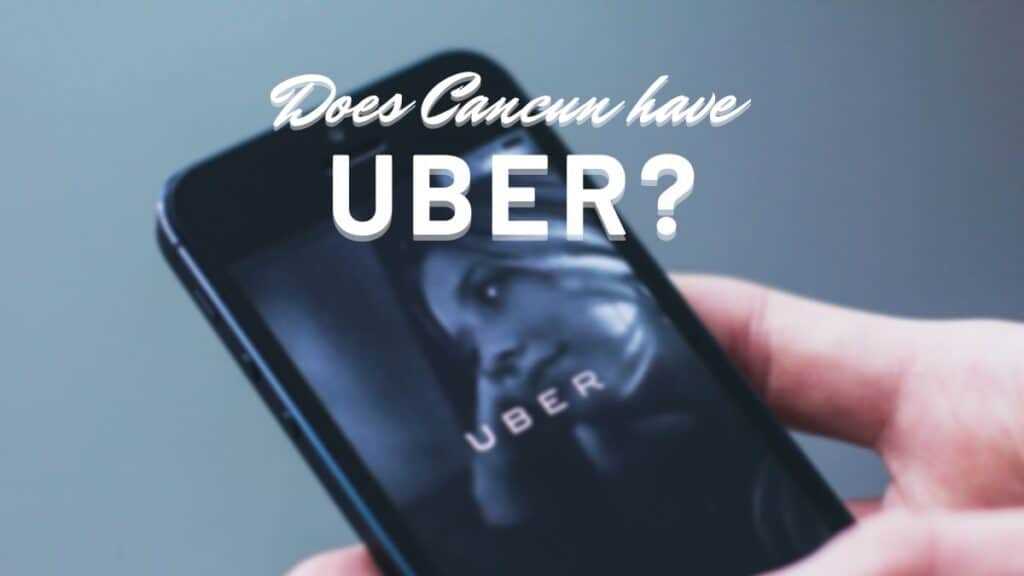 Uber in Cancun
When it comes to getting around in Cancun, you can rest assured that you can rely on the trusty Uber to get you from A to B. As Uber is already available in many countries around the world, the chances are that you already have the app downloaded on your phone.
Like in most locations, you can request Uber on the spot, although you may have to wait a little while, or you can request a ride up to one month in advance. Both of these can be done easily and conveniently using their app.
Uber first became available in Cancun in 2016 but was shut down just one year later in 2017 as the company had issues with local taxi unions. However, the company opened back in Cancun in 2019 when a federal judge allowed them to continue its operations.
Despite being allowed to resume operations, many Uber drivers still face issues from the local taxi drivers and their unions. They are certainly not happy with the company's presence as they are subject to less harsh rules and regulations. However, it may also be since Uber brings down the price of taxis which were previously inflated for tourists.
How to use Uber in Cancun
In principle, ordering an Uber in Cancun is no different from using Uber anywhere else in the world (technically, all you need to do is download the app, add a payment method, and select your pickup location and destination). However, due to the rivalry with the local taxis, it can be a bit tricky to get a ride.
The best way to use Uber in Cancun is to make sure that you set your pickup location away from anywhere with many local taxis. This will give you the best chance of finding a ride, as many Uber drivers do not want to step into the territory occupied by local taxi drivers for fear of confrontation.
Another tip for using Uber in Cancun is that you may want to invest in a local sim card, or even a travel sim card, as this can stop your cell phone bill from large charges for using the internet abroad. Although this isn't strictly necessary, it can help to save you a lot of money.
If you are getting picked up from an area with many local taxi drivers, consider telling them that you are waiting for a friend if they are hassling you. You can also sit in the front of the Uber as this will help give off the impression that you are indeed being picked up by a friend and not an Uber driver.
Is Uber safe in Cancun?
Generally speaking, yes, Uber is safe to use in Cancun. Although the hassle from the local cab drivers may seem like a reason to avoid using Uber, it is still perfectly safe. The great thing about Uber is that you can access your ride's details, including the driver and the car.
Unlike local taxis, which provide no information about the driver – there have previously been arrests of taxi drivers for possessing weapons – Uber does. Before you even get in the car, you will know your driver's name, appearance, and their vehicle. This is also helpful if you accidentally leave something behind in the car and need to have it returned, as you can contact Uber support or your driver directly.
In some cases, there have been reports of drivers removing their license plates. Although you may be fine, this action has been linked to bad drivers, and so in the interest of safety, you should not get into an Uber if the car doesn't have any license plates. Instead, cancel your ride, move along a little bit and try to reorder your cab.
Remember that if you do not feel safe in your ride, you can get out at any time. You can also contact Uber support and share your ride journey with a friend or family member.
Related article to you must read: Is Cancun Safe? -Things You Should Know!
Uber alternatives in Cancun
As you may have guessed, the alternative to Uber in Cancun is local taxis. However, as they had little competition for many years, and there is always a great influx of tourists, they have gradually increased their prices over the past few years. They are now four times what they were not that long ago!
Although it may be easier to get a local taxi, as they are more numerous than Ubers, and they act like a mafia trying to squeeze out the competition, there are several reasons why you should still consider getting an Uber instead of a local cab. Local taxis are more expensive, possibly less safe, and may try to rip you off in any way they can.
If you need a ride to or from the airport, you may also be able to book a private transfer. This will involve you prearranging a set pickup location and time and possibly also providing your flight details so that your driver can get you to the right place at the right time. If you have a large party, then this may also be the cheapest option.
It should be noted that apparently, Uber drivers are not allowed to pick up passengers from the airport, so in some cases, they park in the parking lot, walk into the terminal and meet you in person. However, you should still be able to get an Uber to the airport if you choose a sensible pickup point.