Are you looking into a vacation at Playa Del Carmen, Mexico, and wondering if there is a conveniently located airport nearby?
Playa Del Carmen does have its own airport, but it is not the airport you're likely to arrive at or depart from if you are going on vacation. The best and most convenient airport for Playa Del Carmen is Cancun International Airport, about 22 miles (35 km) away and connected by a freeway.
In this article, I explain why Cancun International Airport is the most convenient airport for Playa Del Carmen. I'll look into the options for traveling between Cancun International Airport and Playa Del Carmen and explore any alternative airports which you might be able to use.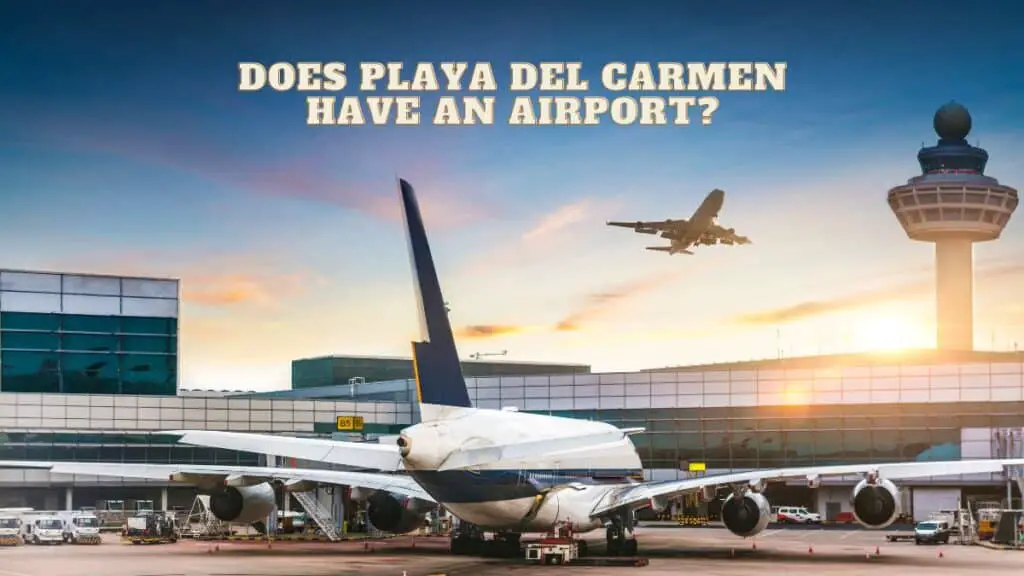 Playa Del Carmen
Playa Del Carmen is located on Mexico's Caribbean coast and attracts scores of holidaymakers each year because of its white sandy beaches, coral reefs, shopping, restaurants, and vibrant nightlife. While it has developed rapidly in recent years, Playa Del Carmen is still a world apart from its bigger and brasher neighbor, a short drive north along the coast – Cancun.
Related article: Can You Drive to Cancún From the United States?
Playa Del Carmen's shoreline is comprised of a long white sandy beach next to the clear Caribbean Sea.
The part of Playa del Carmen beach south of the main pier is a family-oriented beach with plenty of watersports, sun loungers, cabanas, and kiosks. From here you can also take a boat trip to Cozumel Island. North of the pier, the beach vibe changes; here, there are beach clubs where you can sip cocktails while listening to music as you sunbathe on a lounger.  
Playa Del Carmen's main street is 5th Avenue, a strip full of boutiques, art galleries, restaurants, bars, and hotels, mixed in with craft stalls. Entertainers and street performers liven up the already-buzzing atmosphere.
Cancun International Airport
Cancun International Airport (CUN) is a large airport with two runways and four terminals that operates 24 hours a day.
Cancun International Airport is Mexico's second busiest airport and did handle more than 22 million passengers in 2021.
Cancun International serves a wide variety of domestic and international destinations.
Most large cities in the USA and Canada are connected to the airport by direct flights. Aside from domestic routes, the busiest international passenger routes for Cancun International Airport are Dallas/Fort Worth, Houston, Chicago, Denver, Atlanta, Miami, New York, and Los Angeles. Cancun is also directly connected to various European places such as the UK and Germany.
Getting To And From Cancun International Airport
If you're staying in Playa Del Carmen and have arrived at Cancun International Airport, the good news is that the journey between the two is about a 50-minute drive straight down Highway 307. Usually, Highway 307 does not typically have too many traffic jams and lows well unless there has been an incident.
You have many options to get to and from Playa Del Carmen from Cancun International Airport, both public and private transport. Transportation from the airport is regulated, meaning you must travel with an officially licensed transport provider.   
Public Buses
Cancun International Airport has bus services provided by Autobuses de Oriente (ADO), which connects the airport to Playa del Carmen. Buses stop at all four airport terminals and run daily, at around 30 to 45 minutes. The buses go directly to the ADO bus station on Juarez Avenue in Playa Del Carmen.
The journey time is about one hour and 15 minutes. Note that these public buses do not call at tourist hotels or make any stops along the route. So, while cheap, this option is unlikely to be convenient to get directly to your vacation hotel unless your hotel is close to the ADO bus station.
If you are traveling on a budget, this might be a suitable option for you. The fare is 225 pesos, you can pay in USD, but you'll get change in Mexican pesos.
Related and must-read articles: Do You Need Pesos in Playa del Carmen?
and Best Way to Get Mexican Pesos
Airport Taxis
If you want to take a taxi, you can either get a waiting taxi as you exit the airport terminal (Terminals 2 and 3 only), or you can pre-book. If you don't pre-book, you are at some risk of high and unexpected fares, and your driver may only speak Spanish. Also, note that these taxis tend to be available only between 7.00 am and 11.30 pm at Terminal 2 (24 hours/day at Terminal 3). Credit cards are not accepted, so you'll need cash.
Taking an Uber is unlikely to be a viable option from the airport. Uber has had a chequered history in Mexico and is strongly opposed by local taxi unions.
Read more about it here: Does Cancun have Uber?
Car Rental
If you want to explore the local area while you're on vacation, this might be a good option. Cancun International Airport has a wide selection of car rental agencies, and all major car rental brands are available. You are advised to pre-book your car through a recognized brand website before your vacation.
You'll need liability insurance which is mandatory for car hire in Mexico, and remember to check if your booking includes liability insurance. If not, this cost will be added to your bill when you arrive. You can typically expect to pay around USD40 to USD50 per day for a small to medium rental car.
Private Transfer Services
You will find various companies online offering 24 hours a day private transfer services, which take about one hour to reach Playa Del Carmen. The official Cancun International Airport website has a personal transfer pre-booking service. You can fill in your destination, and the website will list out the available private transfer pre-booking options and prices that are available.
According to the official website of Cancun International Airport, we checked what options are available to Playa Del Carmen; and this is what we found:
| | | |
| --- | --- | --- |
| Vehicle | Maximum Passengers | Price/USD (one-way) |
| Taxi | 3 | 42 |
| Standard Private Minivan | 7 | 43 |
| VIP Private Vehicle | 5 | 84 |
| Private Minibus | 17 | 99 |
| Limousine | 8 | 320 |
The advantages of these private transfer services are that you can book in advance, you know the price upfront, and your driver will be ready and waiting for you in the terminal arrivals area.
Shared shuttles: Many pre-bookable shared shuttle services are running from Cancun Airport to Playa Del Carmen. The typical price is USD29 one-way, so this option is cheaper than a pre-booked private taxi. However, as these are shared vans, there are likely to be several stops for other passengers before you get to your hotel. However, it is a door-to-door service direct to your hotel.
Other Airports
There are a few other airports that you might consider. Still, unless you have a specific reason for using any of these alternatives, Cancun International Airport is likely to be your best option, given its frequent flight schedules to many destinations and the direct highway route between the airport and Playa Del Carmen.
Let's take a look at the possible alternatives:
| | | |
| --- | --- | --- |
| Airport | Comments | Verdict |
| Cozumel Airport | The airport is located on Cozumel Island, off the main coast, and the airport is smaller than Cancun International Airport, so it has fewer flight options. To get between Cozumel Airport and Playa del Carmen, you have to take a taxi to a ferry pier (10 minutes), take a ferry (45 minutes), and then once you're on the mainland, you are likely to need another taxi (5 – 10 minutes) | Longer and less convenient journey than Cancun International Airport |
| Merida Airport | Merida is the capital of the Yucatan State and is located around 190 miles away from Playa Del Carmen. You could take a taxi from Merida International Airport to the downtown bus station and then take a bus which could take up to four hours to reach Playa Del Carmen. | Too far away from Playa Del Carmen and not worth the trip unless you are combining your Playa Del Carmen vacation with some days around Merida |
| Chetumal Airport (Quintana Roo) | Chetumal has a small international airport located around 200 miles from Playa Del Carmen. However, there are no direct flights to cities in the USA and Canada. The journey to Play Del Carmen from this airport could take up to four hours. | No direct USA/ Canada flights, and too far away from Playa Del Carmen |
| Playa Del Carmen | There's a small airport located within Playa Del Carmen, so, in theory, it's convenient. But, and this is a big but, the airport is used for general aviation flights and skydiving. You will not be able to get a scheduled or charter passenger flight to Playa Del Carmen airport. | Forget it! |
In conclusion, Cancun International Airport is the main airport people use when staying in Playa Del Carmen.
Summary
If your staying in Playa Del Carmen, your easiest option is to fly to Cancun International Airport.
For safe and hassle-free travel from the airport direct to your hotel in Playa Del Carmen, you're advised to pre-book a private transfer service. There are several options depending on your budget and group size. You can book a private transfer from the official Cancun International Airport.
If you're on a budget, you could get a shared airport shuttle.
The cheapest option is the ADO bus, but you'll get dropped off at the bus station, not your hotel.