If it's your first time visiting Mexico City, seeing and exploring this vast city at a glance can be overwhelming. As such, many tourists ask if it's better to drive or walk as you explore the city.
Generally, Mexico City is filled with many vehicles. As such, you can expect heavy traffic on almost every highway. Walking is better than driving, especially if you are new to getting around. Also, it's better to commute than drive if you can't walk from one spot to another.
Of course, choosing between driving and walking will always be relative, especially when considering your starting point and destination and your traveling preferences. For this reason, we made this guide to help you understand the benefits and downsides.
Without further ado, let's get into it!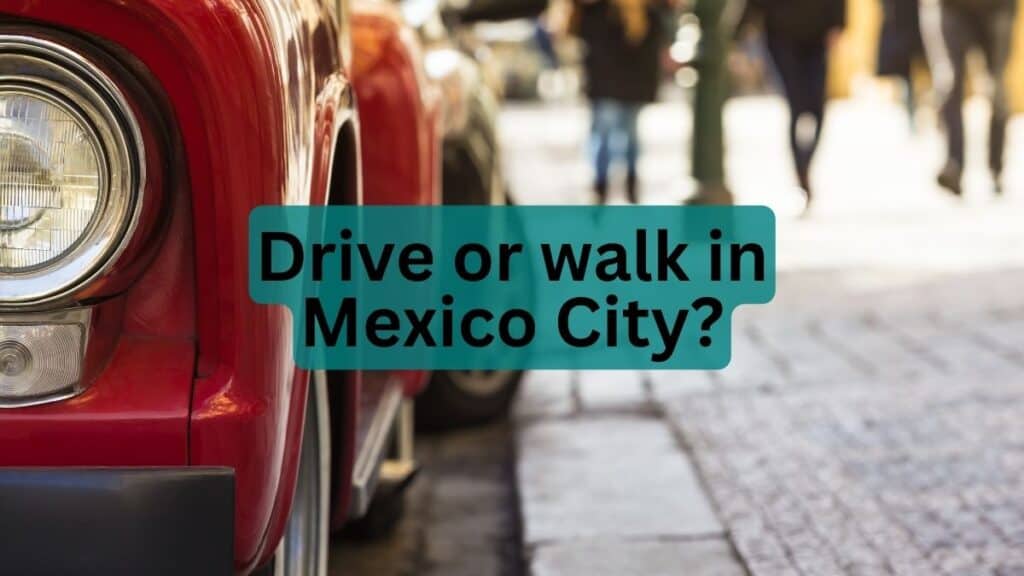 Do You Need a Car in Mexico City?
If your trip to Mexico City involves touring places and spots away from the city proper, you'll need a car for a more convenient and flexible trip. However, walking or commuting is your best option if you're only exploring the city's attractions.
If there's one thing to note about traveling in Mexico City, the city has an excellent public transportation system. As such, you'll always have options if you need to travel from one point to another.
As such, it's best to walk if you're trying to reach a particular spot within walking distance, and it's best to commute rather than drive if you're far from your destination. This way, you can ensure you won't get lost or stuck in traffic which is usually the case in the city.
Driving in Mexico City
If you plan to drive in Mexico City, whether in your car or a rental one, you must be prepared to go through the city's streets.
In general, traffic in the city is heavy, mainly because it's populated and filled with vehicles. Here, you can find well-experienced drivers that will give you a problem.
Also, if it's your first time visiting any Mexican city, much less the capital, you can be unfamiliar with the traffic rules. Another problem you might need help with is the rugged roads, making them challenging to navigate.
While you may have excellent driving skills, it will only do good if you're familiar with the streets of this city. You'll find wide roads with many lanes here, and the traffic can always be chaotic. As such, it can be challenging to navigate even with the help of a GPS.
Finally, driving in Mexico City means you need parking space, and that's relatively limited given the city is filled with vehicles already. So if you find a parking space, chances are it's limited and expensive.
You may find some areas charging for parking by the hour. As such, it will be better, especially if you only like to park for a while. If you'll think about it, the hassle's not worth it.
Other things to consider are the expenses you'll have. For example, the gas prices in the city can be high, and if you're renting a car, you'll also have to consider such. But on the other hand, public transportation is more efficient and cheaper than driving.
Walking in Mexico City
Walking is ideally the best way to explore Mexico City, but only when exploring the neighborhoods. After all, most of the attractions are packed in the city's center.
Because of the heavy traffic in the city, you'll find it quicker to reach one spot to the other on foot. Also, in the city, you'll find safe and wide sidewalks which you can thread to explore the city.
Also, the parks and museums in the city are closer to each other, which means you don't need to walk for hours to get to another attraction.
It might seem obvious, but exploring Mexico City on foot is the best. If you're going far, you'll want to take the bus or train. However, walking is the best option inside each neighborhood! 
You miss much of the city when you're underground or in a car, so strolling will help you get a better feel.
Most streets have wide sidewalks, and many significant avenues have pedestrian zones in the middle and sides. In addition, you'll find many parks around the city, which are great shortcuts and scenic places to visit.
In the evenings (before 10:00 pm), it's usually considered safe to stroll through popular city sections unless you're on the beaten path. 
You'll still find many people partying and drinking in bars, going home after work, and dining out since dinner in Mexico City is late. 
Nonetheless, booking ridesharing apps like DiDi or Uber is best to ensure your safety. This way, you can avoid unnecessary night walks, especially if you're already headed to your hotel.
Finally, walking is cost-free and a terrific way to exercise while enjoying the views. For this reason, we recommend walking through the city whenever you can.
Other Modes of Transportation in Mexico City
One notable thing about Mexico City is its numerous public transportation system. As such, you won't have to choose between walking or driving. 
Other standard transportation modes in the city include the Metro, Tren Ligera, Metrobus, Bicycles, Ridesharing vehicles, and Cabs or Taxis.
To know more about these options, read our article: Mexico City: Best Transport Options Revealed.
Safe Transportation in Mexico City
Of course, due to the numerous options and the risky things and problems that Mexico City is well-known for, you'll want to ensure you use only safe transportation modes.
In general, all public transportation in the city is safe. However, you still need to be cautious since it's public transport, and you'll find many petty crimes and scams around the city.
Please read our article about the Safest Transportation in Mexico City to learn more about these options. 
Conclusion
In a nutshell, walking and commuting are better than driving when exploring Mexico City. This capital city is vast, with wide roads, complex routes, limited parking, expensive gas, and heavy traffic, making it inconvenient for tourists with cars. Therefore, walking whenever possible and taking public transportation from afar is best.
There are always many approaches for tourists to navigate the city. It will entirely depend on your financial situation, the time of day, and how easily you feel in an unfamiliar place. However, all modes of public transportation are secure, reasonably priced, and simple enough for tourists to use.