One of the unique things about Cabo San Lucas is that its waters become the home of whales that migrate from the Arctic Ocean. From December through April of every year, they move to the waters of the Baja Peninsula to enjoy the warm waters, feed, bond, and breed. As such, whale watching is a popular activity around this city, and it's a must-try when you're around.
For this reason, we made this article your ultimate guide to knowing everything you need about whale watching in Cabo San Lucas. This information includes the types of whales to see, the best tour companies to book, and the best time to do so. This way, you'll have better chances of spotting whales in the city and make your stay more enjoyable.
Without further ado, let's get into it!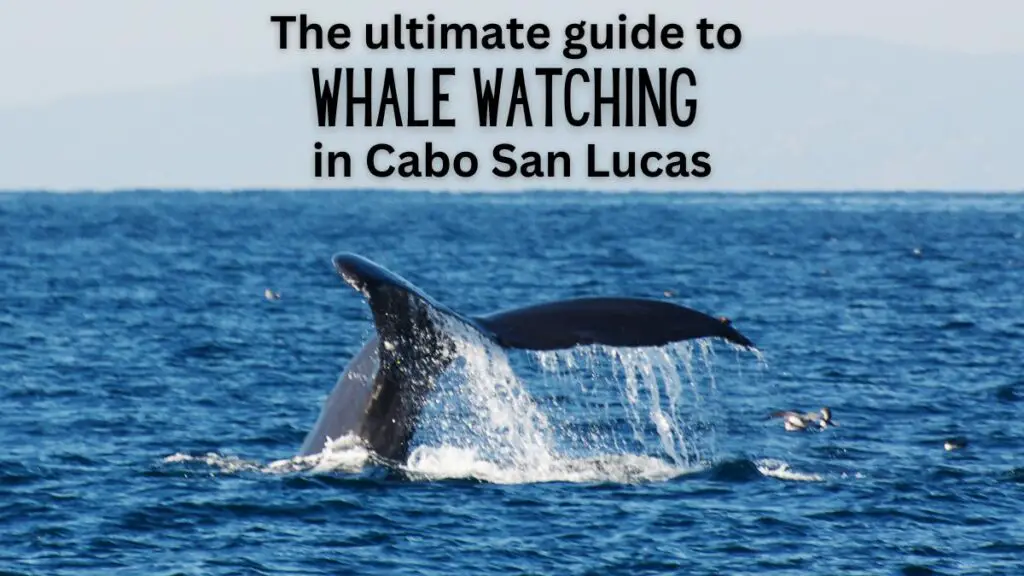 What to Expect with Whale Watching in Cabo San Lucas?
As a city that rests on the southernmost end of the Baja California Peninsula, Cabo San Lucas' waters become the home of several types of whales from December to April. As such, you'll almost see whales hopping in the waters every time you take a tour.
Of course, these animals are wild, meaning there's no way of telling when they show up. However, the migrating season means most will stay in these waters.
If you book a tour during the migrating season of whales, there's around a 90% to 95% chance of watching them. After that, it's only a matter of how many whales you'll see for every tour.
You'll sometimes see thrilling action when the whales hop on the surface. In other instances, you'll only get to see them swimming around. Nonetheless, the chance to watch these massive animals is an experience in itself.
What Types of Whales Can You See in Cabo San Lucas?
In Cabo San Lucas, you can see several types of whales, depending on the month and the migrating season. In general, the common types to see in Cabo San Lucas are the following:
Blue Whales (which are the largest whales to see around)
Orcas (which are killer whales)
Minke Whales
Pilot Whales
Sperm Whales (the largest type of toothed whale)
Fin Whales
You can also spot two main species of whales that come from Alaska. These are:
Gray Whales
Humpback Whales
If you're wondering about the most common whale to see in Cabo San Lucas, they are the humpback whales. These whales are the most energetic of all, and they are also the best whales to watch because they're so active.
As I mentioned earlier, these whales migrate from Alaska to Mexico to enjoy warm waters, and this migration is among the longest migrations made by animals.
Almost ten percent of the entire population of humpback whales comes from Mexico. As such, it's not surprising to see a group of them now and then when going on a whale-watching tour in Cabo San Lucas.
Whale Watching Experience in Cabo San Lucas
When it comes to experience, you'll surely enjoy watching whales in the city. You can even watch some whales from the coast as they spout and hop. Seeing these animals from afar can be a sight; if you do, they are usually humpbacks.
Some tourists say they are noticeable from Santa Maria Beach. However, the sight is pretty far and different from going up close through a tour.
Of course, while you can enjoy watching whales by the shores, it's still worth trying a tour. This way, you can see some action from a close distance and learn about their behavior.
You can get pretty lucky during the tour, as some whales can show real action by hopping in and out of the sea. 
Sometimes, you'll get to take a picture of the entire whale out of the sea. In other cases, you'll only get the tail. Sometimes, you'll see a whale several times, while others don't even appear on the surface.
Still, it's best to remember that because these creatures are wild animals. As such, you'll have no assurance that they will appear. However, most tour companies in Cabo San Lucas offer a free second tour if you don't see any whales.
Best Whale-Watching Tours In Cabo San Lucas
When booking a whale-watching tour, you can set your preferences to choose the type of tour that suits you. Tours vary mainly by boat, as some can be adventurous with high speed. On the other hand, some boats are larger and more stable. Some tours even offer a cruise boat to enjoy the ride.
One thing to note is that most boats start at the Marina. As such, if your purpose in visiting the city is mainly the whales, it's best to book accommodation nearby. Read our Cabo San Lucas Marina guide to learn more about this area.
Another thing to note is that most of these tours pass through the most popular spots in the city, namely Lover's Beach and the famous arch of Cabo San Lucas. So if you plan to visit these sites, you can see them as you go through the spots to see the whales.
Finally, it's best to remember that the local government regulates whale watching. As such, you'll find all boats keeping a minimum distance to protect the whales.
On Zodiacs
These tour companies are suited for small groups of tourists since it's limited to 15 passengers for every boat. 
The passengers include the boat captain, who also serves as a host, and a photographer who will take your pictures. Since you already have a photographer with you, you can ensure outstanding photos documenting your experience. 
The boats from these tour companies are pleased with the soft seats you can take. If you're visiting with kids, you can include them in the tour as long as they are at least five years old. 
The boats in these companies usually have a climbing spot for a higher point of view. These boats are also one of the fastest, giving you better access to spots where whales will appear. 
The boat captains of these companies are also knowledgeable and will teach you more about the behavior of the whales. 
Your captain will also know when and where whales will appear. As such, you can prepare your cameras for that spot, ready to capture the animals as they jump. 
Overall, any of these three options will surely give you an enjoyable whale-watching experience that's personal and up close. 
The tour takes around two and a half hours and already includes a service that will pick you up and return to your accommodation.
Cabo Expeditions
Whale Watch Cabo
Cabo Adventures
On Tiny Boats
Tiny boats are usually allowed to accommodate 18 people. However, most tours recommend only around 10 to 12 passengers for every tour. Otherwise, you'll be crowded and won't find any legroom on this tour.
With a tiny boat, you get accompanied by marine biologists who serve as your tour guides. 
Below are the most popular companies offering whale-watching tours on tiny boats:
Cabo Trek
Address: Hotel Tesoro, Blvd. Paseo de la Marina 20-Local A, Centro, 23450 Cabo San Lucas, B.C.S., Mexico
Phone Number: +52 624 143 6242
Website: Cabo Trek
Whale Watch Cabo
On Huge Boats
Whale-watching on a giant boat is ideal for groups with members prone to getting seasick. However, it's also the choice of many people who want more entertainment besides the hopping of whales.
Most big boats can accommodate fifty to more than a hundred passengers and are designed for smoother sailing. Some companies even offer complimentary snacks and alcoholic drinks. In general, some even offer a day-long tour with meals included.
With a big boat, you can enjoy a more stable ride. Unfortunately, it's not something you'll experience with the first two options since the waves in these waters are pretty rough. 
Below are some of the tour companies that offer whale-watching on big boats:
Sunrider Tours
Address: Blvd Marina S/N | Int Gali Plaza Local No. 41, Centro, 23450 Cabo San Lucas, B.C.S., Mexico
Phone Number: +52 624 143 2252
Email: info@sunridertours.com 
Website: Sunrider tours
Wild Cabo
Address: Calle Melchor Ocampo 3320, Downtown, Centro, 23450 Cabo San Lucas, B.C.S., Mexico
Phone Number: +52 624 105 0177
Email: info@wildcabotours.com 
Website: Wild Cabo
EcoCat
Address: Blvd Marina Loc F 13, 14 y 15, Centro, 23450 Cabo San Lucas, B.C.S., Mexico
Phone Number: +52 624 144 4507
Website: EcoCat
Pez Gato
Address: Pedregal, Camino del Cerro 215, Marina, 23453 Cabo San Lucas, B.C.S., Mexico
Phone Number: +52 624 143 3797
Email: reservations@pezgato.com 
Website: Pez Gato
Cabo Adventures
On Sunset Cruises
Sunset cruises are more than just a whale-watching tour. However, even a simple cruise tour through the waters of this city can be a chance to spot whales.
Even if you're only on a simple cruise, you could witness lots of whale activity as long as it's whale viewing season.
With this in mind, even a sunset cruise can offer you a glimpse of whale action!
Whale encounters are the most impressive spectacles! On such tours, you can even enjoy a glass of margarita.
Whale Watching Season
The whale watching season in Cabo San Lucas generally starts around the first week of December and lasts until the middle of April. However, the peak months are December until January. During these months, you can see various whales, including blue, gray, orca, and more.
Of course, some months differ, and some whales show up within a particular month. As such, if you want to know more about the whale watching season, read: When Is Whale Watching Season in Cabo San Lucas?
Best Time of the Day to See Whales
Most whale-watching tours are available thrice a day. These are dusk, mid-day, and dawn. Generally, the best time to see whales in the city depends on your preference. Most tourists prefer the morning when the waters and the winds are calm.
On the other hand, some tourists claim that cruises in the late afternoon might provide some of the finest opportunities to see whale activity. They claim that whales are more animated and playful under more erratic weather with more intense waters and winds.
An afternoon trip may be more pleasant for you and provide you with more space to walk about because there will likely be fewer passengers on tour.
Conclusion
Overall, the whale-watching activity is a must-try experience. The sight of these majestic creatures is something every tourist remarks, and it will speak for itself once you're on tour to see the whales. We hope you had a better idea of the experience with this guide. The only thing to do is book a tour and let your eyes feast on the sight of whales in Cabo San Lucas.