Are you looking for a great location to enjoy a peaceful and unique horseback riding experience while visiting the beautiful Mexican city of Cancun? Well, you are in luck, because this area offers plenty.
In Cancun, you can choose to horseback ride through the enchanting jungle, majestic beaches, or throughout the many other natural and beautiful scenery this amazing city has to offer at almost any time of the day.
If you are planning a trip to Cancun this year, here are some of the best locations to choose from to go on a horseback riding adventure.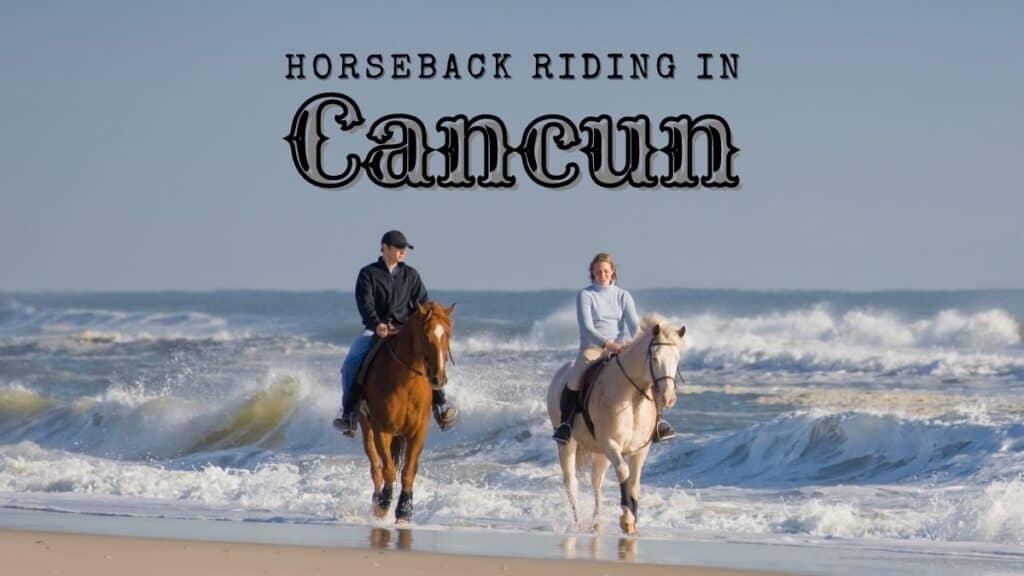 Where Can You Horseback Ride in Cancun?
Whether you are looking for a daytime experience riding along the serene and cool waters, stopping only to take a relaxing dip, or getting up close and personal with some wildlife in its natural habitat, Cancun has it all. 
Below are a few of our favorite ways to ride horseback and the best options available to you.
Horseback Riding on the Beach
Most people book a trip to Cancun specifically to experience their beautiful beaches. This is why we wanted to give you a great list of companies who will take you along those shorelines while still enjoying a ride in the open air.
$69 USD Per Adult
$45 USD Per Child
At Rancho Loma Bonita, you can take day tours alongside the beautiful beaches of Cancun, stopping to swim in the refreshing cenote. During the experience, guests have the opportunity to take an adrenaline-inducing ride on the zipline attached to the cenote and afterward enjoy a snack while continuing the adventure through the dense forests. 
With Playa del Carmen, you will get the experience of a lifetime, riding the back of a majestical equine, along the shores of the ocean, beyond the busy city life.
You can also learn about the Yucatan flora and fauna history while on a guided Playa del Carmen horseback riding tour. This is a great ride for all ages and skill levels, allowing nature lovers to visit some of the most amazing wildlife the world has to share.
What's more exciting than a horse and hat horseback ride on Maroma Beach, then through the Mayan jungle. Gear up and get your cowboy on during this time while taking in the astonishing views of the local landscape and strolling the white sandy beaches. 
Horseback Riding Through the Jungle
The jungles of Cancun, Mexico, are enchanting, exciting, and awe-inspiring. If you are looking for an amazing way to view all these woodlands offer, consider contacting one of these places to book a horseback ride tour.
Adults USD $ 110
Children USD $ 110
Staff from Rancho Bonanza will pick you up from your hotel for an unforgettable 1 1/2 hour long riding tour through the beautiful jungle spots and fruit tree plantations, where you will get up close and personal with monkeys, birds, and other animals native to these areas.
Classic Ride $75 US per person
Delux Ride- $175 US per person
Rancho Baaxal is a family-owned and operated ranch that offers guests the opportunity to personalize their horseback riding experience. You can take a classic fairytale ride through the jungle with tons of natural trails to follow or book a deluxe ride, where they will lead you to a surprise picnic set up in a secluded location for a lunch date to die for. 
Adults $89 USD • Ages 10+
Children $79 USD • Ages 8-9
While Off-Road Canun Tours is popular for their ATV rides through the Mexico jungles, they also offer guests the opportunity to take long, relaxing, and insightful horseback rides along clear trails full of animals, plantations, and other fantastic sights to see. In between rides, you can take a dip in the cenotes, enjoy a snack, and fly down the ziplines for an entire day of fun.
Sunset Horseback Riding
What could possibly be more romantic than riding sunset on horseback? Not much, right? Luckily, there are a few locations in Cancun where you can do just that to make your visit just a tiny bit more breathtaking.
Many of the tourist (tour) options available do not offer horseback riding after mid-day. However, there are many local ranches with riding options that will suit your every need.
Casa Sagrada, Rancho Esmeralda, and Rancho Las Cascada are just a few of the ranches you should consider looking into while planning your Cancun vacation.
It is important you thoroughly check the ranch you will be booking your tour with to ensure they are reputable and provide quality service. You also want to be sure that the ride you choose suits your needs and your experience level. The last thing you want to do is take a tour with other experienced guests who have no clue what you are doing.
Other Tours to Consider
You can design your experience however you want as long as you know what to look for. Here are a few other local horseback riding options to consider while visiting Cancun.
Jungles of Costa Maya and explore uncovered Mayan Ruins 
Beach tours with snorkeling adventures
Bareback riding tours
Guided historical tours
Other tings to do in Cancun – Check this article: What to do in Cancun
Summing Things Up
Cancun alone is one of the most attractive tourist destinations, enticing guests worldwide due to its beautiful landscape, gorgeous, clear beaches, and exciting adventures. Book a horseback riding tour today with one of the awesome options above to make your trip to Cancun a dream vacation come true.
Wonder if you can drive from the US to Cancun? Check out this article: Can You Drive to Cancún From the United States?