Barcelona is one of the most popular tourist destinations in the world. You can find many stunning attractions here, and the city has a great culture many people want to experience. If you have yet to go to Barcelona, you may wonder how big this city is.
In general, Barcelona is Spain's second-largest city, and it spans a land area of 101.9 square kilometers or 10190 hectares. The city is also the capital of the Catalan region, and it's home to a population of more than 5.6 million.
As a large city, Barcelona offers many stunning attractions, including exploring several districts or neighborhoods. As such, if you're curious to learn more about this city, you'll first want to know how vast it is.
In this article, we'll walk you through everything you need to know about the size of Barcelona. This information includes the size, land area, and population density. After reading, you'll know about the city's size and what to expect when you arrive. 
Without further ado, let's get into it!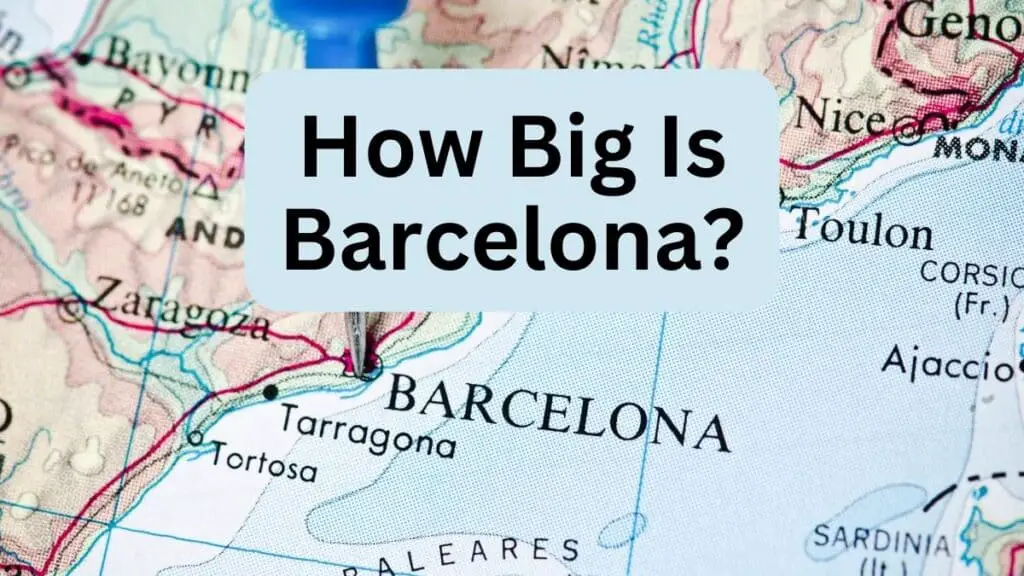 Size and Population
It is a good idea to research the activities available in your destination before traveling there. By doing so, you will be able to plan your itinerary accordingly. 
Now, if you plan to visit Barcelona, understanding the size and population may help you know what to expect from this city and prepare according to it.
Land Area
Barcelona's land area totals around 101.9 square kilometers with an elevation of 12 meters. It ranks as the second largest city in Spain, next to Madrid. 
This vast city is home to many stunning architectural works and art forms by famous people in history.
With such a vast land area, it's divided into ten districts or neighborhoods. As a result, each of Barcelona's ten districts contains several neighborhoods. 
Whenever a location in Barcelona is described, these neighborhoods are referred to as the Barrios.
Population Density
Regarding population density, Barcelona houses around 16,000 people for every square kilometer or a hundred hectares.
With such a large population, Barcelona is among the Mediterranean Sea's greatest metropolises. It is situated between the mouths of Llobregat and Bess and surrounded on its western edge by the mountains of the Serra de Collserola.
Barcelona Size Comparison
It's challenging to have an idea about the size of a city with just mere numbers. As such, the best way to know its size is by comparing it to other famous cities. Below, we'll compare Barcelona to other cities to give you a better idea about its size.
Barcelona vs Madrid
Madrid is the capital of Spain, and it's the largest city in the country with more than six hundred square kilometers of land area. It's almost six times larger than Barcelona, which only covers a hundred square kilometers.
The population of Madrid is also higher, with around 6.7 million people, while Barcelona only has 5.6 million. However, compared to the density, Barcelona is more crowded since it fits more than five million people within a hundred square kilometers.
Barcelona vs. Paris
If you've ever been to Paris, you can better understand how big Barcelona is since the two cities are almost the same size. However, Paris is more extensive, around 5 square kilometers more than Barcelona. 
However, concerning population, Paris is less crowded, with only 2.1 million people, while Barcelona houses 5.6 million.  
Barcelona vs. London
London, the capital of England, is around 15 times larger than Barcelona, covering more than fifteen hundred square kilometers compared to only a hundred square kilometers.
Regarding population, London also has a higher number of residents, with around nine million, while Barcelona only has around five million.
Conclusion
With this information, you now have an idea about the size of Barcelona. Of course, in such a vast city, you'll find plenty of things to enjoy, restaurants to dine in, and sights and attractions to see.