Formentera is the smallest Island in the Pityusic Islands group of the Balearic Islands of Spain. The area of Formentera is just around 83 sq. kilometers which are relatively small for an Island.
However, when it comes to beauty, stunning views, fantastic tourist attractions, and the perfect Island vibe, Formentera is one of the best places in the Balearic Islands you can visit.
Whenever tourists come to the Balearic Islands, they reserve a day for a trip to this beautiful island because there is so much to see here. 
So, whether you want to relax on this beach or snorkel in the clear waters, you are free to do anything.
If you are wondering whether Formentera is bigger than other popular tourist locations around the world or not, you are in the right place because that is what I am here to tell you.
In this article, I will talk about Formentera, its length and width, how long it takes to go there by ferry, and compare it to some popular European tourist locations people talk about. So, without wasting any further time, let us get started.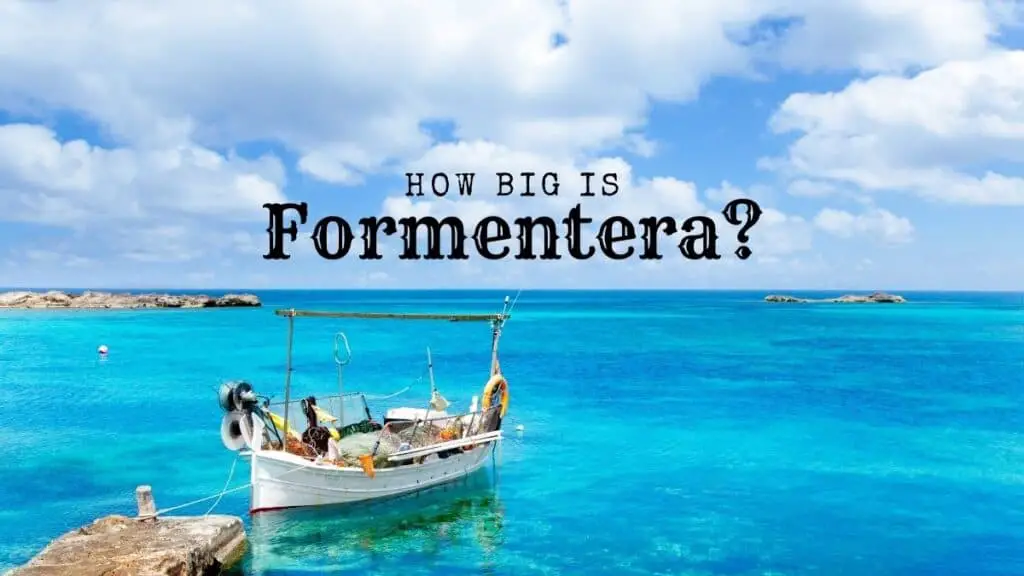 How Long and Wide is Formentera?
The length of Formentera from top to bottom is around 16 kilometers, while the maximum width of the Island is anywhere around 9 kilometers which is not that much.
The coastal length, however, on the other hand, is over 78 kilometers which is what the Island mainly comprises. The beaches of Formentera are top-rated across the world.
Overall, when it comes to high peaks, Formentera is not a mountainous land, and the highest peak is around 192 meters which is not that much. But the overall views and natural scenes of the Island are beautiful.
That is why so many people love to take a trip to Formentera whenever they are in the larger Balearic Islands of Spain and why exactly you should also make your way to the Island when you get the chance so that you can have a wonderful experience with your family and friends.
Can You Walk Around Formentera?
Walking around Formentera is definitely possible and often advised when you are on the beachside of the sea is not too rough at times. Formentera is a cluster of beautiful locations, small villages, tourist attractions, and dozens of water sports and tourist activities available in multiple regions of the Island.
To truly appreciate the beauty that Formentera holds and do justice to the exceptional natural aesthetics of the Island, you will have to walk around and breathe the fresh and healthy air. 
Walking with your friends and families would be a treat when so much peace and happiness surround you. So, make sure you take the on-foot route when enjoying the Formentera Island. 
How Long Does It Take to Travel to Formentera from Ibiza?
The trip from Ibiza to Formentera usually lasts anywhere between 2 to 3 hours depending upon how the water is behaving and how fast the ferry or boat you are traveling on is.
Ibiza is the party center of the Balearic Islands. Ibiza is one of the few places globally that has world-renowned status as one of the best nightlife islands with great clubs, bars, and entertainment elements.
But one thing that you will not find in Ibiza is the serene beauty of Formentera. For that, you will want to go from Ibiza to Formentera, and that is what tourists usually tend to do.
So, if you are also looking for a great experience, you need to reserve one day of your trip to have a good time going to Formentera and exploring by a catamaran or ferry from Ibiza.
Did you know all this? Check out the article: How Big is Ibiza?
Is Formentera Bigger than the Isle of Wight?
The Isle of Wight off the south coast of England is bigger than Formentera. With an area of around 390 sq. kilometers, the Isle of Wight is more than 4 times bigger than the 83 sq. kilometers of Formentera.
These Islands are often compared size-wise, but the Isle of Wight is significantly bigger. However, when it comes to tourist experience and an Island vibe, the warmth of Formentera attracts a higher number of visitors and travelers to itself for a fun adventure in the Balearic Islands.
How Big is Formentera When Compared to the UK?
The UK is unbelievably, astonishingly bigger than Formentera. The number of times the UK is bigger than Formentera cannot even be counted.
With an overall span of 242,495 sq. kilometers, the United Kingdom, comprising England, Scotland, Wales, and Northern Island, is simply incomparable in size to the small island of Formentera. 
So, it is not the wisest thing to compare these places. All we can say is that both are fantastic places for tourists to go to and have a great time, and that is what you should do as well. 
How Big is Formentera in Comparison to Ireland?
Ireland is undoubtedly very much bigger than Formentera if we make a size comparison and compare the areas of both places. Ireland boasts of a total area of around 84,421 sq. kilometers, while Formentera has a meager size of approximately 83 sq. kilometers which is just plain unfair for the small Island.
However, the size of Formentera is not an accurate representation of the fantastic tourism experience it holds within it. So, without wasting any time at all, make your way to Formentera and have a great time.
Conclusion
Formentera might not be the biggest tourist Island in the world. But when it comes down to having fun enjoying dozens of tourist attractions and relaxing on the beach, splashing crystal-clear water on your loved ones, Formentera is one of the best places.
Don't forget to check this article: Formentera Weather – Everything you need to know
You are going to have a wonderful experience there. So, make sure you grab your loved ones, pack your bags, and get to Formentera in the Balearic Islands as soon as you possibly can. I hope you learned a lot from this article and that you will have a great day ahead of you.