Menorca is one of the smaller islands in Spain's Balearic cluster of islands. It spans on a surface area of around 695 sq. kilometers, which is one of the main reasons its name roughly translates to "Smaller Island."
Despite being not that big, the tourism scene in Menorca is booming quite much. Loads of visitors and tourists go to the region to have a fantastic experience there.
The Island is flat, and the highest peak (Monte Toro) is just 358 meters tall. Roughly 97,000 people reside in Menorca. Still, it is flocked with unique tourism spots and attractions.
If you are thinking of visiting and at the same time wondering, how big is Menorca in comparison to other places around the world, you have come to the right place because that is what I am here to tell you.
In this article, I will talk about Menorca's width and length, the time it takes to go around the Island, and compare it with some of the major tourist destinations in Europe. So, without wasting any further time, let us get started.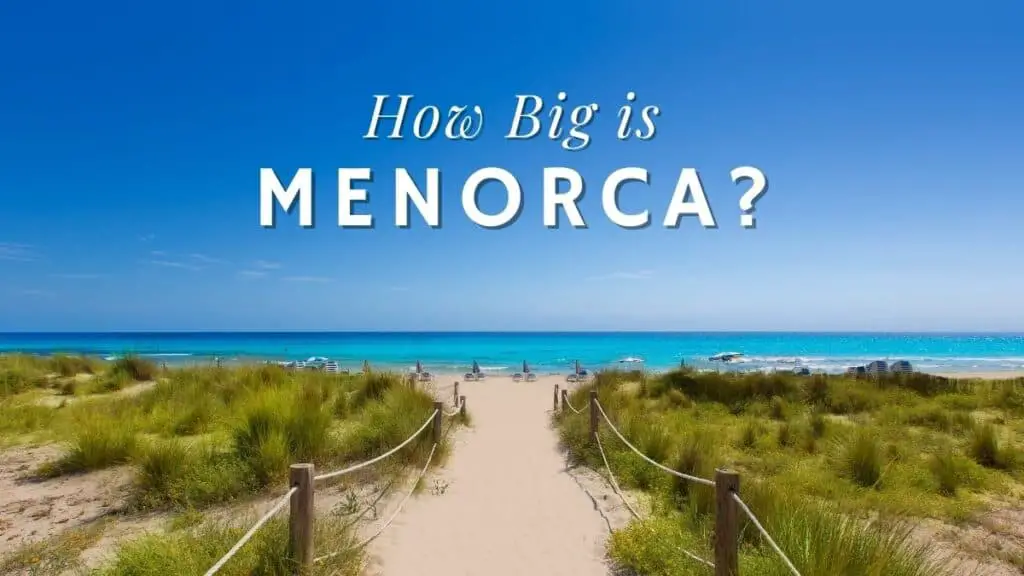 How Long and Wide is Menorca?
Menorca is around 50 kilometers long and at a maximum of 22 kilometers in terms of width. Compared to others in the Balearic Islands and worldwide, it is a relatively small island.
If we talk about the length of the coastline, Menorca boasts of a 220-kilometer long one, and the beaches on this Island are simply incredible for both tourists and residents.
Despite being comparatively smaller than other islands worldwide, it is still the second-largest Island in the Balearic. It stays primarily warm throughout the year, mainly attracting tourists to spend time on the Island.
So, if you are a tourist and you are thinking of visiting Menorca for a relaxed and calm vacation, do not waste any time at all, and make sure you grab your loved ones and get there for an epic, adventurous experience.
How Long Does It Take to Drive Across Menorca?
If you are driving from Mahon, the capital of Menorca on the eastern side to the other side of the Island, where you can find Ciutadella, you will be able to drive across Menorca in around 50 minutes or less than that.
This might seem like a lot from an average trip, but we are talking about opposite ends of the Island, and seeing that it takes less than an hour to drive across Menorca shows how small of an island it is.
As a tourist, you will want to get a cab or a rental car if you move across and explore the Island entirely. Still, if you are with a resident, the experience will be much better, and the overall effort and monetary costs will not be that much either. So, try to make the best out of your situation.
Is Menorca Bigger than Mallorca?
Menorca is not bigger than Mallorca. On the contrary, it is pretty tiny compared to Mallorca, the largest island in the Balearic Islands cluster of Spain with an overall area of 3,640 sq. kilometers.
Compared to Menorca's 695 sq. kilometers, Mallorca is around five and a half times bigger than Menorca, which is quite a massive difference if we consider that both these Islands are neighboring each other.
Read more about the size of Mallorca here: How Big is Mallorca?
Usually, tourists end up touring only one of Mallorca or Menorca, but if you have the time and the budget, visiting both these incredible islands will surely be a treat for you. So, make a wise decision and plan a trip to the Balearic Islands as soon as you can.
How Big is Menorca Compared to the UK?
Menorca is hundreds of times smaller than the United Kingdom. So it would not be fair even to compare an Island such as Menorca with a cluster of multiple European countries in the United Kingdom. 
The UK boasts of a broad area of 242,495 sq. kilometers, while Menorca only has a total area of around 695 sq. kilometers.
But that does not mean Menorca is not an incredibly fantastic place to visit. If you want to have the perfect combination of natural beauty, relaxation, and warmth together on an Island, Menorca is the place to be.
The crystal-blue waters surrounding Menorca will give you a lot of pleasure. So, visiting Menorca is a decision worth making for enthusiastic tourists worldwide. 
How Big is Menorca Compared to Ireland?
Ireland is loads of times bigger in size in comparison to Menorca. Menorca cannot be directly compared in terms of area with an entire country that spans quite a length and width geographically.
Ireland has a total surface area of around 84,421 sq. kilometers, while Menorca has a meager area of just about 695 sq. kilometers which is nowhere to be even compared at all.
Ireland itself is quite a famous land for tourist activities and attractions. There are a lot of great heritage sites, natural monuments, and lovely sights to see in the country. 
But in comparison to Menorca, even Ireland does not compare in terms of natural beauty and tourist attraction. The Island is luscious, fascinatingly beautiful, and quite impressive. So, visiting any time of the year would be a great decision on your part. 
Conclusion
Menorca might be a small island, but it is considered one of the best tourist spots in the Balearic Islands. It is a hidden gem within the archipelago and offers tons of incredible tourist attractions and places to visit so that you can have an epic adventure with your loved ones.
Do you know the average temperature on the island? Check this article: Menorca Weather – Everything you need to know
Menorca is not a party destination; it is more laid back and attracts more families and couples who want to have a relaxing time. It is also one of the places where you can have a vacation on a budget. 
So, as soon as you get the chance and the holidays, make sure you grab your loved ones and visit Menorca in the Balearic Islands and have a great time exploring it.