Cancun and Tijuana are two of the most popular cities in Mexico, and it can be thrilling to visit the two in one trip. Now, if you're planning on visiting Cancun from Tijuana or the other way around, you may wonder how far the two cities are from each other.
It is far between Cancun and Tijuana, especially since Cancun is on the country's easternmost tip while Tijuana is on the westernmost. In general, the travel time can take more than fifty hours on the road, but it can only take around 4 hours on a plane.
In this article, we'll walk you through everything you need to know about the distance between Cancun and Tijuana and the travel methods you can use to reach one city from the other.
Without further ado, let's get into it!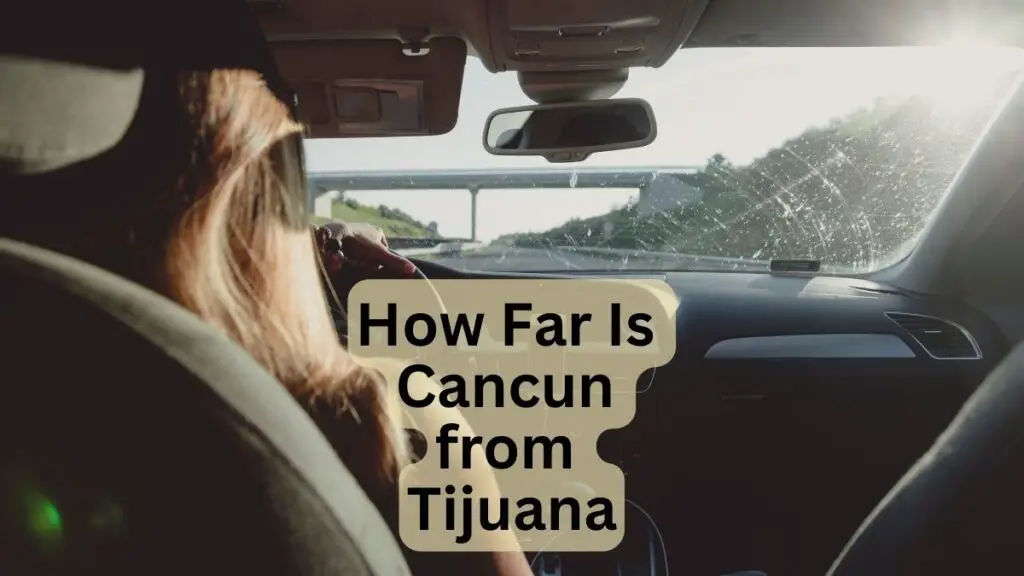 What is the Distance Between Cancun and Tijuana
As mentioned earlier, the distance between Cancun and Tijuana is quite far. So when you look at the two cities on the map, you'll see them sitting on opposite sides of Mexico.
In particular, the distance between Cancun and Tijuana is around 2717 miles or around 4373 kilometers. Such a distance can take several days to drive with only quick stops. 
The best way to travel between the two cities is by plane. This way, you can spend only a few hours on travel and enjoy both cities longer than driving to reach one.
If you're wondering about the exact location of Tijuana, read Where is Tijuana?
Travel Time from Tijuana to Cancun
Since both cities are far from each other, the travel time to reach one from the other is also long. However, it still depends on what mode of transportation you're using. 
Travel Time By Car
Although Tijuana and Cancun are on opposite ends of Mexico, it's still possible to drive from one city to another. However, it will take some time to travel.
With around 2717 miles or 4373 kilometers, you must drive more than 50 hours, not including the stops. That travel time is more than two days (and nights) of non-stop driving.
Now, you can only drive for such a long time without stopping, especially if you don't have someone to substitute for you from driving. 
Also, you'll want to spend an entire night or at least a few hours sleeping and resting.
With this in mind, the travel time from Tijuana to Cancun or vice versa can lead to around five days or more. It will be quicker if you have lesser and quicker stops.
Besides driving, you can also commute from Tijuana to Cancun and vice versa by bus. 
However, there are no direct bus trips between the two, so you'll likely need to transfer once or twice. It can be cheaper, but it will also be long and tiresome.
Travel Time By Plane
With such a distance between Tijuana and Cancun, the best mode of transportation will always be by flying.
The good thing is that both Cancun and Tijuana have their airports and direct flights to each other.
When flying, the travel time will only take around 4 hours, which is significantly quicker than driving. 
This transportation method will allow you to enjoy the two cities longer since you're saving time from driving from one to the other.
One good thing worth mentioning about traveling to Cancun from Tijuana by plane is that you can use the Cross Border Xpress or CBX if you're from San Diego or other areas in the US near Tijuana. 
The CBX is a border crossing you can use to avoid the busy crossing of the city and head straight to the Tijuana Airport. To know more, read What Is Tijuana Cross Border Xpress?
What's the Best Transportation Method from Tijuana to Cancun?
The best transportation method from Tijuana to Cancun will be a plane. With this method, you can reach Cancun within 4 hours and spend less time, energy, and money with it.
While it's possible to drive from Tijuana to Cancun, it's time-consuming, tiring, and expensive. In most cases, flying can be more expensive.
However, with long drives and expensive gas prices, you'll end up spending more than you would with a plane ticket.
Moreover, a plane ticket from Tijuana to Cancun is cheaper since it's only a domestic flight, and Mexican airline companies are known for offering affordable plane tickets.
Commuting is also an option, but it will take longer with more stops and be more tiring.
If you want to enjoy other Mexican cities, your best bet would be to drive. This way, you'll have plenty of scenery to enjoy and visit other cities and towns. 
Traveling across entire Mexico for days will also be an adventure. However, flying is the way to go if you're a budget traveler or your vacation time is limited.
Conclusion
Overall, Cancun is quite far from Tijuana, as the two cities sit on opposite ends of Mexico. With such a distance, it can take several days to reach one city from the other on the road. However, it will only take a few hours on the plane. 
Since the two cities have airports that offer direct flights to one another, you can enjoy the two cities in one trip while saving time, energy, and effort through flying.
Now, if you're considering exploring Tijuana but are unfamiliar with the city, read our article about the 15 Things Tijuana is Known For.