Ibiza is a wonderful tourist location and home to beautiful landscapes, amazing tourist attractions, great people, epic journeys, clubs, heaps of nightlife opportunities, and much more on offer as well.
Still, one thing that people get confused about while visiting Ibiza is the pronunciation of the island. Is it Ibiza, Ibitha, or something completely different? If that's what you're wondering, you've definitely come to the right place because that's what I'm here to tell you.
This article will talk about Ibiza, whether it's pronounced Ibiza or Ibitha, how locals pronounce the island's name, and why you should definitely consider visiting it. So, let's get started with this guide right away without wasting any time. 
Is It Pronounced Ibiza or Ibitha?
Typically written as Ibiza, the party center of the Balearic Islands, Ibiza has always had a bit of a puzzle in its pronunciation. Some call the place Ibiza; others pronounce Ibitha, but what is the proper pronunciation? You might be thinking to yourself.
Well, suppose you're not a local Spaniard, and you belong to the world's population that speaks British English. In that case, there's a likeliness that you pronounce Ibiza as "Ai-Bee-Thuh." That's because British English is heavily influenced by the European pronunciation of the word, which often takes the "Z" and changes it around to "Th."
On the other hand, people who belong to the Americas, north, south, east, or west, typically call the island "Ee-Bee-Za." This pronunciation isn't wrong either if you look at how the word is written. So, you won't be wrong if you say it like that as well.
Then, the clueless people of the world call it "Eye-Bee-Za," which is often considered a misunderstood pronunciation of the island's name. It isn't the correct pronunciation, but it truly doesn't matter what you call the island itself as long as you're happy and enjoying your stay there. There are a bunch of other pronunciations as well, but they're not as common as these, so we don't need to discuss them.
How Do Locals Pronounce Ibiza?
The people who live in Ibiza, the residents and the owners there are mostly Spanish but also people coming from other parts of the world to explore the fantastic business opportunities there. But collectively, most of the population in Ibiza speaks Catalan.
That's why the Ibizan people also pronounce Ibiza as "Ai-Bee-Thuh" since, in Catalan, the "Z" letter is pronounced as "Th." This is also the same pronunciation that has caught on in the British and European regions of the world. So, ideally, the proper pronunciation of Ibiza is this one.
But let's actually look at history and not just how the word is typically written. The actual pronunciation of the name of the island of Ibiza is "Ee-Vi-sa," which is the Catalan word for the island. However, as time has progressed, the word Ibiza has also changed quite a lot.
And even though it became Ibiza from Eivissa, the word still means the same thing. So, as long as you're taking the correct pronunciation according to what the locals say, you're doing good. The only thing left for you is to now have the best time on the island that you can.
A place where you can find tons of wildlife, outstanding resorts, great restaurants, epic attractions, party centers, clubs, and tons of other things to explore, should definitely be visited and cherished with all your loved ones and family. So, make sure you plan a trip to Ibiza when you're thinking of taking a vacation on a beautiful Island in the Mediterranean next time.
What's Special About Ibiza?
Now that we've cleared up any misconceptions about the pronunciation of Ibiza, it is essential that we talk about what makes Ibiza a special place to visit for tourists around the world. Let's look at some of the best places and things that Ibiza is known for and make it such a special place in the tourism world.
Clubs and Nightlife
One of the reasons Ibiza is very popular is the abundance of clubs and fantastic nightlife there. You can find epic super nightclubs with the capacity to host thousands of people for concerts, parties, and other events, which is pretty amazing if you're visiting Ibiza with friends.
Read more here: Playa d'en Bossa – The Party Town in Ibiza
Beaches and Coves
Ibiza is home to a lot of beautiful beaches and coves. When it comes to stunning views, visiting one of the many Ibizan beaches is what you need to do. You can partake in a bunch of activities on these beaches, so visiting will be a great idea if you're in Ibiza.
Read more about beaches and coves in the article: What is Ibiza Known For?
Restaurants and Bars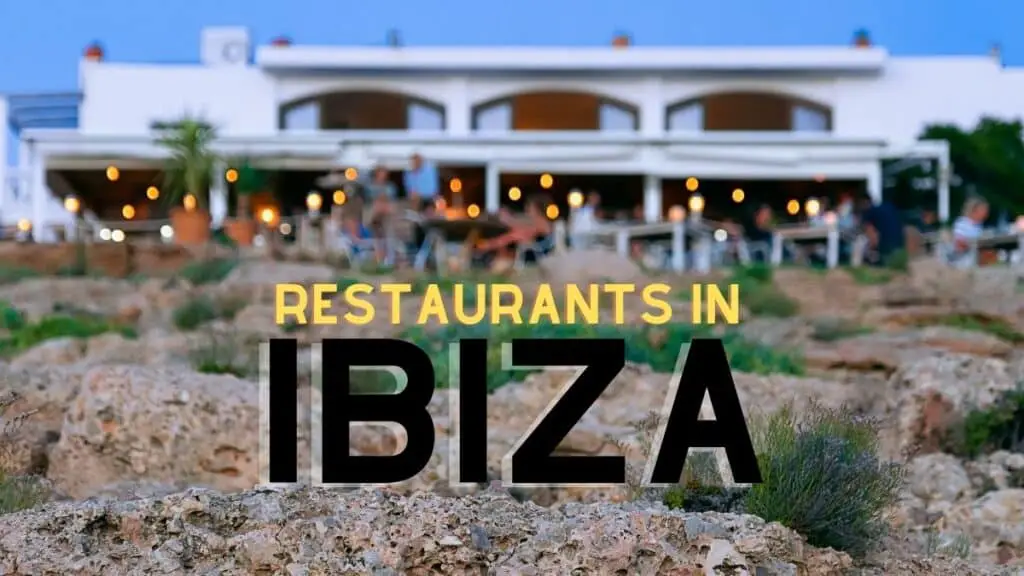 Ibizan culture is a mix of Mediterranean and Spanish. So, you can expect the best of both worlds when it comes to the cocktails and the food there. Now, there are a lot of impressive bars and restaurants you can go to in Ibiza. Make sure you have a delicious vacation when you're there.
Read more about restaurants here: Restaurants in Ibiza.
Tourist Attractions
Ibiza is one of the tourist locations where you're going to find a lot of places you'd want to go to. From the Old Town to Playa d'en Bossa, to Ibiza Cathedral, Museum, and a lot of other places, you're going to find a great tourist attraction literally everywhere. So, have a great time when you're there.
Read more here: What To Do in Ibiza?
Conclusion
No matter what the pronunciation of the island of Ibiza is, one thing is for sure, it is an island loved by locals and tourists alike. So, call it whatever you want, but make sure you plan a visit to the beautiful island of Ibiza whenever you get the chance with your friends and family.
I hope you learned a lot from this guide and that you'll have a truly wonderful time when you're in Ibiza. It will be an experience worth cherishing. Have a great vacation there!
PS: Did you know this: Majorca or Mallorca: What's the Difference?