With all the things Tijuana has to offer, it's not surprising to see many people (especially US citizens) eyeing to buy a property in the city and live in it. Now, if you're planning on doing so, you might wonder how much a house in Tijuana costs.
In general, the cost of houses in Tijuana will depend on many factors. You can find tiny houses for as low as 70000 USD or large houses for more than 2000000 USD. It will also depend on the house's location, with higher prices near the center and lower prices on the city's outskirts.
In this article, we'll walk you through the essential things you need to know about the cost of houses in Tijuana. This way, you can learn more about the things to know and be aware of the prices you might spend if you ever buy a house in this famous city.
Without further ado, let's get into it!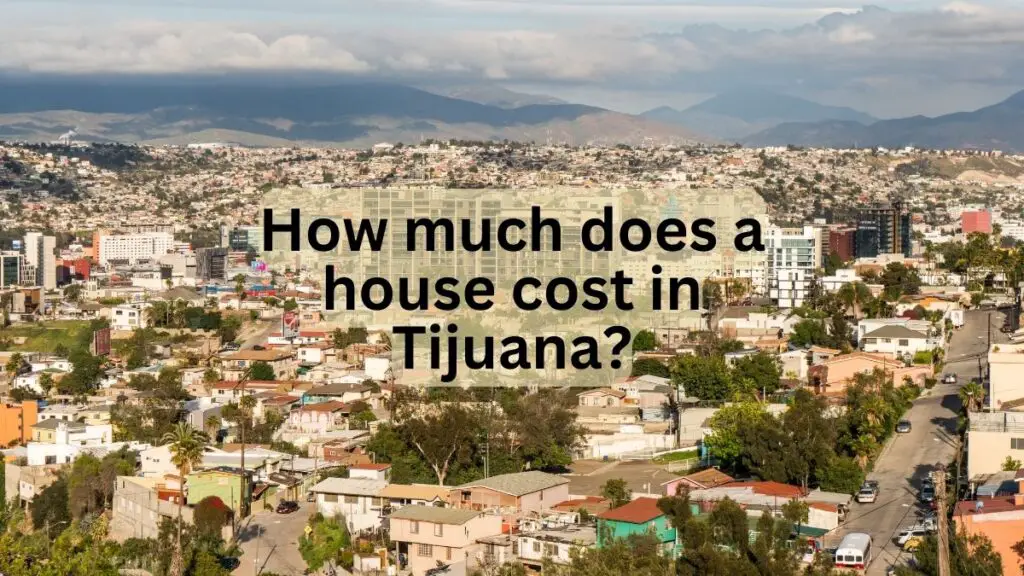 Property Prices in Tijuana
If you're planning on buying a house in Tijuana, the entire cost will depend on many factors. However, looking at some property listings for sale, you'll find most houses at around 400000 USD to 600000 USD. 
You can find smaller houses and houses on the outskirts of Tijuana that costs less than 200000 USD. Also, you can find large houses at high-end or prime locations costing around 2.5 million USD or more.
The tiny houses have an average size of around 600 square feet, while the large ones can be around 2000 square feet.
One thing to note is that these prices are only rough estimates and only from the listings. It doesn't include other things you'll likely pay, such as permits, fees, taxes, and other charges throughout the entire ownership transfer process.
If you're a US Citizen, you may wonder if you can buy a property in this city. To know more, read: Can Americans Buy Houses in Tijuana?
Renting Prices in Tijuana
Some people can afford to buy a house in Tijuana. However, most of the ones living in the city rent the properties. 
In general, the renting prices in Tijuana can be pricey, but it's reasonable since it's among the most expensive cities in Mexico. It's also because it's the busiest border city.
Like house costs, renting costs also vary depending on several factors. However, if you look at properties for rent in the city's center, you'll find rental prices of around 300 USD. 
Now, if you search for budget options, you'll find most of them on the city's outskirts, a bit far from the center. Such options may cost you less than 200 USD per month.
How Much Will It Cost to Build a House in Tijuana?
Now, if you prefer building your own house in the city, the expenses can be more, and the process can be tedious. However, the cost will still depend on your location, size, and quality preferences.
Lot Costs in Tijuana
For instance, you need to purchase land in Tijuana, and its price will depend on the location. If it's accessible and near the center, expect to pay more than 70 USD per square foot.
Now, if you're searching for budget options, you can find plenty in areas that are a bit farther from the center. These options can cost around 50 USD per square foot.
The typical sizes of lots in Tijuana are around 1600 to 2700 square meters. As such, you can expect to spend around 80000 USD to 190000 USD for the lot only.
Housing Costs in Tijuana
Another thing to note when building a house in Tijuana is the cost of building. In general, the construction costs in Tijuana are significantly lower than in the US. 
If you need a rough estimate of construction costs, you can expect to pay around 8000 USD to 9000 USD for every 10 square feet for the completed construction.
It includes the essential things for the house, such as lighting, countertops, doors, and others. However, it excludes furniture and other things you might prefer, such as landscaping services and pools.
If you manage your construction, you can cut high costs and expect to spend 2000 USD less for every 10 square feet of your house.
Many homes in Mexico are much smaller than 2000 square feet and are situated on far smaller lots than 2600 square feet. 
The average lot size in certain areas is about 1400 square feet, while the homes may only be 1300 square feet, with fewer amenities. In this instance, the whole expense may exceed 62000 USD.
There is one more element about Mexican homes that need to be mentioned. Compared to the United States, the construction techniques are very different. 
The house's construction does not include any wood. Instead, most houses are made of steel, stone, and brick.
Tips When Looking for House to Buy in Tijuana
If you're planning to buy a house in Tijuana, here are some essential tips that can help you:
Be open-minded
Many people wanting to buy a house in Tijuana are shocked by the prices, neighborhoods, amenities, and other peculiarities of Mexican property. As such, always be open-minded to possibilities and expect prices to be high.
Look for a property manager
It takes a lot of effort to maintain tropical properties. In Mexico, there is a real estate certification called AMPI. However, agents are not legally required to hold it. So, when buying a house in Tijuana, entrust your property to someone reliable.
Search for properties thoroughly
Buying a property in Tijuana isn't something you want to do quickly. As such, you need to scour for listings until you find a good one. Most listings can be seen on Facebook. You can even join groups if you must. 
If you want to search online, you can look at Tijuana properties for sale at Point2 Homes or Viva Nuncios. 
Consider your priorities
Location is usually the most crucial consideration, but you will always have to make a compromise. 
There are several things to consider while choosing a property, including amenities, construction quality, cost, HOA dues, parking, and highway noise. 
Choose your top three priorities and follow them. This method will help you find the best property according to your needs.
Be diligent throughout the process
If buying a fully-furnished in Mexico, due diligence is a must. It entails investigating the developer, ensuring that the documents to the lot and the house are legitimate, and verifying the seller's identification. 
A competent developer will have an extensive and experienced workforce, significant investors, and a history of several successful projects. You should always display the building permit and license number at the worksite.
Conclusion
The cost of a house in Tijuana generally varies because of several factors. As such, if you plan on buying a house in this city, you should expect a tedious process and allot some time for it besides the budget. 
As always, it's a big move to buy a property in Tijuana, especially since it's in another country (if you're a resident of the US). However, with diligence, patience, and budget, you can always enjoy a house in Tijuana, and you'll realize it's worth all of it.
Now, if you're buying a house in Tijuana, you may wonder if you must learn Spanish. If so, read Do You Need to Speak Spanish in Tijuana?