If you're planning to cross the border and visit Tijuana or other Mexican areas, you've probably known that the most convenient way is to park your car and leave it at a parking area nearby. Now, if border parking isn't what you prefer, you can park at Tijuana Airport, but how much does it cost, you may wonder?
In general, the parking costs at Tijuana airport depend on several factors, such as whether you'll have short-term or long-term parking and whether you want your car covered or uncovered. Short-term parking costs around 2 to 16 USD, while long-term parking costs 12 to 16 USD daily.
If you plan to park at Tijuana Airport, this article is for you. Here, we'll cover all the primary concerns you need to know about Tijuana Airport Parking. This information includes the fees, parking options, services, policies, and other frequently asked questions.
Without further ado, let's get into it!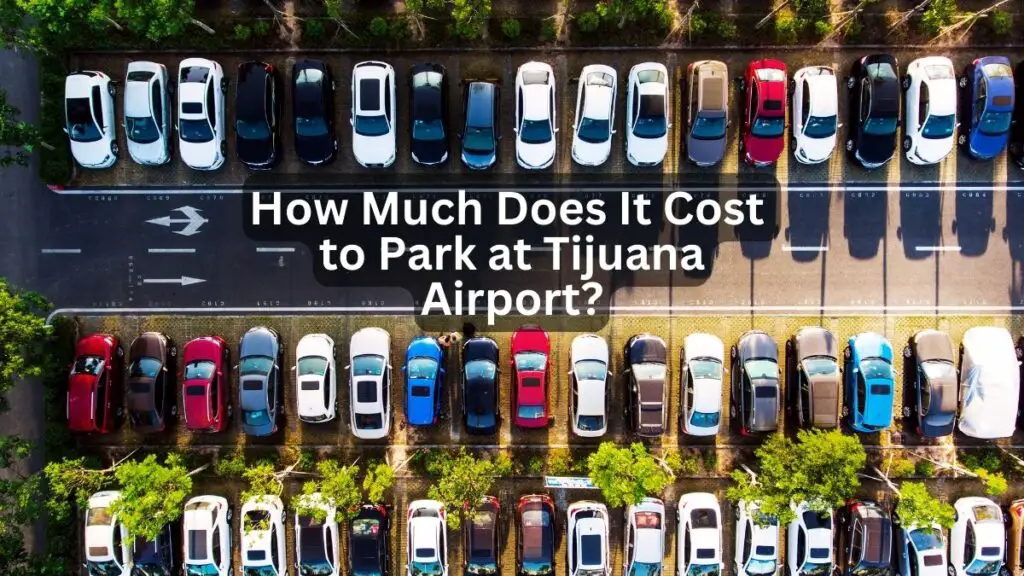 About Tijuana Airport
The city of Tijuana, which sits beside the US-Mexico Border, is home to Tijuana International Airport. It is among the busiest airport in Mexico and is situated beside the US-Mexico border. 
At least eight million people are reportedly handled at the Tijuana airport yearly. In most cases, travelers from the US use this airport to save on plane tickets for international travel when visiting other parts of Mexico.
You may use the CBX bridge to access the airport's facility if you're coming from the US side of the National border. Likewise, travelers can use the footbridge to travel back and forth between the US and Mexican sides.
To know more about the CBX, read What Is Tijuana Cross Border Xpress?
This airport offers parking services for people who wish to bring their car as a service before flying into other parts of the country. Then, upon return, they can return to their car and have their private service.
Why Should You Park at Tijuana Airport?
Parking at the airport in Tijuana is reasonably practical. Both long-term and short-term parking are offered. Moreover, it's more secure than other border parking around the area.
You may pay parking costs quickly and conveniently because various payment methods are available. MasterCard and Visa are a couple of acceptable payment methods.
To adequately serve the needs of travelers, parking spaces are accessible along both ends of the National border. The cost of parking at the Tijuana airport is reasonable and offers the best deal.
To learn more about parking and to cross the national border, read Can You Park and Walk into Tijuana?
Long-Term Parking at Tijuana Airport
There are two types of long-term parking at the Tijuana airport: covered and uncovered. In comparison to exposed lots, covered lots offer superior weather-proofing. Visitors may select the parking space that best fits their needs based on choice and affordability.
Short-Term Parking at Tijuana Airport
Tijuana offers short-term parking for travelers and tourists with a quick trip to the airport. Travelers can use short-term parking for picking up and dropping off passengers. It is recommended that people utilize these parking spaces if they want to spend some time at Tijuana airport.
Parking Rates at Tijuana Airport
There is a reasonable parking fee at the Tijuana airport. Whether you'll park for a long or short, the costs are of great value. If you live in either direction, you can park at the Tijuana airport for a fantastic price. 
There are many parking lots to accommodate various parking preferences. For example, long-term parking areas have different prices for uncovered and covered spaces. This versatility allows passengers to make wise parking decisions.
Tijuana Airport Short-Term Parking Fees
There are two categories of short-term parking: validated and unvalidated. The initial 2 hours of validated parking come free of charge. 
The daily limit is 16 USD, and 2 USD is paid for each additional half-hour. For example, the initial two hours of unvalidated parking would be 2 USD, and each additional half hour will cost 2 USD. 
Additionally, set at 16 USD is the daily limit for unvalidated parking. Visitors can drop off and pick up passengers at no charge for 2 hours on approved parking.
Tijuana Airport Long-Term Parking Fees
The long-term parking rates in Tijuana airport are charged per day. For long-term parking spaces, covered parking service costs 16 USD per day, but uncovered parking service costs 12 USD. 
Truck parking is available in the open space for the use of trucks. Large automobiles and trucks park there reasonably well. However, regular cars and trucks continue to charge the same parking prices.
Frequently Asked Questions about Tijuana Airport Parking
Below are some of the frequently asked questions you may have about Tijuana Airport Parking:
Is There a Special Parking Service at the Airport?
If you're using Tijuana airport parking, you can benefit from extra services, including special parking. 
With the help of these offers, the Tijuana Airport can guarantee that users of its parking facilities enjoy a smooth user experience.
Is There A Policy for Theft Incidents at the Airport Parking?
The anti-theft program at the Tijuana airport compensates visitors whose cars are stolen when stored in one of the parking spaces. 
This rule is intended to ease passengers' concerns when utilizing parking areas. Additionally, all cars parked in the areas are assured to be secure around the clock.
Is Parking at Tijuana Airport Safe?
Parking your automobile at the Tijuana Airport is secure, but you should always conduct your homework in advance to ensure. The employees at the airport are typically friendly and able to give you further details regarding the car park and the security procedures.
Of course, this question has no clear solution because of several variables. For instance, what kind of vehicle do you drive, which is covered by insurance? Also, is the car park supervised and well-lit?
If you want to know more about the safety concerns at the airport, read Is Tijuana Airport Safe?
Conclusion
Several factors determine parking rates at Tijuana airport. These factors include whether short-term or long-term and whether your car will be covered or uncovered. Daily parking rates range from 2 and 16 USD for short-term parking and 12 to 16 USD for long-term parking.