Generally speaking, the Metro is one of the best and fastest modes of transportation in Mexico City. It's fast, affordable, and reliable. As such, it's unsurprising if you want to use this system as your primary mode of exploring different city areas. However, you may wonder how much it costs to ride this train.
The cost of riding Mexico City's Metro system depends on the distance you're traveling from one point to another. For instance, the minimum fare is 6.50 MXN, and it's the fare for travel distances between 0 to 12.8 kilometers. So if you're traveling for 12.9 to 25.6 kilometers, the cost will be 15.50 MXN.
Overall, the use of the Metro System is simple. However, it can be overwhelming for tourists, especially those riding it for the first time. For this reason, we made this article as a guide to help you go through the process of riding this transportation. After reading, you'll have an idea of how it works and know your way around it.
Without further ado, let's get into it!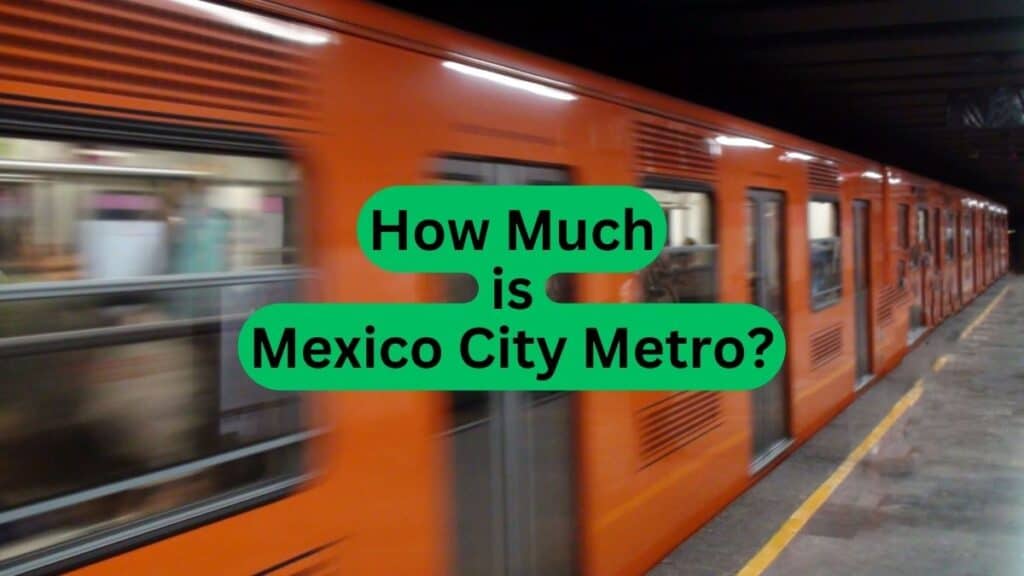 Is Mexico City Metro Good? 
The Metro System of Mexico City is arguably one of the best, especially compared to other transportation modes. Below are some reasons that make it the best mode of transportation above others.
Environmental-Friendly
The Metro in the city is an environmental-friendly mode of transportation because it doesn't emit any air pollution, unlike regular vehicles. In addition, since these trains are powered by electricity, you'll find them better for the environment than cars, buses, and cabs emitting gas.
Affordable
With only around 6.50 MXN to 15.50 MXN, the Metro is a cheap alternative to taxis and other expensive transportation methods in the city. As such, it's good transportation, especially if you're traveling on a budget.
Fast and Traffic-Free
The Metro in the city travels on rails, which means it's unaffected by the traffic that usually happens in the streets. For this reason, you can rely on the schedules and arrive on time at any of your preferred destinations. 
How Do I Pay for the Metro in Mexico City? 
Paying for the Metro in Mexico City is easy since you'll use prepaid cards. To do so, you must head to any Metro or Metrobus terminals. From there, you'll see vending kiosks that offer these prepaid cards.
You can also buy a paper metro ticket which starts at 5 MXN. Or, you can buy the cards which start at 10 MXN at any ticket office of every station.  
If you're also using the Metro Bus, you can find machines that sell these tickets and cards. You can use these cards and tickets when riding the Metro (Train) or the Metro Bus (Bus). 
Tickets can be bought at the ticket office, or prepaid cards can be purchased for 10 pesos. Of course, your existing card can also be topped up with more money. 
Metrobus stations also have card recharging machines to replenish your card's balance with cash. 
Ticket offices frequently run out of cards to purchase, so Metrobus stations usually have machines for buying them.
Is Mexico City Metro Safe for Tourists?
In general, Mexico City's Metro is safe for tourists, and it's simple to use. In addition, the security of the Metro is excellent despite the past rumors about the risks and petty crimes that happened in this transport system.
Of course, despite the security, you'll still need to be cautious of everything to prevent problems and avoid being an eye out for petty criminals. 
For instance, avoiding flaunting or exposing any valuable item you're carrying is best. These include your wallet, phones, jewelry, and valuables like passports and identification cards.
It's also best to secure your gadgets in your bags and avoid placing them in your pockets. You can then use it again after you get out of the Metro. 
Also, if you're a solo female traveler or traveling with children under age 14, you can use the first two carriages of the Metro since it's exclusive for women, children, and PWDs. 
If you're curious about safer transportation, read Safest Transportation in Mexico City.
Other Things to Know About the Metro
Below is other helpful information you'll want to know when using the Metro:
Using the Metro from the Airport
You can use the Metro to get to the city center when arriving at the airport. To do so, you should locate the terminal area of the Metro Station.
You can find this from outside Terminal 1. You can use the 1st door and walk along the sidewalk from there. 
As you pass the taxi waiting area, you must follow the signs leading to the Metro Station. In the Metro Network, you can transfer to any of the 12 lines from Polytechnic to Pantitlán.
To know more about getting to the city center from the airport, read: How to Get from Mexico City Airport to City Center?
Understanding the Stations and Metro Lines
You can find twelve Metro lines in the city, some of them identified by color and number from 1 to 12. Below are the numbers and color codes:
Line 1 – Pink
Line 2 – Blue 
Line 3 – Green
Line 4
Line 5
Line 6
Line 7
Line 8
Line 9
Line 10 (Line A)
Line 11 (Line B)
Line 12 – Gold
Each station has a map showing the neighborhood and subway system. In addition, the maps indicate the main points of interest, including museums, parks, and hospitals. 
Further, the stations have fast Wi-Fi, so you can also check the map online through your phone. As such, it will help you navigate as a tourist. 
Avoiding Peak Hours
If you're not in a hurry, you can be wary of the peak hours and only use the Metro outside these times. The Metro is generally crowded on weekdays, but the peak hours are the worst. For example, the stations and trains can get crowded from 7:30 AM to 9:30 AM and 5:30 PM to 8:00 PM. 
Another time when the Metro gets crowded is when there's heavy rain happening. During such times, more locals and tourists use the Metro, which can get crowded. Also, the trains often get delayed during such times. As such, it's best to use other modes of transportation when it rains.
Conclusion
In a nutshell, the Metro System of Mexico City offers an excellent transportation option for tourists. The fares only cost around 6.50 MXN to 15.50 MXN, and it's easy to use with prepaid cards and paper tickets available at every station. With its fast travel time, traffic-free, environmental-friendly, and affordable features, you can always consider using the Metro to explore Mexico City.
If you're searching for other options to learn which one you prefer most, read: Mexico City: Best Transport Options Revealed.