Like all vacations and travels, budget is among the first things to settle, and it also applies when traveling to Cancun. As a traveler and tourist, you must ensure a sufficient budget for your activities and expenses during your stay. However, it all depends on your preferences. So, what is the best amount of money to take to Cancun?
Most tourists in Cancun spend around 100 USD per day. However, such a budget will vary depending on several factors. The significant factors that affect your budget are the length of stay, type of accommodation, transportation, shopping preference, travel packages, and the number of companions.
A trip to Cancun needs a comprehensive plan to ensure you have enough to enjoy your vacation. But, at the same time, it's essential for you to budget, so you will only spend what's necessary. Thus, this article is for you if you want the exact budget plan.
Here, we'll discuss all the information you need about the money to take to Cancun. This information includes all the factors to consider when budgeting to avoid missing something.
Without further ado, let's get into it!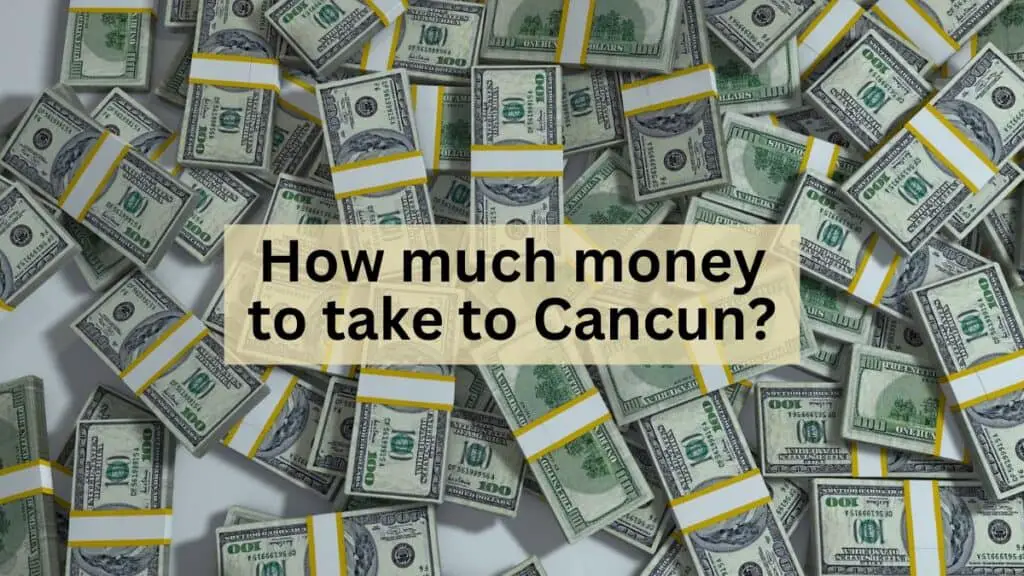 How Much Money Do You Need in Cancun?
As mentioned earlier, the daily cost of living in Cancun is about 100 USD. Transportation and meals can cost anywhere from 8 USD and 7 USD, depending on your preferences. 
Money is a personal matter, so only you can decide what is best to bring to Cancun. Depending on your situation, some people may advise you to carry as much cash as possible to stay supplied. On the other hand, others may advise bringing enough cash for excursions, transportation, and food.
Factors to Consider When Budgeting for Cancun
Every person has different vacation wants and needs. For example, someone may prefer dining at a local restaurant, but another might prefer a high-end hotel. As a result, it's up to you to decide what amount to take to Cancun. 
In any case, several factors need to be considered before making an estimate. Here are some of them:
Length of Stay and Food Preference
Considering how long you'll be in Cancun, you can calculate how much you'll need. For instance, the expenses will be higher if you stay in Cancun for a week rather than a couple of days.
Some things will require you to pay for our activities, excursions, food, and transportation. As such, you will have to pay for these items.
Remember to check how much you'll have to pay for transportation, food, and entry fees in the places you intend to visit.
If you want a comprehensive food budget, you need to know how much you need for food. To know more, read How Expensive Is Food and Drink in Cancun?
Add additional money to your rough estimate to account for last-minute changes to plans or other things you might plan to do.
Type of Accommodation and Transportation
Your hotel's location is another factor you should consider before packing for Cancun. Can your hotel be found near major attractions? 
If you want to know some options, you can read our article about the Best Hotels to Stay in Cancun.
When you live near an area where most attractions are located, you can walk to most of them. In contrast, if you need a taxi or bus, you are likely to spend around 1 to 8 USD per person. 
Thus, we suggest you take the bus to get around the city more cheaper. To know more about it, read our article about Taking a Bus in Cancun.
When you must leave the hotel for every meal, the cost will be even higher because it will take you longer to reach the city to eat. 
Nevertheless, this cost will differ based on your location, the frequency you dine out, and the number of people going with you.
Shopping Preference
It is also essential to consider your spending on clothing, keepsakes, and presents. 
Most people think a trip is incomplete without buying souvenirs to remember their trip. For those who feel the same way, you should factor in the money needed for the souvenir. 
Depending on your merchandise and how you purchase it, you will need to put aside a certain amount of money for souvenirs.
Travel Packages
Likely, you will only have to carry the same amount if you choose a travel package rather than paying for your expenses. The majority of travel packages cover transportation, excursions, and meals.
An integrated travel package offers the following benefits: time and costs savings and peace of mind. 
If you want, you can even avail yourself an all-inclusive accommodation which will cover almost every expense, and it's ideal for large groups or families with kids. To know more, read What Does Cancun All-Inclusive Mean?
Unless you purchase additional activities, souvenirs, or whatever else you wish to purchase, you will not need money for travel packages. 
Make sure you know what's covered in the package as you leave for your trip. Doing so allows you to plan for the expenses you need to anticipate.
Number of Companions
Finally, your budget for Cancun depends on how many travelers you take. When you travel alone, food, transportation, and excursions will cost less since you will only be traveling with one other person.
You'll need to consider everyone's expenses if it's for a family outing. 
The situation is even more complicated if you travel with children since they require more entertainment, more food, and more emergency care in the event of emergencies.  
If you have kids with you, you should always carry more money to deal with emergencies.
Additionally, consider purchasing family travel packages to save on food, accommodations, and sometimes travel costs. 
Sharing the expenses also makes it possible to cut costs when traveling with friends. For example, sharing transportation, food, and entertainment costs may be possible.
What Type of Currency Should You Bring to Cancún?
The two currencies accepted in Cancun are the US dollar and the Mexican peso. The Mexican peso is the best currency to use in Mexico since it is accepted everywhere.
Currency exchange before your trip is also recommended if you plan to pay in Mexican Pesos. Then, when you visit Cancun for the first time, you won't have trouble finding a place to exchange your cash.
Conclusion
Several factors determine how much budget you should bring on your Cancun trip, as you can see. First, make sure you find out how many expenses you'll have in Cancun ahead of time. This way, you'll know how much to budget, depending on the length of your stay.
Now, if you're on a budget, another way to save more money during your stay in Cancun is to travel during the cheapest season in the city. Read When Is the Cheapest Time to Go to Cancun?