Everyone loves going on vacation, but no one loves seeing their bank statement afterward! Luckily, there are several ways to fully enjoy a getaway to a tropical location without breaking the bank. Tulum, Mexico, has recently become one of the most visited places in the country. Although there are some expensive resorts, dining options, and activities, it is possible to do Tulum on a budget! 
To visit Tulum, Mexico, on a budget, there are a few simple ways to save money.
In this article, we are going to go through each of these ways to do Tulum on a budget so you can confidently book your trip, knowing you won't come home in debt! So keep reading! In the next few minutes, you will be a Tulum-on-a-budget expert!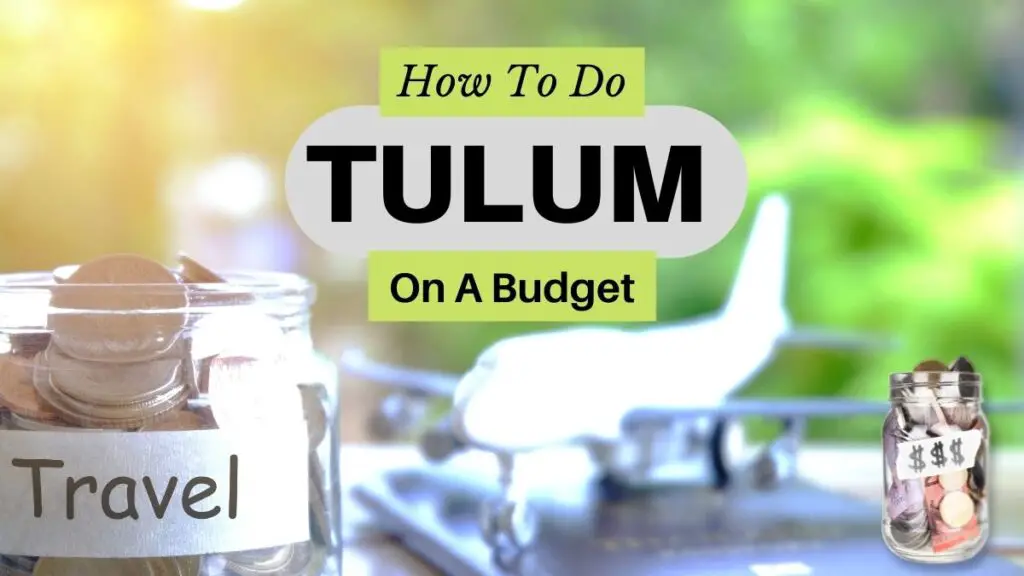 How Much Does a Trip to Tulum Cost
Before we learn of the many ways you can save money when traveling to Tulum, Mexico, it's important to understand how much a classic trip costs to this magical location!
The unfortunate news is that overall, Tulum is quite an expensive destination. In fact, the average person will spend around $1,700 on a one-week trip, and the typical couple will spend approximately $4,000. 
However, that does not have to be your budget! If you are willing to skip a few of the extremely pricey beach clubs, the rental cars, the fancy restaurants and stay a bit off the beaten path, you can visit Tulum for a fraction of that price tag!
7 Ways to Do Tulum on a Budget
As you already know, there are essentially seven ways to visit the incredible Tulum on a budget:
Set a flight tracker.
Take the bus from Cancun.
Stay in a hotel off the main strip.
Rent a bicycle. 
Eat local. 
Go to the public beaches.
Hit the Happy Hours. 
So let's dig a little deeper into each of these tactics so you can use them on your trip to Tulum!
Set a Flight Tracker
Before you even leave for your vacation, you can start saving money! You can use SkyScanner, or your favorite budget flight website to "Get Price Alerts" for when the fare drops for your dates. 
Remember that you must fly into Cancun and travel the two-hour trip down the coast when visiting Tulum. 
Traveling to Tulum will always be cheaper from May to October as it is the least busy time of the year for both your flights and your hotel or Airbnb stay. 
If you really want to save money on your flight, it's best to put in flexible dates if you can. Statistically, flights are often cheaper during the week and especially on Tuesdays! 
Check out this article for flight time to Tulum: Flight Time to Tulum – From Places in the U.S.
Take the Bus from Cancun
Once you arrive in Cancun, Tulum is about a two-hour drive away. There are several ways to get there, including private taxis, shared shuttles, and a big bus. 
The bus company, ADO, runs several times throughout the day, and you can purchase your ticket as you leave the airport. It is without a doubt the cheapest way to get to Tulum at less than $15 a person! 
Stay in a Hotel Off the Main Strip
Tulum's main strip is along the beach, and there is no shortage of fancy hotels and resorts. However, there is an entire town that is slightly off the beach where there are plenty of places to stay! 
Whether you want to opt for a hotel, hostel, Airbnb, or any other type of rental, you can save a whole lot of money if you skip the beach clubs. 
The upside of staying off the strip is that you not only save money on your stay but are also closer to cheaper restaurants and stores with your essentials. 
Rent a Bicycle
You may think that staying off the main drag will be more expensive since you'll have to travel to and from the beach most days, but there is a very simple way to save money on transportation: rent a bike! 
There are several bike rental stores throughout the town, and you can easily find an option for a lease for less than $20 for the week. 
In addition to saving you money, biking around Tulum is fun! You get to see more and have the freedom to hit the open road whenever it works for you. 
Eat Local
Mexican food is delicious! And although there is certainly no shortage of fancy and expensive restaurants in Tulum, there is also plenty of local food to enjoy! 
In the center, you can find comedors with fresh tacos for next to nothing, and often the food is even more delicious as it is cooked with the local flavor and fresh ingredients. 
Go to the Public Beaches
While most of the beaches in Tulum are private and run by beach clubs, which charge quite a bit for a day pass, there are free public beaches! And now that you have your bike, you can easily adventure to find them. 
Some beach clubs do not require minimum spending. However, you still need to continue to eat and drink to stay. You can opt for this option and still stay within your budget, and you just have to be a little more conscientious of the pricing. 
Hit the Happy Hours
Drinks can be incredibly expensive in Tulum, but from 4-6 most days, many clubs and bars offer discounted prices. 
If you do a little research, you can easily find some seriously sweet deals and still enjoy the bar life in Tulum on a budget. 
NOTE: Drinks in supermarkets and corner stores are much cheaper than at bars. Bringing a small cooler with you and taking your own drinks to the beach is the absolute best way to spend money if you plan on drinking in Tulum. 
What Can You Do for Free in Tulum?
Now that you understand the seven simple ways to enjoy Tulum while saving a bit of cash let's find out what you can do for free while you're there! 
Most of the popular activities in Tulum, such as visiting the cenotes, the ruins, and ATVing or snorkeling, make cost money. However, you can find free entertainment as well. 
The many cenotes, or natural underground pools, are certainly one of the most popular attractions in Tulum. While most of them do charge an entry fee, it is possible to find free cenotes, but you may need to travel a bit further out of town. 
Going to the beach is one of the best ways to enjoy Tulum without paying a single peso! If you bring your own snorkel, you can also enjoy taking a peek at the beautiful aquatic life for no extra cost. 
Want to see some incredible ruins? The Coba archaeological site is completely free! It is about a half-hour outside of the city, so you need to pay for transport, but it's so worth it!
Also, check out this article: Tulum Ruins – Everything You Need to Know.
You can't miss the Sian Ka'an Biosphere Nature Reserve, and the great news is, if you opt to visit this UNESCO world heritage site on your own instead of with a tour, it won't cost you a thing!
What is the Cheapest Way to Get Around Tulum?
As you know, the absolute cheapest way to get around Tulum is by renting a bike for the entirety of your vacation. But if biking isn't your thing, don't worry. There is another option. 
There is a local bus that travels around Tulum and the surrounding areas that only costs a ride between 15 and 25 pesos (around $1). While the bus can take a little longer as it makes stops along the way, it will certainly get you to your destination for next to nothing!
Here you can read more: Do You Need a Car in Tulum? (Best Options to Get Around).
Best Affordable Resorts in Tulum
If you've decided that staying in a cheap hotel or Airbnb isn't for you, and you'd prefer to spend your vacation at a resort, don't worry, there are affordable options that still make you feel like you're living in luxury! 
Diamante K
Encantada Tulum
Hip Hotel Tulum
Casa Don Diego Tulum
Piedra Escondida
While the prices vary depending on when you visit and what room style you opt for, these options are sure to keep your budget on track! 
Final Thoughts
Traveling to Tulum on a budget is totally doable! You just have to be a little more conscious of your transportation, where you stay, and what you eat and drink along the way. 
Hopefully, you now understand exactly how to make your dream vacation to Tulum a reality without breaking the bank! 
Remember, Tulum can get very expensive if you don't follow the various ways to save money, and planning ahead is the best way to avoid surprise costs.