Transportation is one of the many concerns we have when traveling. As such, it's also a concern when visiting Cabo San Lucas. Now, while getting to this city is easy, you may wonder how you can get around the area upon arrival. 
You can get around Cabo San Lucas in several ways. However, the most popular is by foot or by car. Other transportation options include a taxi and a bus. Now, the water taxi is most prevalent when traveling by sea.
We know that understanding the transportation system of a particular destination can be overwhelming. After all, if you're unfamiliar with this city, you may not even know the directions to the famous spots and your preferred destinations. 
For this reason, we made this article to guide you on how to get around the city. Here, we'll cover all the transportation methods you can use to explore the city and reach the famous tourist spots it offers. This way, you can plan your trip and understand what to prepare as you explore the city.
Without further ado, let's get into it!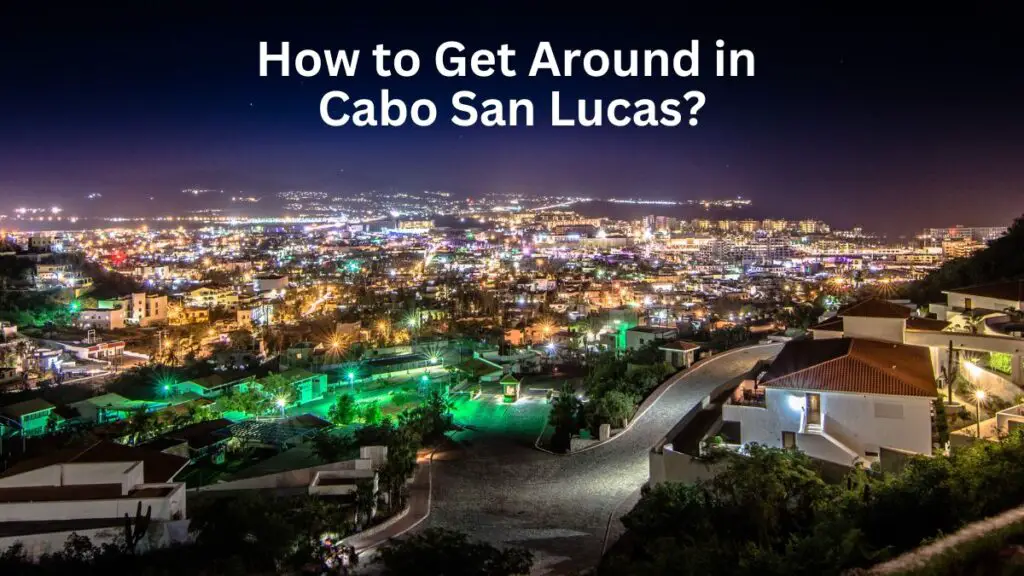 What to Expect with the Transportation in Cabo San Lucas?
The transportation and getting around the city are convenient. The thing is that most of the establishments are packed downtown. As such, you don't have to worry about transportation and getting a ride all the time.
Most of the resorts and hotels, especially the luxury ones, are located outside the main areas of the city. Thus, most travelers booked in such hotels and resorts must travel for a few minutes to reach downtown.
If you booked your accommodation within the central area, you could get to the malls, restaurants, and bars without hopping in a car or a taxi. You can even ride a bike.
To give you a better idea, we'll cover all the different modes of transportation so you know your options and decide which one you prefer the most.
What Is the Best Way to Get Around Cabo San Lucas?
The best way to get around Cabo San Lucas depends on location and destination. Below are the best ways to get around:
Exploring Downtown
Getting around Cabo San Lucas is best done on foot. As mentioned earlier, most establishments are downtown, and the only distant places are luxury hotels. 
Whenever you're checked in to one of these hotels, they likely offer a service if you need to reach downtown. If not, you can always find taxis to hop in, and they'll take you back to your resort or hotel.
Between Cabo San Lucas and San Jose del Cabo
These two places are the main areas of Los Cabos, and it's not something you can travel on foot. The best way to reach one from the other is by taxi or bus. 
The former is convenient but expensive, while the latter is inconvenient but affordable. It's your preference which one to choose.
Between Cabo San Lucas and the Airport
If you're headed to Cabo San Lucas, chances are you booked a flight to Los Cabos International Airport, as it's the nearest public airport in the area.
You can find several transportation methods, but the best is private airport transfer. If you've checked in at a hotel or resort, you can have the staff arrange your airport transfer for you.
Between Cabo San Lucas and Famous Beaches
While you can reach some nice beach areas in Cabo San Lucas within walking distance, you'll find some of the best only accessible by sea.
For this reason, the best way to reach the famous beaches and landmarks is by water taxi. You can also book a private tour on a luxury yacht or a small fishing boat. Of course, it all depends on your budget.
6 Ways of Getting Around Cabo San Lucas
Below are the popular options you can use when exploring the city. You can familiarize yourself with each one to explore the city the way you prefer.
On Foot
As mentioned earlier, walking is the standard and most convenient way to explore the city's downtown area. Since most establishments are clustered downtown, you can reach each one on foot.
Some people even find it difficult to bring a car when roaming around the area. Walking, you can skip the traffic and see the bars, restaurants, shops, and other establishments within a few minutes.
On a Bike
If you don't want to walk but also want to skip the car, you can always rent a bike and use it to explore downtown. A bike is ideal if you want to explore quicker but without going through the traffic. You can find many establishments offering bike rentals. For example, if you book a hotel within the area, they might have a bike for rent.
One thing to note is that a bike isn't ideal for highway travel. If you travel to a distant place like a resort or hotel outside downtown, you'll need to ride a car or a taxi instead.
On a Car
A car is one of the most convenient ways to explore the city and even Los Cabos. With a car, you can hop in and out and ride far distances without worrying about your travel schedule. 
You can find car rentals within the city and the airport, and you can even drive to the city in your car if you have the time.
If you're wondering if a car is necessary for your trip, read: Do You Need a Car in Cabo San Lucas?
On a Taxi
Taxis are everywhere in the city, and their wide availability makes them a reliable transportation option when you have no other choice.
One thing to note is that taxis in the city are unregulated, and they can charge way too much for a ride. As such, you'll need to know the reasonable price to negotiate and avoid overpriced fares.
In general, taxis are ideal for traveling long distances, such as from the airport to Cabo San Lucas and nearby areas like San Jose del Cabo or the Tourist Corridor. 
To know the fares of taxis in the city, read: How Much Is a Taxi in Cabo San Lucas? This article also includes tips when riding taxis in the city.
On a Water Taxi
Water Taxis are popular transportation methods that can take you to popular destinations in the city. Lover's Beach and the famous Arch of Cabo San Lucas are among these spots.
In the Marina, water taxis wait to transport passengers from cruise ships to the well-known beaches. Although these taxis are not metered, their prices tend to be reasonable. 
One-way costs have been around $10 for previous travelers. Only accept a ride from a water cab driver once you have negotiated the price.
On a Bus
Los Cabos has a lot to offer in terms of day trips and weekend getaways. With so many areas to explore, the entire Los Cabos has a solid bus system that goes through a route, including several popular stops. In addition, the bus station in Cabo San Lucas serves nearby towns such as La Paz and Todos Santos, which are about a ten-minute drive away.
Conclusion
In a nutshell, the best way to get around is on foot when you're exploring downtown, a taxi heading to another town or city, and a water taxi when visiting famous beaches. With this guide, you can plan your schedule in the city and know your way around.
We have an article to guide you if you're already about to create an itinerary. Read: Plan the Perfect Trip to Cabo San Lucas: A Guide to the Best Itineraries.