The largest of the Balearic Islands, Mallorca, is an extremely popular tourist destination. It is one of those places you can visit anytime during the year. And just like Mallorca, Ibiza is another great island that you should visit if you come to this part of the world.
Ibiza is a famous holiday destination and an island located in the Mediterranean Sea off the eastern coast of Spain. Tourists from around the world visit the place to spend a nice time at the beach and pursue various entertaining activities with friends and family.
Coincidentally if you find yourself in Mallorca, and you find enough time in your schedule, you should find a way to incorporate Ibiza into your vacation plans.
Or, if you already plan to visit Ibiza, this article will tell you how to reach your destination if you're staying in Mallorca.
So, let's get started.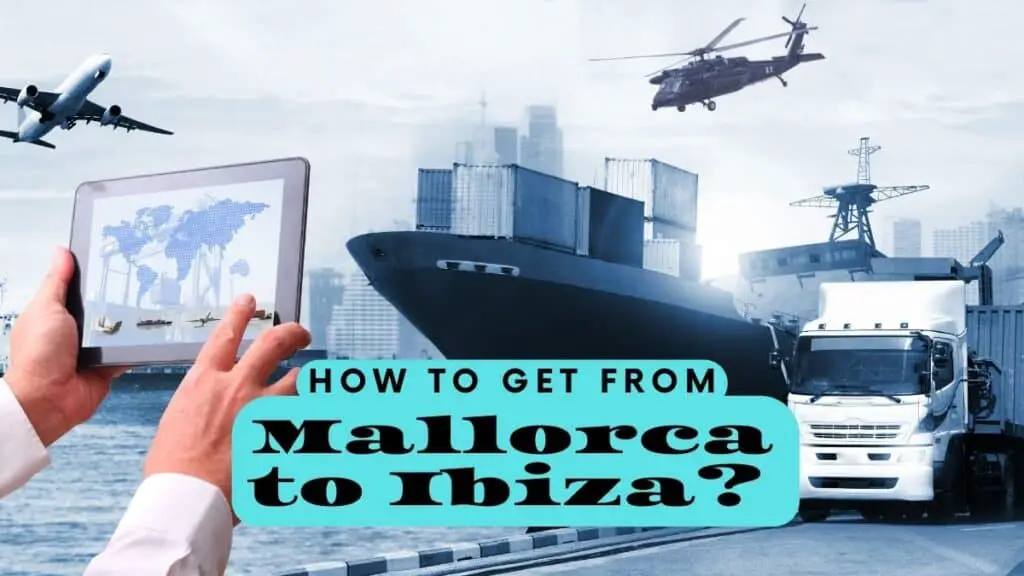 What is the Quickest Way to Travel From Mallorca to Ibiza?
If you want to reach Ibiza in the fastest possible time, you will have to travel via plane. You can take advantage of a few daily flights between Mallorca's capital Palma and the Ibiza airport, with a flight time of around 40 minutes.
Alternatively, you can take a ferry. This mode of transport has a travel time ranging anywhere from 2 to 4 hours. Although boats are not very fast, they have many daily crossings and are usually very comfortable and affordable.
If money is not an issue, you can also get it from one island to another through a helicopter. This journey will last for about 60 minutes. You can find rental companies that will provide you with a boat to make your trip.
If you don´t know where Ibiza is, check out this article: Where is Ibiza?
Modes of Transport
As someone who wants to travel from one island to the other, one thing of significance is to decide the mode of transport to do it. Here we will discuss which of the popular mode of transport you have available to you along with how you should go about availing them and help you decide which one is the best for you.
Plane
Planes are a great way to reach Ibiza from its surrounding areas and provide the most comfort and efficiency with respect to time. Once you arrive at the airport, you can take a taxi to the city of Ibiza, about 6.7km away.
Read more about the city here: Ibiza Town – It Has Everything You Want.
The famous Portinatx resort town is just over 35.5km away from the airport. While the distance is still a long way off, you will be hard pressed to find a better means of transportation than a Taxi.
You can read about other options here: How to Get Around in Ibiza.
Using planes is a convenient method as it is both fast and simple. And for people who want to avoid travel by sea, it is the only option. So people with sea sickness can most certainly choose this option to reach Ibiza from Mallorca.
Ferry
The largest boat terminal in Mallorca is located in the capital Palma. It usually runs several times daily to Ibiza, with a travel time ranging from 3.5 to 4 hours.
This is by far one of the most used boat routes on the islands, so if you want to make sure you catch a certain boat, it is best to book early. You can also buy tickets at the port, and there are boats that allow pedestrians. Most boats have open seating and food that you can buy.
The best route to reach Ibiza is from the port of Palma de Mallorca. This place is the capital of the island. It is very easy to reach the port of Palma de Mallorca by bus in about 45 minutes. Or, you can also decide to take a taxi and reach your destination in 13 minutes from the city center.
If you want to reach Ibiza from Mallorca through the ferry, you can enjoy it all year with at least one crossing daily. Baleària, Trasmediterránea, and GNV are among the most common companies operating on these ferry routes.
About 20 boat crossings operate on a weekly basis from Mallorca to Ibiza. And this frequency increases in the summer.
The first ferry leaves from the port at 08:00. It reaches the island of Ibiza at 10:00. The latest trip is somewhere around 16:30, arriving in Ibiza around 20:00.
Helicopter
You can rent a helicopter ride to Ibiza for a fun and comfortable tour of the islands.
Just remember that this way of traveling is expensive and does not offer large space for bigger groups. So, you will want to ensure you are taking the right amount of people when booking a ride and are aware of all the regulations related to flying in a helicopter.
Private Yacht
For those who want more luxury, a few companies offer private yacht charters. From small boats to large canoes, you can rent a yacht with a full crew to transport you across the islands.
Renting a yacht allows you to add trips to other islands, such as Formentera, a small island off the coast of Ibiza and home to La Mola Lighthouse.
You can read more about renting a Yacht here (even if it is in Cancun, most of it applies here also): Renting a Yacht in Cancún – What You Need to Know.
Wrapping Up
Ibiza attracts tourists worldwide who want to have relaxed vacations or elaborate parties on the coast. Being the culturally diverse and picturesque place that it is, it also offers extensive options for you to travel from one place to another.
Being in Mallorca, if you want to go to Ibiza, you have many options at your disposal.
This article has extensively covered on how to get from Mallorca to Ibiza and given you all the information you need to make an informed decision. So, weigh all your options and decide which way you want to travel to Ibiza from Mallorca.
The decision will largely depend on your budget, but it also depends on how much time you have. If you would like to enjoy a boat ride, you can take a ferry from the port of Mallorca and reach Ibiza in about two hours. Alternatively, you can travel by air and reduce the time to reach your destination.