A day trip to Tijuana can be one of the most intimidating trips to plan, especially since you're venturing into the busiest border crossing in the world. However, once you know the crossing process, visiting Tijuana will be a breeze for you.
In this article, you'll read through our in-depth guide on getting to Tijuana from San Diego. This guide includes essential information such as travel time, distance, and modes of transportation you can use to reach the Mexican City.
After reading this article, you can enjoy Tijuana and return to San Diego whenever you want. You'll also see the things you need for the trip for your convenience.
Without further ado, let's get into it!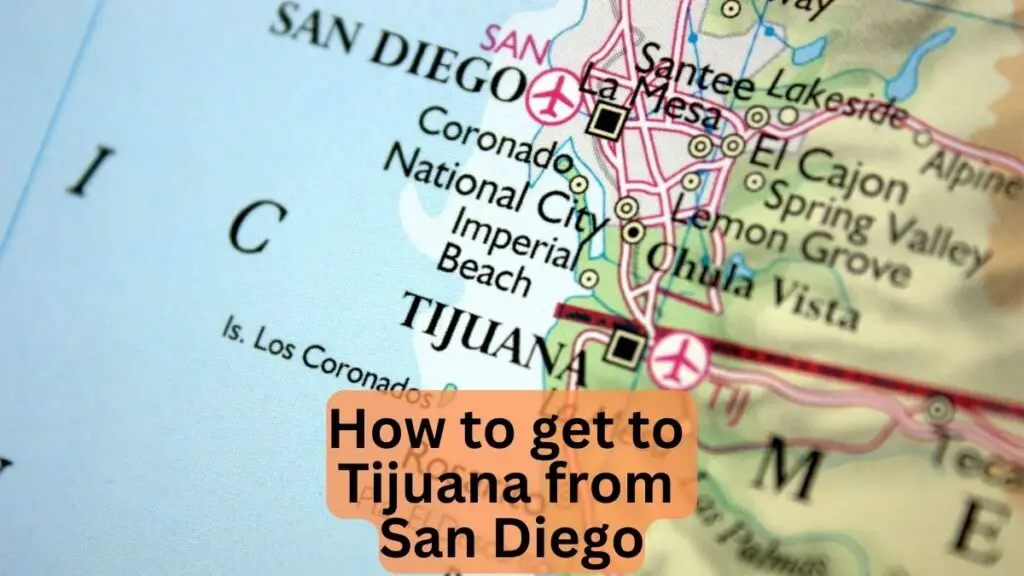 How Far Is Tijuana from San Diego?
Tijuana is situated 18 miles or 29 kilometers south of San Diego. While such a distance isn't far, you'll need to cross the US-Mexico Border, which adds to the travel time. 
However, once you've crossed the border, you'll be close to Downtown, and you can enjoy the city and all it has to offer within a day or even for two or more days.
Before crossing, you need to know that the US side of the border is the San Ysidro, which is also part of San Diego. You'll find different crossings here, but the main one is the San Ysidro Port of Entry. Many people call this area as El Chaparral. 
Travel Time to Tijuana from San Diego
The travel time to the border from San Diego generally takes only half an hour. However, it can take up to an hour or more, depending on your transportation method and the border traffic. 
Once you're at the crossing, it will take around an hour or more to get through the entire crossing process. This time will depend on which crossing you're taking, when you're taking it, and how you do so.
From the crossing, it will only take around ten minutes to drive or commute or around half an hour to walk to Downtown Tijuana.
In total, it's best to allot a few hours for the entire trip from San Diego to Tijuana. However, if you're traveling during a holiday, expect longer hours due to heavy traffic and more people crossing the border.
How to Get to Tijuana from San Diego?
Below are the different ways to get to Tijuana from San Diego. If you aren't familiar with crossing the border, you can try any of these methods, whichever suits your preference best:
By Trolley
If you're coming from the center of San Diego, taking the trolley is the most convenient way, especially if you're not bringing your car to Tijuana. 
The trolley is a service rail from San Diego to the San Ysidro border. This transport system will drop you off about a block away from the PedEast border crossing. 
From there, you can cross the border and enter Tijuana on foot. Or you can take other border crossings only a block away from PedEast, such as the PedWest.
By Bus
You can also use other modes of public transportation. For instance, buses work the same way when going to Tijuana from San Diego.
The MTS bus 992, which departs from the airport in San Diego, is the best way to get there. There is a bus stop outside the baggage claim area at Terminals 1 and 2. If you're wondering about the fare, a one-way ticket only costs 2 to 3 USD.
Take the bus to Kettner Boulevard and W. Broadway to reach the Broadway stop. You can reach the America Plaza Trolley Station by walking across the street. The trolley will take you to San Ysidro from that location.
By Parking and Walking
If you want to avoid taking public transportation and bringing your car to Tijuana, you can leave it at the border parking and walk through the crossing. 
This method works if you have a car, but buying Mexican Auto Insurance and other requirements is a hassle. This way, you'll only pay for the border parking, and your car will be waiting for you once you return. 
To learn more about this method, read Can You Walk Across the Border to Tijuana?
By Driving
Driving through the border is ideal if you're visiting other parts of Mexico besides Tijuana. However, bringing your car will only be a hassle if you only make a day trip.
The best thing to do in Tijuana is to leave your vehicle on the US border and cross on foot. You won't have to worry about parking or insurance abroad.
The best way to see other areas of Baja may be to cross the border by car. The convenience of having your transportation cannot be overstated.
Now, if you're bringing a car, you'll need more documents, unlike walking through the border. Among these are your driver's license, Mexican Auto Insurance, and others.
How to Get Through the Border to Tijuana from San Diego
​​Upon reaching the border, follow the crowd or the signs pointing at the Mexican immigration. San Ysidro has two border crossings, PedWest and PedEast, the main crossing for those taking the trolley. It takes just 15 minutes to walk between the two crossings.
After passing a turnstile, you'll enter immigration after walking down a path. Unfortunately, the US has no exit process. So the next step is to go directly to immigration.
Within the building, you'll find two lines. Residents and citizens of Mexico have one, and visitors have another, so make your way to the visitor's line. In most cases, you will only have to wait up to 10 minutes before entering Mexico. In some cases, no waiting is required.
If you need to know the documents to present on the borders, read What Do You Need to Cross Tijuana Border?
Tips When Getting to Tijuana from San Diego
Below are some helpful tips for getting to Tijuana from San Diego:
Expect traffic
As the world's busiest border, expect heavy traffic all the time, especially when you're bringing a car. Of course, you can always use the ready lanes for faster crossing. However, it can also be jam-packed during holidays and peak seasons.
Be patient
This tip applies more when crossing the border into Tijuana during weekends or holidays. You'll find the crossing packed with pedestrians, and you need patience during wait times. It's also best to have an allowance for crossing time, especially if you're visiting Tijuana with a schedule to follow.
Don't forget your documents
The last thing you'll want is to be forbidden to cross due to a lack of documents. As such, ensure you have everything you need before crossing the border.
Secure your belongings
The city of Tijuana is a common place for petty crimes. As such, it's best always to secure your belongings and keep an eye on them. 
Exchange cash for Mexican Pesos
Most establishments in Tijuana accept US dollars as a mode of payment, given that the city sits beside the border. However, chances are you're always overpaying when paying with dollars. As such, it's best to exchange your cash for local currency to pay less and save more.
Always stay safe
Tijuana is among the cities with high crime rates. As such, your safety should always be your priority. We have made a guide for your safety when visiting this city. To know more, read Is Tijuana Dangerous?
Conclusion
Visiting Tijuana from San Diego is a pretty straightforward process. Once you cross the border a few times, you'll get to familiarize yourself with it better. Tijuana has a lot to offer for tourists, and with this guide, you can reach the city and enjoy all of it with a day trip.