The port city of Ibiza Town is the capital of the island of Ibiza in the Balearic cluster of islands. It is known for the amazing tourism experience and nightlife it has on offer. This place is every tourist's dream destination.
However, many people miss this place while they vacation in Ibiza simply because of no guidance. If you're planning a trip to this island in the near future, this article is for you.
Today, we will talk about Ibiza Town and its distance from popular places around the island. We will also find out what you can do there and where to stay, which hotels and restaurants you should go to, and everything in between.
So, let's get started with this Ibiza Town guide without wasting any time.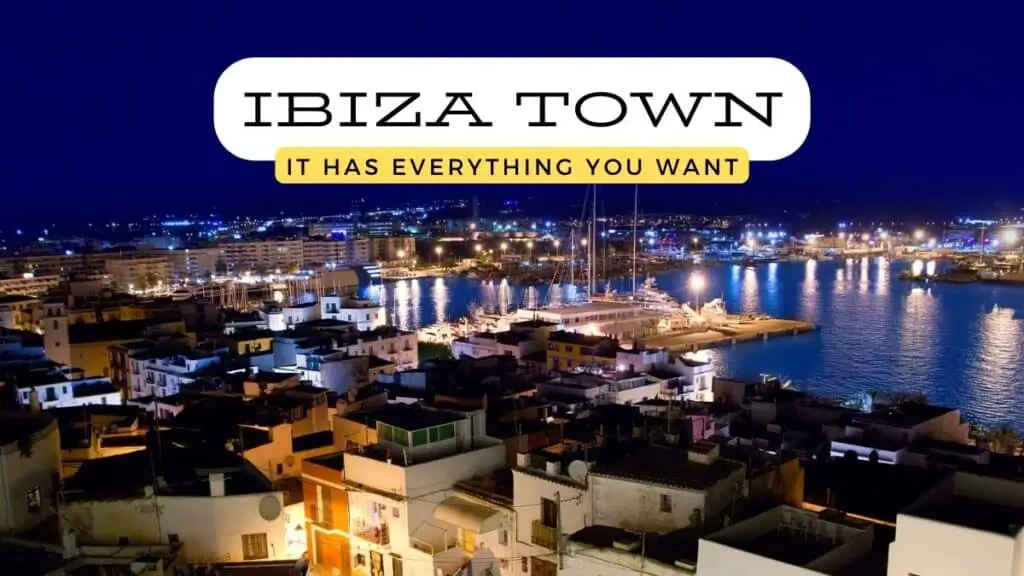 Where is Ibiza Town?
Ibiza Town, more commonly known as Eivissa in the Catalan language, is a significant and beautiful historical city in the Mediterranean, located on the southeast coast of the island of Ibiza.
Known for its sublime white sand beaches in Ses Figueretes and Platja d'en Bossa, Ibiza Old Town is perfect for calming and relaxing vacation.
The Santa De Maria church and other historical buildings also add a layer of exploration to Ibiza Old Town. So, visiting this beautiful place should definitely be on your agenda when you're in the Balearic Islands.
Read an in-depth article on Ibiza's location here: Where is Ibiza?
How Far is Ibiza Town from Cala Llonga?
Cala Llonga, another very popular town in Ibiza, is around 12 kilometers away from Ibiza Old Town. If you want to travel to or from Ibiza Town, you're going to have to get a Taxi ride because on foot it is going to take you quite a while to cover this distance.
With the right taxi, you'll get from one place to another in just about 15 minutes. It will charge you around 15 or 20 euros depending upon your bargaining skills. Then, you can have a good time anywhere in Ibiza, definitely promises.
How Far is Ibiza Town from San Antonio Bay?
San Antonio Bay is roughly 13 kilometers away from Ibiza Town. Going in a Taxi would take you around 15-16 minutes to get there. But if you don't want to spend too much on a Taxi and you're also not willing to go on foot, you can opt for another conveyance option.
A ride by bus through the city from Ibiza Town to San Antonio Bay or vice versa will take you around 33 minutes, and it will cost only 3 euros.
You'll have a great time seeing all the incredible views and enjoying the ride. Plus, San Antonio Bay is quite an amazing tourism destination in Ibiza as well, so exploring would be great.
How to Get from Ibiza Airport to Ibiza Town?
One of the best things for tourists coming to Ibiza about the epic Ibiza Old Town is that it is very close to the Ibiza airport where you're going to land, so you're not going to be tired traveling hours to your hotel and then just leaving everything and going to bed.
The distance between the Ibiza airport and Ibiza Town is around 6 kilometers. There are two ways you can actually travel from Ibiza Airport to Ibiza Town, through a bus ride or the airport Taxis.
A bus ride will be easier since it will cost less than 5 euros. The Taxis are going to cost more, but if you want an easy and quick ride, you're going to want to opt for the taxi.
What to Do in Ibiza Town?
Ibiza Town is full of amazing attractions, authentic Mediterranean restaurants, and much more you can spend your time enjoying. One of the best places to visit for an excellent historical experience is visiting the Ibiza Church. You can also go to Dalt Vila and have a good time there.
Both impressive white-sand beaches will make for a relaxing and warm day. Visiting Santa Gertrudis will make for a delicious foodie experience. Visiting the local market will help you get some amazing souvenirs to take home. These places proclaim the lovely experience that Ibiza Town offers to tourists. So, make sure you enjoy your memorable trip to Ibiza Town to the fullest.
Check out this in-depth article on what to do in other places in Ibiza: What To Do in Ibiza?
Hotels – Where to Stay in Ibiza Town
Ibiza Town is also home to quite an amazing array of hotels and residential places to live at. From beach hotels to small apartments to even rental homes, you'll find many places you can live in Ibiza Town.
La Torre del Canonigo is one of the top-rated hotels with infinity pools, stunning views, tons of amenities, and a lot of great activities you can take part in. The price might be high, but the overall experience is worth it.
Hotel Argos and Ibiza Corso Hotel are also two more options for hotels you can stay at and have a pretty incredible experience. You'll also be able to find many different apartments with local residents offering spaces for rent, so the accommodation situation there is pretty great.
Check out these accommodations: Where to Stay in Ibiza
Restaurants – Where to Eat in Ibiza Town
The restaurants in Ibiza Town, like all of Ibiza, are very impressive. With different foods from around the world as well as local Spanish and Mediterranean cuisine options, the restaurant situation is very good if you're staying and you're thinking of eating out for once.
One of the most popular and good-tasting restaurant spots with a great level of ambiance in Aramara. You can find delicious Mexican, Spanish, Mediterranean, and even continental cuisine at reasonable prices.
Other cool places you'll experience include La Bufalina Ibiza, La Gaia, and Can Jesper restaurants that serve delicious food that you'll definitely want to try on your trip to Ibiza Town. You're going to have a perfect time experiencing tasty food in Ibiza.
Check out more eateries here: Restaurants in Ibiza
What to See in Ibiza Old Town?
If you're wondering what fantastic attractions you can see in Ibiza Old Town, I've got just the thing for you. Here's a list of some of the most beautiful places to see when you're in Ibiza's Old Town.
Castle of Ibiza
Situated in Ibiza Old Town, the Castle of Ibiza is such an amazing historical monument that you will definitely want to explore.
From the beautiful architecture of the building to the perfect interior and beauty to behold, it has all the makings of a place you'd want to see.
Puig de Molins
The Puig de Molins history museum is another unique, visually captivating place in Ibiza Town. The building itself is quite a marvel, and the relics and pieces of history inside will also give you a lot of glee. So, make sure you visit and have a good learning experience.
Eivissa Harbor
Looking to visit a modern place full of bright lights and the party culture of Ibiza? The Eivissa Harbor is the place for you to be. Take your friends and family and have a fantastic time there. You won't regret it.
Car Rentals in Ibiza Town
Suppose you're thinking of going around Ibiza Town and you don't want to get taxis every single day. In that case, you'll want to get a car from a reliable and top-rated car rental in Ibiza Town.
Wondering if you need a rental car due to the size of the island? Read this article first: How Big is Ibiza?
Then check this out: How to Get Around in Ibiza
Ensuring that you find a Car Rental that offers reasonable prices and great cars for you to take around with insurance policies in your favor is essential.
Let's look at some of the best Car Rentals in Ibiza Town.
Europcar Eivissa
One of the most popular car rentals in Ibiza Town is Europcar Eivissa. Europcar Eivissa offers a lot with an array of pretty incredible cars ranging from Sedans to SUVs. You'll have a great time riding around in one of their great cars in Ibiza.
Ibiza Rent a Car
If you're looking for an affordable car to rent for a few days, you will get tons of amazing packages you can find in Ibiza Rent a Car.
It is a good company, has a fleet of decent cars, offers good deals, and has car insurance policies as well. If you hire them, you will have a great time in Ibiza.
Conclusion
One of the most popular places in Ibiza is the Ibiza Old Town. It truly has everything you'd want in a tourist destination. All the culture, food, attractions, and everything in between you can find in Ibiza Old Town is quite mesmerizing and something you shouldn't miss out on.
We have discussed everything you need to know about this place, from where to eat and stay to the attractions you will find there, so pack your bags and get to Ibiza and explore the incredible Old Town. You're going to love it!
Of course, check out the weather before you go: Ibiza Weather – Everything you need to know