Ibiza is a beautiful island located in the Mediterranean Sea. It is one of the famous Balearic Islands belonging to Spain, which are famous for their warm temperatures and beautiful beaches that have mesmerized tourists from around the globe.
And along with the hot sun and the vast beaches, there are various activities that you can take part in and have a blast. Ranging from nightclubs to sailing, Ibiza is not short on options to keep you engaged and entertained. 
But one question that many tourists have in their mind is whether Ibiza has a water park or not. If you also want to know, keep reading on.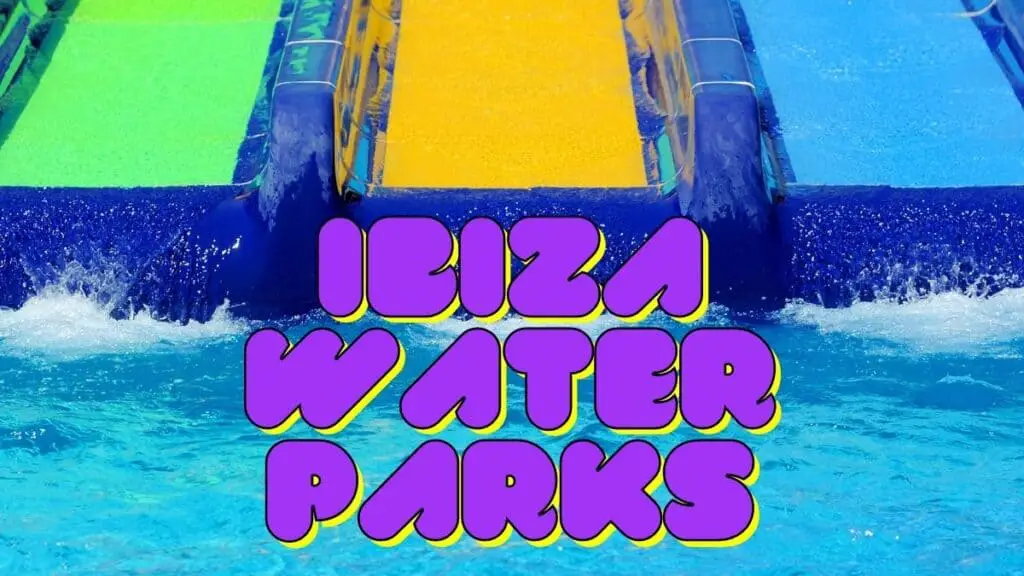 Does Ibiza Have a Water Park?
Ibiza is home to not just one but several water parks. One of the reasons for the island's fame is its amazing water parks. 
These parks have been designed to allow tourists to refresh themselves under the hot sun and participate in various fun activities, including thrilling water rides and a cool, relaxing pool.
Water parks offer a great opportunity to take a break from the beaches and enjoy some time on the fun water slides with your entire family. 
How Many Water Parks Are in Ibiza?
There are three notable Water Parks in Ibiza. All of these parks have their perks and offer something different. These parks are:
Ocean Mania Waterpark, San Antonio
Sirenis Aquagames Waterpark, San Antonio
Aguamar Waterpark, Playa d'en Bossa
Ibiza Water Parks
Here we will go through in detail everything you need to know about these parks before you decide to visit and the things you should be prepared for in advance. 
Ocean Mania Waterpark
This Water Park is located in San Antonio, Ibiza. It is one of the most famous water parks in Ibiza and has received overwhelmingly positive reviews from tourists who have had the pleasure of visiting.
The park is filled with slides, trampolines, catapults, rope swings, and many other exciting rides that you are sure to have to enjoy every moment of your time there and keep you coming back every time you visit Ibiza.
Many tourists who have visited this park have described it as "fun," "amazing," and "absolutely worth the time and money." It has continued to see an influx of satisfied tourists who make great memories there with their families. Ocean Mania was an absolute favorite among children.
[adinserter block="36″]
Ticket prices
Online booking is available for all the tickets in advance, and you should use this option for early booking and discounted deals. We recommend you to go during the peak months of July and August to have the best-intended experience.
The tickets are divided into two types. You either book a 45-minute session for €10 or you can buy a pass for a whole day at the park for only €25, applicable to one person.
Opening hours
Unfortunately, this water park is currently closed.
Popular attractions
There are many rides and activities you can take part in the Ocean Mania. Some of these popular attractions are the Kids' Club and Activities, where kids are taken care of by caretakers, and they can do so many fun activities with fellow kids of their age and have a great time.
The Spa and Fitness Salons are there to give you relaxing manicures and pedicures as you take a breather and relax. 
Trampolining is a favorite among visitors who do not miss out on it when they visit. The Water park is full of exciting and refreshing things you can do and have a great time.
Sirenis Aquagames Waterpark
Sirenis Aquagames Water Park is based in the Seaview Hotel in Port des Torrent. It is filled with a variety of water slides and water-based attractions. The formal Address is "Seaview Country Club, Port des Torrent, Sant Josep, Ibiza."
This water park is one of the biggest attractions in San Antonio and has remained one of the favorite places for tourists to give a visit to whenever they are on the island. It has amazing rides, thrilling adventures, and cool swimming pools.
This park has some of the highest ratings on review websites by tourists who have described it as one of the highlights of their time in Ibiza. The park has a beautiful structure and a prime location in Ibiza.
Ticket Prices
You can book the tickets online from their website in advance. The park is also free to visit for people staying in the hotel. However, for the General public, there is a charged ticket that they need to buy. The price of the ticket per person is around €28.
The tickets are affordable, and you can stay as long as you want for a day at that price. For all the facilities at the park, this price gives a good value for your money and makes for a good time. 
Opening hours
The park is open from 09:00 AM to 5:00 PM. The park is open 7 days a week, while Tuesday, Friday, and Saturday are the busiest days of the week. The park is open from May to October, as this is the peak season on the island for water-related activities due to the high temperatures.
Anyone who likes to swim will end up having the best experience there and should give it a go. Make sure to go there in the early hours, so you get the best experience without huge crowds.
Popular attractions
One of the biggest attractions of the Sirenis Aquagames Waterpark is are the great water slides that offer the thrill of speed and the reward of a cool splash. The full experience of the park includes a buffet, BBQ, and drinks including water, tea juices, tea, etc.
Childcare is present for your convenience, along with other gift shops to take souvenirs from your trip back home. Make sure to visit all these amazing attractions and enjoy your time the best you can.
Aguamar Waterpark
This is the oldest water park in Ibiza and one of the most well-known ones. It is based in Playa D'en Bossa, Ibiza. It is one of the best places to visit among the water parks in Ibiza. It is located in a convenient location and hence requires is easy to see.
Aguamar offers you a fantastic day of leisure, refreshment, and recreation. You can come in with the whole family and enjoy. There are many water attractions, as well as a children's area so that you can enjoy your time without any worries.
The tourists who have visited this park before have had many great things to say about it and the memories they made with their family and friends here as they splashed around in the cool water and took some thrilling rides.
Ticket Prices
The online tickets give a discount and are priced at just €17.50 for adults and €9 for kids under the age of 12. You can either get the tickets from the booths in the park or get them online.
It is advised to buy the tickets in advance to avail the discounts and details, and it is always better to prepare in advance, so you are always prepared and never get stuck in one place for too long.
Opening hours
The park is open in the summer season from May through September. It is open from 10:00 AM to 06:00 PM. The park is open all seven days of the week, while Saturday and Sunday are the busiest days of the week.
This place usually gets crowded in the afternoon, so you should make sure to arrive early in the morning. There is staff to make sure nothing dangerous happens in the water, and lifeguards are on the lookout all the time.
Popular attractions
You can enjoy a full three-course meal for a start from a very decent place inside the park along with an affordable cafe. There are lockers and parasols for hire if you so desire.
The great water slides and other water-based are undoubtedly the biggest main event for any visit to the park and should be treated as such. The rides are even better than the ones in some other water parks, and the best part is that they are equally fun and thrilling for both adults and children.
[adinserter block="36″]
Conclusion
Ibiza is one of the most popular holiday destinations globally with its many beaches and activities that you can pursue. Visiting a water park is undoubtedly among the best you can take part in because it is full of activities in itself. 
Make sure to get your tickets in advance and gather as much information as possible to avoid getting late. Take life jackets with you as a precaution, and make sure to indulge yourself in the water as much as possible so you can have a great time with your family!