The Yucatan Peninsula of Mexico is home to towns like Playa del Carmen and Tulum, popular with their vegetarian and vegan options. As such, if you're a vegetarian, chances are you'll visit these places over Cancun. However, if you also want to enjoy a vacation in this city, you may wonder if Cancun is suitable for vegetarians.
Cancun houses many restaurants, and most of the options around the city serve seafood, steak, and other meat. However, it does not mean that a vegetarian has no place in the city since Cancun also has few vegetarian and vegan restaurants. 
As a vegetarian, finding a place to eat and stay in Cancun can be challenging since most restaurants serve meat dishes. However, if you know where to look, you can enjoy the city while enjoying vegan options. 
This article is for you if you're a vegetarian who wants to visit Cancun. Here, we'll cover everything you need to know about vegetarian concerns in Cancun. This way, you can enjoy the city and the vegetarian options it has to offer.
Without further ado, let's get into it!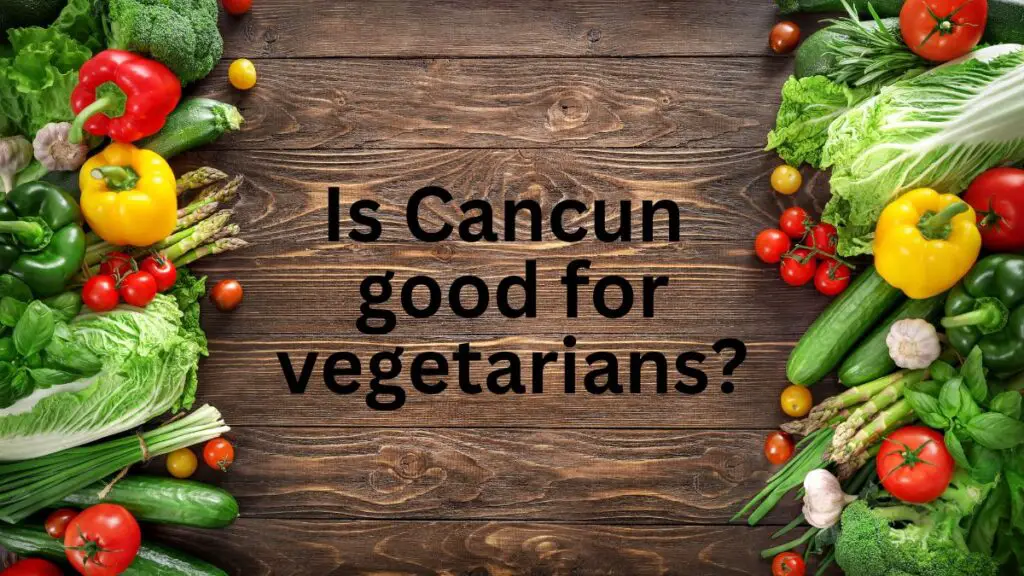 Best Areas in Cancun for Vegetarians
If you're a vegetarian who wants to enjoy Cancun, you'll find many vegetarian restaurants Downtown rather than the Hotel Zone. Thus, it's the best area for you to stay as well.
The Downtown of Cancun is massive. Thus, your best bet is to find accommodation near Mercado 28. 
This way, you'll have access to nearby restaurants and shopping stores. Further, you'll find the most vegetarian options nearby.
The nice thing about downtown is that you'll find plenty of budget-friendly accommodation. As such, even budget travelers will prefer staying at this place. But, of course, you can also find boutique hotels nearby if you have plenty of budget.
If your concern is that it's far from the Hotel Zone and the beaches, you can always take a bus or ride a taxi, and the travel time is only around ten to twenty minutes on a taxi or bus. 
To know the best accommodation options in the city, read our article about the Best Hotels to Stay at in Cancun.
How Much Is Vegetarian Food in Cancun?
Besides accommodation, another concern of vegetarians is the cost of the food options. Due to the lack of competition in Cancun, vegan options are more expensive than non-vegan options.
As for food, it is naturally affordable in Mexico, vegan or not. Thus, you don't have to worry about the costs since even vegetarian options are affordable. 
Generally, you will only pay between 90 to 150 pesos or 4 to 7 USD for a meal at the best vegan restaurants. For example, at Bao Vegan, vegan quesadillas cost as little as 70 pesos or less than 4 USD.
Remember that tipping is a common practice in Mexico and applies to Cancun. As such, it's always best to pay in local currency to save from exchange rates and also for easier tipping.
Tips for Vegetarians Staying in Cancun
If you're a vegetarian who plans on staying in Cancun for a vacation, you may find these tips helpful:
Vegetarianism isn't common
Cancun is not a popular destination for vegetarians. However, going to the vegan restaurants mentioned in this article is generally necessary to eat high-quality food.
Spanish term for vegan
Vegan is easily referred to as 'vegano' in Spanish. As such, it's best to use the word when asking for restaurant options around.
More vegetarian options in downtown
Downtown is the most popular place to find vegan food and restaurants. As such, vegetarians should stay in this area. In addition, Cancun has a few vegan restaurants within 10 minutes of the city. Thus, you can enjoy these restaurants and options wherever you're staying.
Spanish Menus
The majority of food menus are in Spanish. However, if you cannot read Spanish, you can use Google Translate or ask the staff for assistance.
If you want to know the best food options that Cancun offers, read What Food Is Cancun Known For?
Best Restaurants in Cancun for Vegetarians
If you're a vegetarian searching for places to eat in Cancun, here are some of the best restaurants we recommend for you:
Restaurante Natura
Although many vegetarians spend most of their time in Downtown Cancun, you can also enjoy some places to eat at the Hotel Zone, including Restaurante Natura.
The place is quite relaxing, and it's best to enjoy a cup of coffee or grab lunch and chill out. Although the menu is only partially vegan, you can organize many vegetarian options easily.
In Cancun, Natura has the best tacos. These popular dishes are made with fajitas, sprouts, spinach, and guacamole, among other ingredients.
Contact Info
Address: Blvd. Kukulcan km 9.5, Punta Cancun, Zona Hotelera, 77500 Cancún, Q.R., Mexico
Phone Number: +52 998 252 6799
Website: Restaurante Natura
Antojito Con Amor 
Translated into English, Antojito Con Amor means Treat with Care. It is precisely that kind of service that you will receive here.
Vegans seeking a wide selection of quality plant-based foods should also consider this vegan restaurant. As such, it's only fit to be among the best options if you're in the city.
The hotel is a little from Cancun's downtown center, but it is well worth the short trip by taxi or bus. It's excellent if you're open to trying several options during your stay.
Contact Info
Address: Calle Pehaltun, Manzan 5, Lote 1, 77533 Cancún, Q.R., Mexico
Website: Antojito Con Amor 
Bao Vegan
Bao Vegan is a newly opened vegan restaurant in Cancun. Located a short walk from Mercado 28, this cozy restaurant serves local and western, strictly vegan meals. 
The place serves its quesadillas with fresh guacamole and melted vegan cheese, giving you a vegan take on the Mexican staple. In their small bakery, you can also find vegan polorvones, a Mexican dessert.
Contact Info
Address: Local D del Hotel Coral, Av Sunyaxchen No. 30, 77509 Cancún, Q.R., Mexico
Phone Number: +52 998 251 3131
Website: Bao Vegan
Sirena Morena
Cancun's Sirena Morena is a vegan restaurant with a long and illustrious history. Some of Cancun's best plant-based dishes are served at this almost entirely vegan restaurant.
It was super fresh and delicious to eat the jackfruit tostadas. Their vegan nuggets were also highly recommended. Sri Lankan snacks made from lentils like Dal Vada are similar to the nuggets. However, the nuggets from Sirena Morena were creamy and soft in the center.
Even if it's only for fresh juice, the rustic outdoor space is a refreshing change from the bustling Cancun streets.
Contact Info
Address: Av Carlos Nader 66, 77500 Cancún, Q.R., Mexico
Phone Number: +52 998 887 9774
Website: Sirena Morena
Taqueria Coapenitos
Taqueria Coapenitos offers typical Mexican food, and here, you can enjoy a small range of vegetarian-friendly tacos.
Among the ingredients per taco, you can choose from onion, green pepper, cactus, pineapple, and avocado. The place operates from 3 PM to 11 PM. 
In general, the tacos are very basic, and their vegan offerings lack imagination. As a result, you should suit the Coapenitos restaurant for late-night snacks rather than dinner if you want to visit.
Contact Info
Address: Av Carlos Nader 25, Bancos, 77500 Cancún, Q.R., Mexico
Phone Number: +52 998 415 4227
Website: Taqueria Coapenitos
Conclusion
Although Cancun isn't a haven for vegetarians, you can still enjoy the place since it has many restaurants and food options. In addition, Cancun is a famous city that can accommodate all types of travelers, including vegans and vegetarians. As such, there's no need to hold back in booking a stay in this city.

With this article, you can get around Cancun and enjoy the vegetarian options while enjoying the activities and views of the city. If you're on a budget, you may want to know the prices of other food in the city. To learn more, read How Expensive Are Food and Drink in Cancun?