Cancun has a lot of accommodation options. You can enjoy top-class hotels, resorts, and urbanized beach clubs. But at the same time, you can also enjoy budget accommodations such as apartments and Airbnb properties. If you're torn between Airbnb or a hotel, here's our answer:
It depends on your preference and budget. For example, it's better to stay at an Airbnb if you're on a budget or want to enjoy a unique neighborhood and blend in with locals. On the other hand, it's better to stay at a hotel if you want to enjoy something luxurious and convenient in nearby spots.
Both Airbnb properties and hotels have their advantages and disadvantages. If you're torn between the two types of accommodation, you need to know which will suit your preference. This way, you can plan your ideal Cancun vacation and stay at an accommodation that suits you.
Without further ado, let's get started!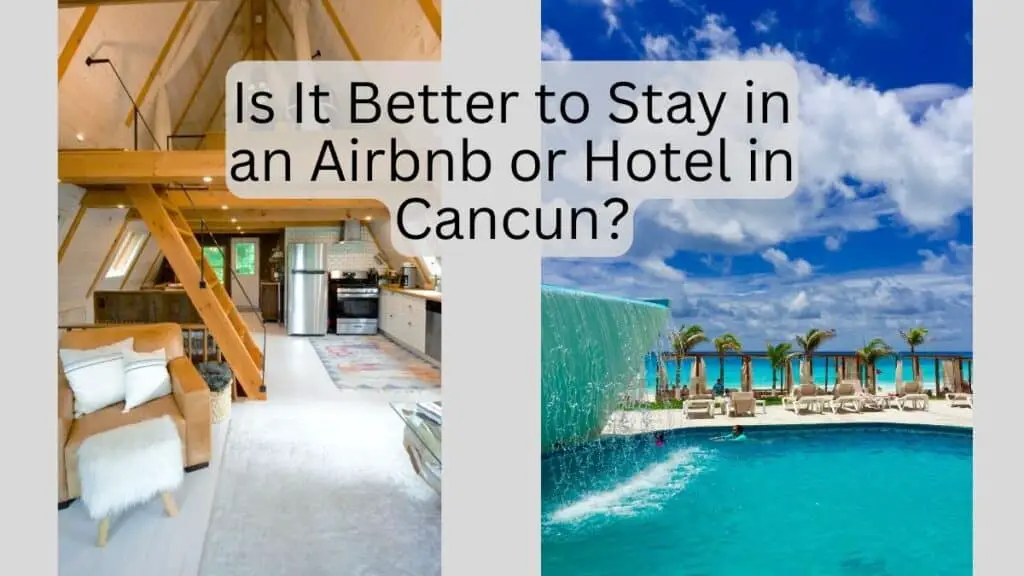 What to Expect When Staying at a Hotel in Cancun
As a highly urbanized city, Cancun boasts top-class hotels and resorts. As such, staying at one of Cancun's hotels means you'll have pricey accommodations, but it ensures excellent amenities and other inclusions. Here are some of the perks you can enjoy when you book your stay at a hotel in Cancun.
Designed for tourists
The hotels in Cancun, especially the ones in the Hotel Zone, are among the best places to stay in the city. The hotel zone is a thin area you can reach within 20 minutes of downtown. 
From the name itself, you'll find many options around here and amenities and offers that will suit all types of tourists and travelers. 
As a place filled with hotels, you'll find each option designed to accommodate you and make your stay comfortable. As such, you'll have nothing to do but enjoy.
Accessible
The hotels in Cancun are all designed to be easily accessible to tourists. As such, you'll find most of the options reachable by vehicles and even by public transportation. 
If you plan to use public transportation to get around Cancun, you can always enjoy the city's bus system. To learn more, read our article about Taking a Bus in Cancun.
Everything is set up to make the most of your beach trip. Travelers will find it simple to get to hotels because all roads appear to go to Zona Hotelera. 
Every people in Cancun is on vacation, and if they aren't, they're working hard to make your time in Cancun unforgettable.
Ideal for First-timers
If it's your first time in Cancun, then it's probably best to enjoy the tourist feel by booking your accommodation at a hotel. If you have the budget, a hotel booking can be all you'll ever need, especially if it's all-inclusive. 
Of course, staying at a hotel won't give you the best of the local culture. Further, the abundance of hotels and restaurants does not provide a truly local experience. 
However, for first-timers, hotels are an excellent place to start. This tourist-oriented neighborhood is ideal for people looking for a tropical paradise, white sand beaches, and colorful drinks.
Nearby attractions
Most of the hotels in Cancun are near one or two cultural attractions of the city. In most cases, they are within walking distance, and it's one factor that helps hotel owners gather customers.
As such, you'll find it easy to plan your day, especially if you only want to explore nearby destinations and spots. It's also near tour companies that offer activities such as cenote excursions, scuba diving, snorkeling, Mayan excursion, and many more.
Excellent nightlife
The nightlife is one of the main things that help Cancun attract visitors. Hundreds of thousands of tourists visit the city annually to enjoy parties and nightlife. 
Now, if you're staying at a hotel in Cancun, you'll quickly reach bars and clubs, especially around Punta Cancun. Usually, these hotels have a bar and may even hold a party.
What to Expect When Staying at an Airbnb in Cancun
While it may seem incredible to spend your Cancun vacation at luxury hotels, chances are you're on a budget and would like to spend as little as possible on accommodation. In such cases, you'll still find apartments and budget hotels, but to be honest, it doesn't make your Cancun vacation exciting. As such, your best bet is to book an Airbnb. 
Here's what you can expect when you stay at an Airbnb property in Cancun.
Budget-friendly and practical
Airbnb properties in Cancun are budget-friendly and practical, especially compared to high-end hotels and resorts in the hotel zone. 
When you search for properties in Cancun through the Airbnb platform, you'll see lower rates and prices while offering comfortable, chic, and stylish designs. For this reason, it's also ideal for travelers who plan to stay in Cancun for an extended period.
Accommodations like a local
When you book an Airbnb property, you'll enjoy complete amenities that the owner himself may be using. As such, you'll find a kitchen with complete tools, a living room, and a pool or a terrace. 
Your Airbnb host may even offer some stock of fresh water, snacks, and other food. If there's one thing to note, water can be pricey in the hotel zone, so it's an excellent option to book an Airbnb that provides necessities like such. If you want to know more about water concerns, read: Can You Drink the Water in Cancun?
An Airbnb is also ideal if you plan on cooking your meals to save yourself from the high prices of restaurants. Finally, it's something many travelers want since they get to live like a local while still enjoying the tourist destinations of Cancun.
Entire place rental
When you consider an Airbnb property, you'll find offers to book an entire place or a private room. A private room is cheaper, something backpackers and solo travelers would appreciate.
However, if you're with your family, you can be comfortable and enjoy the place. In short, an entire place will be your home during your stay in Cancun, and nothing feels more comfortable.
Designed for budget travelers
Let's face it. Not everyone who travels to Cancun has an unlimited budget. But, in most cases, we are on a budget and want to spend less while enjoying a vacation. 
Now, if you want the best and have the budget, you can always book high-end or all-inclusive hotels in Cancun. However, if you want affordable yet comfortable accommodation, you'll find better options with Airbnb.
Secure
Airbnb may be better than hostels for budget visitors such as students. You can obtain inexpensive housing with Airbnb but with a better sense of security because the site's evaluations will offer you a fair picture of what you will get. 
Students wishing to make acquaintances in different nations may choose the "Private Room." If you're a solo female traveler who wishes to visit Cancun, read Is Cancun Safe for a Solo Female Traveler?
The advantage of a private room option is that you'll be able to engage with a native who is concerned that you have an enjoyable time in their city. But, most significantly, you will have your sleeping room at night!
Conclusion
So, is it better to stay in an Airbnb or a Hotel in Cancun? As I mentioned, both Airbnb properties and hotels in the city are designed for different travelers. 
If you're a backpacker, a budget traveler, or someone who wants to blend in and like locals, booking an Airbnb property is for you. With Airbnb properties, you can cook meals, stay in cheap options, and live like a local.
Now, if you're visiting Cancun for the first time and want the best that Cancun's tourism offers travelers, it's best to book a hotel. It's also ideal if you have the budget and want to splurge on your vacation.
In the end, Cancun offers all types of accommodation to make your stay enjoyable and comfortable. So the rest of the concern is to note your preferences to choose the accommodation you want.