Although Tijuana sits beside the US, its primary currency is the Mexican peso. As such, if you plan to visit this city, you may wonder if it's better to use pesos or dollars for every transaction you make during your entire stay.
It's better to use pesos rather than dollars when you're in Tijuana. Most establishments accept dollars, but exchange rates vary from time to time. Thus, using dollars will make you spend more. If you are staying in Tijuana, it is best to pay with local currency, the Mexican peso.
If you're planning to visit Tijuana, take it, as a rule, to carry Mexican peso with you and use it when spending in the city. Besides this tip, you'll need to know more about the local currency in Tijuana, such as where to exchange and other tips when paying in the city.
This article will cover everything you need to know about using pesos or dollars in Tijuana. We'll also include other options you can use and some helpful information to help you manage your expenditures during your trip to this Mexican city. 
Without further ado, let's get into it!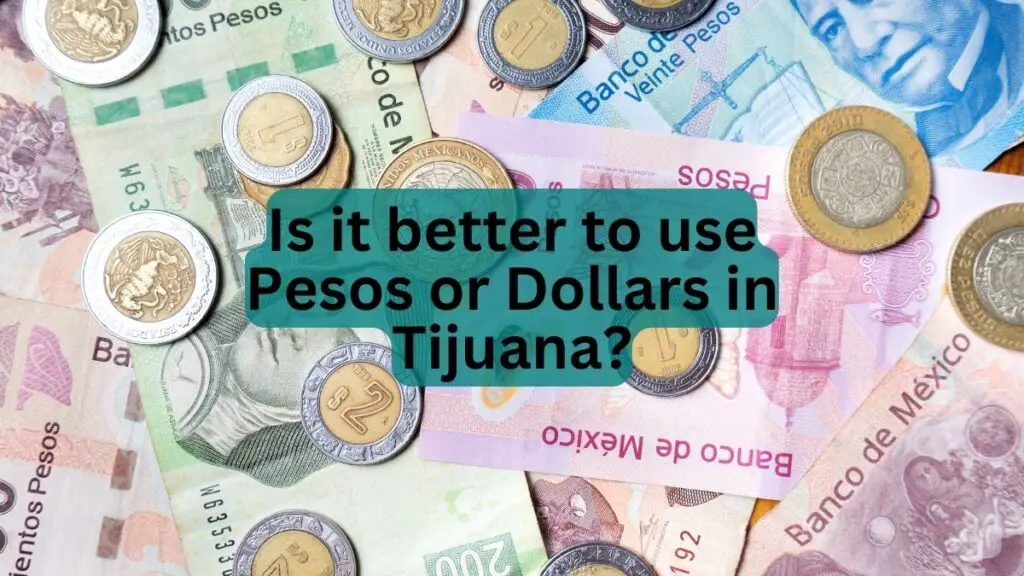 Why Should You Use Pesos Instead of Dollars in Tijuana?
It's usually better to pay in pesos rather than dollars when you're vacationing in Tijuana. Although most Tijuana companies will receive US dollars, the exchange rate might be lower if you spend US dollars. 
We recommend paying in pesos at PEMEX stations because converting between liters and gallons and between pesos and dollars may be challenging.
In general, you can use the Mexican peso, the country's official currency, in many ways. 
When planning your next vacation to Mexico, you should mix travel credit cards, debit cards, and prepaid travel cards. 
Carry cash if you're going to a street market or an establishment that doesn't take cards. You can use debit cards, credit cards, and prepaid travel cards at several ATMs in Mexico.
There's no one best travel money plan because it depends on your itinerary and where you're going. Make sure your debit card has an ATM alliance. 
Or, if you're planning on making a lot of cash withdrawals, you could use a prepaid card. A credit card is the best way to pay for major expenses and hotels.
It is always necessary to have cash on hand for daily purchases. Therefore, when you arrive in your target country, withdraw enough money to ensure a smooth entry.
If you plan on visiting Tijuana, you'll need to know the documents required when crossing the border. To learn more, read What Do You Need to Cross Tijuana Border?
5 Payment Methods You Can Use in Tijuana
In Mexico, no matter if you're eating tacos, drinking margaritas, or keeping to business, you can use any of these five different payment methods:
Cash in USD
In Tijuana, US dollars are accepted in the city's famous tourist spots, so you can enjoy the city without exchanging your dollars. However, you can do so if you want to make payments in dollars or pesos at some shops. The store owner will give you his exchange rate in such a case.
Cash in MXN
In Tijuana, vendors often use an exchange rate of 20 pesos to 1 USD when making purchases from customers. Therefore, if you use US dollars to purchase goods in Tijuana, the prices of the products might increase by up to 30 percent if you use US dollars. Thus, using Mexican pesos instead of dollars will help you extend your budget longer.
Credit Cards
You can use your credit card almost anywhere in Tijuana. Nevertheless, buses, taxis, tour guides, and corner shops won't accept them.
Many travel cards offer travel benefits as well as reward opportunities. For example, you can earn miles if you choose the right travel card for your trip.
The norm in Mexico is to use chip cards. While you can still use a magstripe card in many places, you may also encounter businesses that only accept chip cards. Thus, you should update your card before your trip.
Debit Cards
When comparing cards, consider those without ATM or international transaction fees. For example, some debit cards don't incur foreign transaction fees when used abroad since they are made for international usage.
Prepaid Travel Cards
Travel cards are an excellent option for taking money abroad and using it in other currencies. For example, popular tourist locations like Tijuana have businesses that take both US dollars and pesos loaded onto a card.
Exchanging Dollars for Pesos
If you want to exchange dollars for pesos, you can do it in the US before crossing into Tijuana or in the city after you've crossed.
Exchanging in Tijuana
In Tijuana, there are several locations where you may exchange money, such as Casa de Cambios and Banco de Mexico. You can do these exchanges at the bank on weekdays and during office hours.
The alternative is to exchange money at Bureaux de Change and Casas de Cambio. These exchange bureaus are widespread and can provide rates equal to or better than those provided by banks.
Exchanging in the US
Most currency exchange companies, including Travelex and big banks, have Mexican Pesos in stock. Therefore, exchanging with your bank may be wise to avoid additional fees and costs.
Another common concern of US citizens visiting this Mexican city is safety. If it also concerns you, read Is Tijuana Dangerous?
Exchanging through ATMs
An ATM is the best place to obtain pesos for your trip to Mexico. Before your journey, we advise converting enough pesos to last through your first day. Then, take out money from a nearby ATM to receive the best exchange rate.
You don't need to convert money before traveling to Mexico because ATMs are typically available at international airports right before you leave customs. Also, since the suggestions are provided in both English and Spanish, it is simple to follow them. 
One thing to do is inform your bank if you are traveling to Mexico, so they will only block your card when you make cash withdrawals.
You'll have to pay a hefty service fee if you use an arbitrary ATM on the street to withdraw money. Reputable national banks provide the best and lowest ATM fees for getting pesos in Mexico.
Currency Exchanges
Note that the currency exchange at the airport or in the city will always give you a poorer rate than your bank if you're looking for ways to acquire pesos in Mexico. 
They earn money in this manner. Thus, we advise only choosing such if you have extra money before your trip home.
The best way to convert cash in Mexico is to seek Casa de Cambio or search for a local Currency Exchange Service establishment. 
We advise finding out the exchange rate over the phone in advance. To help you know if an exchange rate offered to you is good, you can compare it with the live exchange rate between USD and MXN. This way, you can know if it's reasonable or not.
As a result of intense rivalry among the exchange houses there, the airport in Mexico City is one of the finest locations to convert your foreign currency.
Conclusion
Overall, it's better to use pesos instead of dollars when you're in Tijuana. Using local currency, you can spend the exact amount and save yourself from fees on exchange rates and other charges. 
Of course, if you want to avoid exchanging, you can always use US dollars in most establishments. However, Mexican pesos will always be necessary when spending in stores or riding local transportation.
After settling this concern, you'll want to know where to spend your money next. If you're visiting Tijuana, read our article about 15 Things Tijuana Is Known For to guide you around.