Tulum is a laid-back town filled with natural wonders that are a wonderful experience to see and visit. However, since this town boasts more of its natural wonders, you'll mostly spend some time outdoors, checking out what Tulum offers. Thus, when booking accommodation, you may wonder: is it worth staying at a luxury hotel in Tulum?
It is impossible to go wrong with a luxury hotel due to the excellent service, private accommodation, and many other features. Thus, it's always worth staying at a luxury hotel in Tulum if you want to get the best out of your vacation.
Since luxury hotels always come at a hefty price, you may want to know more about what you'll get from spending a lot on accommodation. As such, it's always best to know every reason you can have to allot a significant portion of your budget to accommodation.
13 Things You'll Enjoy by Staying at a Luxury Hotel in Tulum
Most luxury hotels aim to provide their guests with the best possible experience. Generally, most luxury hotels go so far as to make the stay as valuable as possible. To give you a better idea, here are 13 things you'll enjoy by staying at a luxury hotel in Tulum:
1. Elegant Designs
Luxury hotels boast of their elegant designs, whether on the exterior or the interior. This fact applies even to the luxurious hotels in Tulum.
Although Tulum is a beautiful town in itself, you'll find it even more so when you book a luxury hotel in this town.
Most luxury hotels in Tulum blend well with the picturesque scenes of Tulum's jungles or beaches. You can never go wrong with aesthetically pleasing accommodation when you book a luxury hotel in this town.
2. Scent and Vibe
From the moment you step in at a luxury hotel in Tulum, you'll find every moment enjoyable because of the scent and vibe. Although it seems like a little thing, you won't get it from standard hotels around town.
3. Excellent Security
When you book at a luxury hotel, you'll be sure to enjoy the security that comes with it. During vacations, we always want to take a step back and relax without worrying about security. For this reason, luxury hotels offer excellent security that you need to enjoy without overthinking about safety. If you have more safety concerns, this article may guide you: Is Tulum Safe?
4. Exceptional Service
Service is one of the main advantages of booking a luxury hotel in Tulum. Often, excellent service makes every vacation more enjoyable, and it also applies to Tulum hotels.
You should expect exceptional service at a luxury hotel, and the staff generally provides excellent personal attention. In addition, there is often a lot more staff in luxury hotels that are highly trained at their jobs.
5. Aesthetic Rooms
Luxury hotels will always have aesthetically pleasing rooms, and it's something you'll enjoy in Tulum. For instance, you'll often find amazing views of Tulum's beach blending well with the aesthetically pleasing rooms. So even when you're off to bed, it will feel like you never retire from Tulum's beauty.
6. Comfortable beds
Everything you'll get from a luxury hotel always entails comfort and applies well to beds. So when you book a luxury hotel in Tulum, you'll likely get huge beds that are pretty comfortable to sleep on. The comfort is so satisfying that it may even be challenging to get out. 
7. Amenities
When it comes to luxury hotels, you'll never run out of amenities to enjoy. In most of Tulum's luxury hotels, you'll usually find everything you need in the room.
For instance, you'll have robes, slippers, snacks in the minibars, large TV, spacious desks, coffee makers, high-quality toiletries (even perfumes), and many more.
8. Available in-house restaurants and bars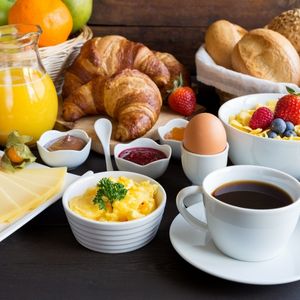 You'll usually find several bars and restaurants in luxury hotels, often serving different cuisines or featuring specific styles. In Tulum, you'll mostly find every luxury hotel having an on-site restaurant. Some of them even offer a personal chef service.
As such, you'll be sure to have tasty food every time you want to eat, making a Tulum vacation even better. If you want to explore more restaurants, check out the Best Restaurants in Tulum.
9. Great views
While Tulum offers breathtaking views everywhere, some hotels make it even better. In some luxury hotels in Tulum, you'll even have a bungalow or a villa with a great view of the beach on one side and a lush jungle view on the other.
Since Tulum is all about its natural wonders, it's best enjoyed when you can see these beautiful views all the time.
10. Spa facilities
Spa facilities are popular in Tulum, and you'll find the best ones only at luxury hotels. These facilities may even include swimming pools, steam rooms, saunas, and various unique treatments. As such, you'll surely enjoy your stay and make it worth your money.
11. Fancy transfer services
Tulum is a town without an airport, which means reaching it requires land travel for around an hour or more. 
While you can find several modes of transportation and hotel transfers, nothing beats a fancy transfer service arranged by luxury hotels. 
You'll most likely enjoy a fancy transfer service with an expensive van or even a high-end car. 
Although most people haven't had many extreme transfers, the cars are usually lovely and clean, and sometimes have sweets, drinks, etc.
12. Welcoming and parting gifts
Many luxury hotels in Tulum offer welcoming gifts, such as flowers or drinks, and some even offer parting gifts. You may receive flowers, chocolate, or other pleasant gifts at some luxury hotels, and when you visit, you may get something local. It is pertinent to note that gifts are not guaranteed unless expressly stated.
13. Concierge
Some activities in Tulum require planning, and while you can do these things on your own, having them arranged for you is much more convenient. 
Luxury hotels usually include a concierge to help you book tours, reserve restaurant seats, and even help during your stay.
Conclusion
With all these things to enjoy, it's always worth staying at a luxury hotel in Tulum. Now, if you have already decided to do so, you may as well want to book the best options. While most luxury hotels ensure the best services, we rounded up the five best luxury hotels in town and included everything you need to know about each one.
This article will guide you in choosing where to book for your vacation. Read more on our article about the Best Luxury Hotels in Tulum.