Lanzarote is an excellent destination for snorkeling for both tourists and residents, owing to the availability of the many incredible beaches and bodies of water. These range from Playa Blanca to Puerto del Carmen and many others.
If you are not aware of what snorkeling is or why Lanzarote is such an excellent island for snorkeling tours, let me be your guide and explain all you need to know about snorkeling in Lanzarote.
In this article, I am going to talk about Lanzarote, snorkeling, snorkeling tour prices in Lanzarote, along with a list of the best beaches and places to snorkel in Lanzarote, so you and your family can have a unique and memorable trip to the Canaries filled with adventured and excitement.
So, let us get started with this guide without wasting any further time.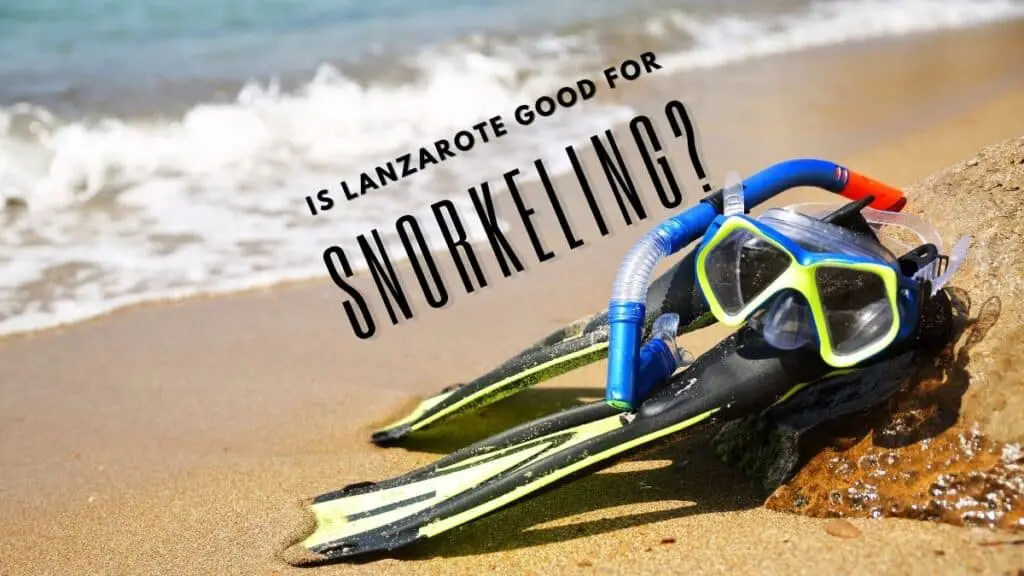 What is Snorkeling?
Snorkeling is the art of swimming on the surface or through a body of water with the help of a diving mask, a pipe-shaped breathing tube that sticks out of the water known as the snorkel, and swim-fins as well.
Snorkeling also requires a wet suit to keep the body warm during swimming when the weather is freezing. Nevertheless, it is an enjoyable and exciting sport that many beginners and experienced swimmers enjoy.
Since there are so many bodies of water in the Canaries, especially in Lanzarote, snorkeling is a massive part of the tourist experience of the area. Due to its popularity, you should think about snorkeling when you are in Lanzarote with your friends and loved ones.
Snorkeling Tour Prices in Lanzarote
The average price of snorkeling tours in different places of Lanzarote is around 35 to 45 euros for a span of 2 to 3 hours. Occasionally, these tours are accompanied by kayaking experiences as well.
The prices can vary depending upon which company you are diving with and the equipment you are using and the experience of the guides that are diving with you, and the water you are snorkeling in.
There can also be different packages that you might get for couples and families while snorkeling in Lanzarote. Overall, snorkeling tours are cheaper, and there is a lot of excitement and entertainment associated with snorkeling. In addition, the experience is perfect for beginners and professionals alike since there is not a lot of practice required for the sport.
So, ideally, you will want to experience snorkeling with your loved ones when you are in Lanzarote. Make sure children are supervised and kept safe at all times.
Best Places for Snorkeling in Lanzarote
So, you are thinking of going on a snorkeling trip with your friends and family in Lanzarote, but you are unsure which place to go? Well, you are pretty lucky because I have made a list of the best places for snorkeling in Lanzarote. So, let us check them out and see what they offer in terms of snorkeling tours.
Costa Teguise
Costa Teguise is one of the most popular regions in Lanzarote for all kinds of water sports. So whether you are visiting with your family and friends or just two love birds, you are going to have a fantastic time snorkeling in Costa Teguise.
Many excellent snorkeling tour guides and companies like Aquatis Diving, Calipso Diving, and Daivoon Diving Center are available in Costa Teguise. You can ask around, get the best prices, and make sure that your snorkeling trip was worth your while.
After snorkeling. Have some fun here: Aquapark Costa Teguise
Puerto del Carmen
When you are in Puerto del Carmen, you are going to have a wonderful time going to the beach and enjoying yourself with your family and friends. Still, if you have a few hours free, you will want to experience the snorkeling tour on offer in this region.
Notable companies offering great equipment and professional snorkeling tours include Mojo Dive, Manta Diving Lanzarote, Aquasport Diving, and many others. So, make sure you experience the thrill and adventure snorkeling brings into Puerto del Carmen; you are going to remember all that fun.
Read more about Puerto del Carmen here: Puerto Del Carmen
Playa Flamingo Beach
Playa Flamingo is another excellent destination if you want to snorkel with your loved ones, but there is much more than just snorkeling on offer in this part of Lanzarote.
You will find good sunset cruises, ATV tours, kayaking experiences, and much more, along with snorkeling experiences, so the prices here are going to be greater than in other places.
If you want to enjoy your whole day at the beach, then Playa Flamingo has got your back. You will find the snorkeling experience unforgettable and have a great time there with all of your friends, family, and loved ones.
Want to go Kitesurfing? Check this out: Kitesurfing in Lanzarote – Best Spots
Playa Blanca
Playa Blanca is known as one of the main hubs of tourists in the Lanzarote Island of the Canaries. Consequently, it is packed almost all of summer and even sometimes in winters.
When we are talking about water sports, and especially snorkeling, Playa Blanca is nowhere behind any of the rest of the places on this list.
With great companies on the beach like Pura Vida Diving and Lanzarote Non-stop divers ready to take you on your affordable and high-quality snorkeling tours, the only thing stopping you from taking a dive and living your life is yourself. So, take a step into the water and live your life with adventure.
Read more about Playa Blanca here: Playa Blanca – «The White Beach»
Playa Chica
Without a doubt, the best snorkeling destination in Lanzarote, Canary Islands, is Playa Chica. Other destinations are also good, but none come close to Playa Chica in terms of the tours, views, underwater experience, and service.
The marine life you will swim by, and the beautiful underwater views in Playa Chica are simply incomparable. That is why you have to see it for yourself to believe it. So make sure you head to Playa Chica if you want to have a memorable experience of snorkeling because it will surely be one of the best you have had.
Lanzarote Snorkeling Tips for Beginners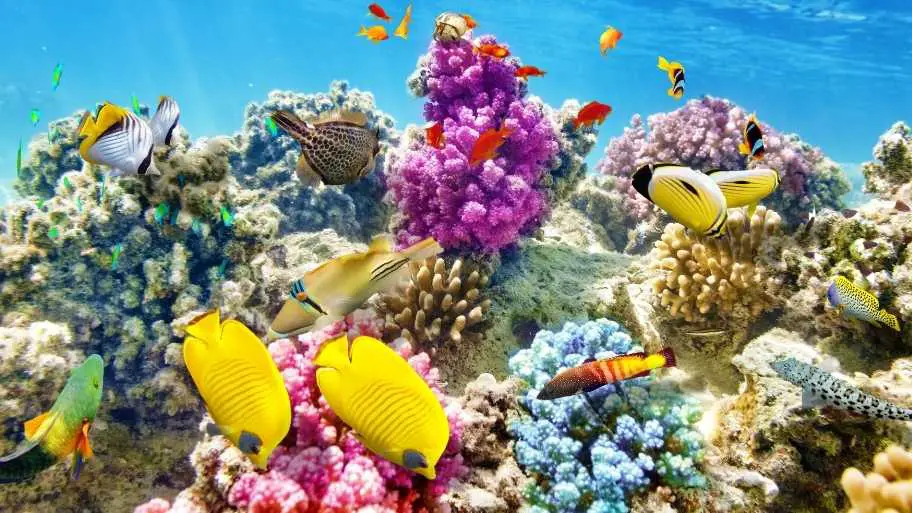 If you want to become one with nature underwater, snorkeling is meant for you. But if you are starting with snorkeling on your trip to Lanzarote, you need to make sure you follow these beginner tips to have a good experience and be safe at the same time:
Make sure all the equipment is the right fit
The first thing you will want to do is make sure all the equipment fits you perfectly. You should go ahead of time and check if the equipment you are using is perfect for your requirement.
Whether it is the diving mask, the swim-fins, wet suit, or anything else, you might not be able to have a good experience if it does not fit well. So, take care of your equipment beforehand.
Take Deep Breaths
When you are in the water, you might feel that you need to keep breathing excessively and too fast, but that is not the case.
With the help of the breathing pipe or the snorkel, you will want to take deep and balanced breaths so that your lungs stay clear and there is no tension building up when you are inside the water exploring it and viewing the beautiful nature within.
Stay close to the guide
Usually, when you are touring Lanzarote, and it is your time snorkeling in the area, you will have a guided dive with you. In that case, you will want to stay as close to the guide as possible during the dive so that any problem can be addressed right away, and there is nothing to worry about.
Defog your Mask with Soap
Before diving, you will want to defog the snorkeling mask with soap or baby shampoo, whichever is available at the time. This will help you see much more clearly, and any fog on the surface of the mask will go away, allowing you to be truly mesmerized by the beauty that the waters hold.
Stay away from underwater creatures
In Lanzarote, many of the beaches are directly facing the Atlantic Ocean, so when you are snorkeling in the sea with your friends, make sure you stay away from any suspicious-looking fish or creature.
Do you wish to be cautious? Did you know you can buy shark repellent bands? Check out these: Shark Repellent Band
This will keep you safe from any uncertainty, help preserve the sea creatures, make sure that they feel safe from outside interference, and enjoy the sea with you.
Check out this article: Are there sharks in the Canary Islands?
Conclusion
Snorkeling is a beautiful sport where everyone, whether young or old, beginner or professional divers, can have a great time exploring the waters around them with experienced and helpful guides.
Lanzarote has some of the best snorkeling experience tours available for tourists and residents. People from all over the world visit this place solely to enjoy this sport. So, whenever you are in the area, make sure you do not miss out on this beautiful opportunity to make memories with your loved ones.
I hope you learned a lot from this article and that you will visit Lanzarote and the Canaries very soon. May you have a great day and a great traveling life ahead of you!