If you're traveling to Mexico City on a budget, you may be interested in using the bus in the city as your primary mode of exploring. However, with all the risks and dangers in the city and your unfamiliarity with the place, you may wonder if the buses in the city are safe for tourists.
Generally, Mexico City has an excellent bus system, and it's safe to use even for tourists. But, of course, taking precautions will go a long way, especially when you're alone or if it's your first time. 
For this reason, we made this article to help you understand how buses work in the city. This information includes everything you need to know about this mode of transportation, along with helpful tips to use them safely.
Without further ado, let's get into it!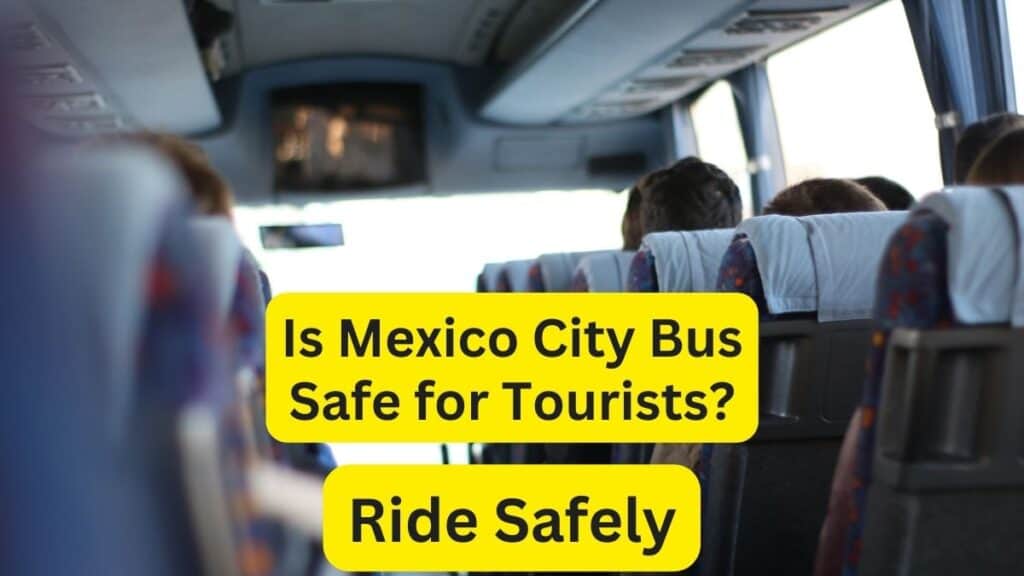 Is It Safe to Take the Bus in Mexico City?
As mentioned earlier, taking the bus to Mexico City is safe. Despite all the rumors about the risks and dangers of public transportation in the city, you'll find buses to be secured with security staff and highly-patrolled bus stations. 
Moreover, the buses in the city are used by both locals and tourists, and it's always crowded, which means you'll find plenty of authorities patrolling in case crimes or problems occur.
As long as you remain cautious, alert, and observant of everything around you, you can take the bus without any problems during your stay in Mexico City.
What to Expect About Mexico City's Buses?
It is common for buses in Mexico to be chaotic, and maintenance can be an issue on smaller rural circuits. If you keep that in mind, you may avoid getting into a dangerous situation. Therefore, bus travel in Mexico should only be undertaken when you feel safe.
Generally, bus travel in Mexico is safe due to the presence of security staff at bus stations. But it's always a good idea to take a bit of precaution as with anything else. Watch for pickpockets and bag snatchers, as you would at an airport or train station.
Helpful Tips to Know When Riding a Bus in Mexico City
If you plan to ride the bus while exploring the city, you can follow these safety tips to avoid problems and protect yourself from possible risks and dangers. 
Beware of suspicious individuals.
Whenever you're getting into bus terminals and stations, expect the place to be crowded with different types of people. With this in mind, always be wary of suspicious-looking individuals and keep a distance as much as possible.
Always keep an eye on your valuables.
The last thing you'll want is for you to lose your valuables while riding the bus. As such, always keep them secure, especially your phones, wallets, or any gadget you have with you.
Security staff patrol bus stations in Mexico, making bus travel safer. As with anything else, it's worth taking a few precautions. Likewise, watch out for bag snatchers and pickpockets at airports and train stations.
Keeping your valuables secure and out of sight is one way to prevent theft. You can also save your nifty Sunday outfit for another occasion. Dress casually and simply if you want to avoid attracting a hostile gaze.
Be aware of your destination and the bus you're riding.
The last thing you'll want is to ride the wrong bus and head to the wrong destination when exploring the city. As such, you need to learn about the destination you want to reach and the right bus to take. 
This information will be helpful since bus stations can be crowded, and you may feel overwhelmed. Also, another thing to note is to know how much the ticket cost. This way, you can prepare the exact amount and have a faster transaction when buying a ticket.
If you're unfamiliar with this transport option's payment methods, read: Paying for Buses in Mexico City: Options Explained.
Be on time with the bus schedule.
Another thing to note is to be on time with the bus schedule. This way, you don't have to rush and be off-guard during your bus ride.
Also, remember that bus stations and terminals in the city are always crowded. As such, being in the terminal ahead of time can help you get through the crowd and ride your bus when your schedule comes up.
Don't bring unnecessary luggage.
You don't need too many items when you're only exploring the city. As such, always ensure you don't bring anything unnecessary when riding a bus. This way, you'll travel light and be more convenient if the bus gets crowded.
Also, if you bring too much luggage, the operator will likely place the excess luggage in the compartment. When it does, you'll have a risk of losing it more. When you bring only a hand-carry bag, you'll keep it throughout the bus ride.
If you're coming from the airport with several pieces of luggage, use a taxi or a ridesharing app like Uber or DiDi. To learn more, read: How to Get from Mexico City Airport to City Center?
Be Friendly with the Bus Operators.
The simplest gestures can make a big difference – especially for someone driving long hours for you. Furthermore, wouldn't you like someone with complete knowledge of the nation's ins and outs?
When you're friendly with the operators, they'd be happy to help you if ever you get into any problem. Also, you can ask them for advice about the city and know more about it with information from the locals.
Have some extra layers ready.
Although it's scorching during the day in Mexico City, you may find buses with complete air conditioning. With this in mind, an extra layer like a light sweater can help prevent getting cold during your ride. You can also use these layers to cover any valuables you have with you while riding the bus.
Pack some water and snacks.
Setting aside the safety risks, you'll always need some necessities. For instance, the trip can take longer due to heavy traffic, even if you ride a bus for a short distance. 
If you're riding the bus, having a bottle of water and a small snack is best. This way, you can stay hydrated and have something to nibble if you ever get hungry during the ride.
Also, most of the snack stations at terminals offer expensive food, and you can save some cash by bringing your own.
Conclusion
In a nutshell, Mexico City's bus system is safe for tourists, and you can always rely on it whenever you need to go from one place to another. 
Of course, like all other modes of transportation, buses in the city have their fair share of risks and dangers. Nonetheless, it's not something to worry about as long as you are cautious, alert, and well-informed about your bus ride.
If you want to know the safest option to get around and explore the city, we have a separate article to guide you through it. Read our article about the Safest Transportation in Mexico City to learn more.