If you love snorkeling, the first thing you'll consider when visiting a new location is whether the place is suitable for snorkeling. For example, if you want to visit Cancun, you may also wonder if it's worth snorkeling there.
Since Cancun is the home of the great Mayan reef, its coastal waters are one of the best snorkeling spots. However, these spots are all accessible by boat. Also, it's not recommended to snorkel without a guide, even if you're a hobbyist snorkeler.
Whether you are a newbie, a hobbyist, or an expert snorkeler, you'll want to know if Cancun's worth visiting. Does it have a good snorkeling spot? Is it expensive to snorkel in Cancun? 
We'll talk about all these things to help you know about the snorkeling experience in Cancun and to help you see if it's worth visiting this place to snorkel.
Let's get started!
Is Cancun a Worthwhile Snorkeling Destination?
Cancun and the surrounding areas offer calm, clear seas with visibility of up to 200 feet, stunning coral reefs, sea turtles, manatees, and a wide variety of other aquatic life that will awe snorkelers. Thus, it's a worthwhile destination for snorkelers and divers alike.
Moreover, Cancun boasts of bringing a sunny destination together with the other nearby towns and areas of Quintana Roo. 
Knowing the best time to snorkel in Cancun and other nearby areas is also best. Read When Is the Best Time to Snorkel in Cancun? to learn more.
Some of the best snorkeling locations in the Caribbean are found near Cancun. Therefore, you must be sure to go snorkeling if you plan to stay in Cancun.
Take the chance to check out other fantastic snorkeling areas close to Cancun because even some of the most popular snorkeling locations are close to Cancun.
What Can you Snorkel in Cancun?
If you plan on snorkeling in Cancun, you can do so in these three common snorkeling spots in or near the city. 
One thing to note is that these spots are only accessible through a boat ride, and you need a guide if you plan on snorkeling. As such, avail yourself of a tour package if you want to enjoy snorkeling in these spots.
Punta Nizuc 
Punta Nizuc is a small snorkeling area south of Cancun's Hotel Zone. You may find an offshore reef area home to different species of marine life here.
You can find turtles, starfish, lobsters, and other sea creatures in this region, where they live among the corals and seaweed.
It's a fantastic area to go snorkeling, especially if you have kids. Numerous trip packages that include a snorkeling excursion may be found in the city.
Isla Mujeres
Isla Mujeres is a short boat journey from Cancun and a great place to snorkel if you're up for some island exploration.
Formerly a fishing island, Isla Mujeres draws visitors every day. It's a little island, measuring about five miles long and one-half mile wide. As a result, a day can be spent exploring it.
The reef known as Manchones is now the best snorkeling location on the island. A short way offshore, there lies a reef. There are a ton more snorkeling locations on the island besides this one.
Sea turtles and other sorts of marine life are frequently spotted here. As a result, if you wish to document your fantastic snorkeling experience, it is essential to bring your underwater camera.
The Cancun Underwater Museum: MUSA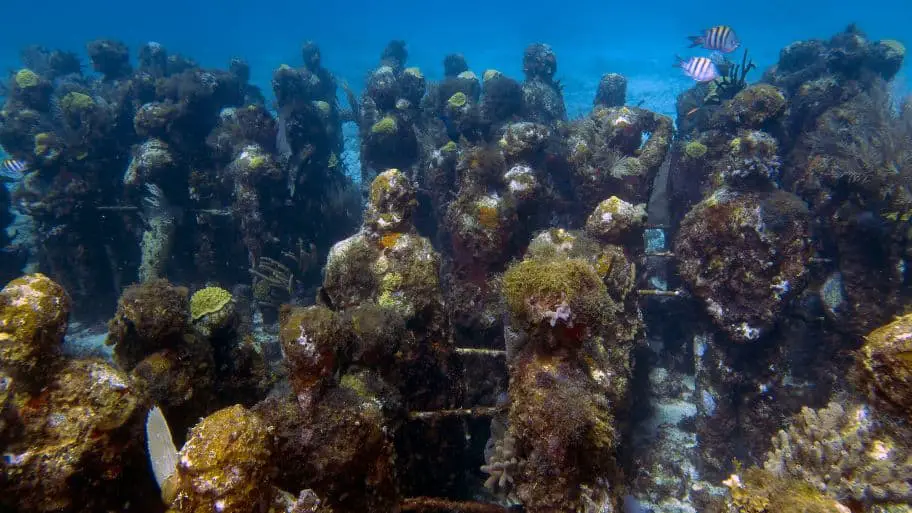 The Cancun Underwater Museum is one of the top places to go snorkeling. More than 470 sculptures make up the two main parts of this region.
The underwater Silent Evolution statues on Manchones Reef have been gradually sinking for a few years. 
The museum in Cancun serves as a break for the natural reef and gives a habitat for fish and other reef species.
What is the Best Snorkeling Spot in Cancun?
Cancun is a city with several businesses lining its coastline. As a result, there are few places along the coast to go snorkeling. 
Still, if you're searching for the best spot for snorkeling, your best bet is Punta Nizec. You can find diverse marine life in this area, but the best part is the MUSA or the Underwater Museum of Art. 
Since it's a commercialized zone, booking a tour is the only way to snorkel in it. Further, you can't snorkel on your own in this area since you need some guidance to enjoy it.
Now, if you're looking for abundant marine life, you can always drive south of Cancun. Within 30 minutes, you'll reach Puerto Morelos, a fantastic spot for snorkeling with its stunning reefs filled with various sea life. 
You can always avail yourself of a snorkeling tour package. Alternatively, you can hire a local fisherman to carry you to the reef if you have your snorkeling equipment.
What to Expect From Snorkeling in Cancun?
Cancun isn't the best place in Quintana Roo for snorkeling. However, this city has some snorkeling spots with unique experiences you won't find in neighboring towns. 
For instance, you can enjoy snorkeling at Punta Nizec, where you can enjoy the famous Underwater Museum of Art. 
This underwater museum aims to preserve the coral reefs of Cancun by providing snorkelers with a place to explore the clear waters.
A year after construction started in 2009, the museum finally opened its doors. Today, there are approximately 500 sculptures spread throughout two distinct sections of Cancun National Marine Park. Every year, MUSA receives close to 200,000 snorkelers.
Besides MUSA, Cancun has the beauty of the Caribbean coast, making it a haven for snorkelers. As such, Cancun is worth a visit if you're up for some snorkeling adventure.
Is it Expensive to Snorkel in Cancun?
It's not expensive to snorkel in Cancun, but you can still pay. The best way to snorkel in Cancun is through a snorkeling tour package. 
This package removes the main concerns of snorkeling, such as finding the best spot, gear rental, boat rides, and even complimentary food.
Of course, you can snorkel right from your hotel beach, but it is more likely that you will see the seafloor than living creatures. Now, if you want to know if there are free snorkeling spots in Cancun, read: Where Can I Snorkel for Free in Cancun?
Since Cancun is highly commercialized, you won't find any ideal snorkeling spots on your own. As such, you'll only reach some snorkeling spots with the help of guides and boat rides.
In general, snorkeling tour packages in Cancun are relatively inexpensive. You can find packages of around $50 to $100 depending on how many spots you visit and its distance from Cancun's central area.
Conclusion
So, if you're still wondering if it's worth snorkeling in Cancun, it's a big YES! While you can find better options if you want to snorkel and enjoy marine life, you can find some unique spots worth seeing in this city through your snorkeling goggles. 
If you want to visit the best snorkeling spots nearby, you can always stay in Cancun and book a day trip snorkeling package to nearby towns such as Playa del Carmen, Akumal, Cozumel, and Tulum.