At some point in our lives, we've imagined the perfect setting and location where we want to spend our honeymoon. And, for many people, Tulum is that perfect place. So now, if you aren't familiar with this town, you may wonder: Is Tulum a perfect place for a honeymoon?
With its natural wonders, ancient ruins, romantic hotels, and overall intimate vibe, Tulum is definitely a perfect place for a honeymoon. As such, it's a place you may want to consider if you and your partner ever dreamt of a paradise setting for your honeymoon.
Now, if you're a couple who wants the perfect place for a honeymoon, Tulum offers many things to enjoy. Thus, if you're considering traveling to this town for your honeymoon, you'll want to know everything it offers to make your trip as enjoyable as possible.
This article will cover everything you need to know about Tulum as a honeymoon destination. This information includes the romantic spots to visit, the things to do as a couple, and the ideal places to stay throughout your honeymoon trip.
Without further ado, let's get started!
Why Go to Tulum for a Honeymoon?
There are many reasons why you and your partner should go to Tulum for your honeymoon. For instance, this town is home to some of the best beaches in the world, a dreamy paradise that makes a very romantic setting.
Further, it's a practical destination due to its accessibility, as Tulum is near an airport with direct flights from the US, Canada, and Europe.
Tulum is also home to stunning archaeological sites, picturesque ancient ruins, beautiful cenotes, and many more.
Another thing is that Tulum houses some of the best hotels that offer romantic activities, aesthetically pleasing accommodations, and lovely dinner locations.
Finally, Tulum is a laid-back town where you and your partner can spend some time together in private, relax with wellness activities, and enjoy your vacation in the most romantic way possible.
Tourist Spots to See in Tulum on a Honeymoon
Tulum is home to famous tourist spots that can make your honeymoon even more special. Thus, if you plan on visiting Tulum for a honeymoon, here are some places to visit.
Tulum's Beaches
One of the main attractions in Tulum is its picturesque beaches. In fact, this town is known for its fine white sand, crystal clear turquoise waters, and sunny beach vibe.
One thing to note is that Tulum's beaches are free to access, meaning you don't have to pay for anything to swim or spend time by the sea. 
However, it's more enjoyable when you have some shade, some seats, and some drinks by your side. 
You can rent furniture and order drinks at the beach clubs. If you want to know the best options, check out the Best Beach Clubs in Tulum.
Tulum Ruins
The famous Tulum ruins are also a must-visit place, even when you're on a honeymoon trip. These ancient ruins are situated on a gorgeous clifftop. Such a spot is something you shouldn't miss, so be sure to take some pictures together in this place.
Tulum Cenotes
Cenotes are stunning freshwater sinkholes that will captivate you and improve your honeymoon trip. Lucky for you, Tulum is home to hundreds of cenotes, some of which are among the best in the world. If you want to know more, check out the Best Cenotes in Tulum. 
Sian Ka'an Biosphere
The Sian Ka'an Biosphere is another place that attracts honeymoon couples, and it's not surprising to know why. This one is a magical destination where you can spend a day with untouched nature.
This vast protected area is home to thousands of beautiful flora and fauna species. In addition, it has some of the cleanest waters in Mexico. As such, it's something you don't want to miss on your honeymoon trip itinerary.
Things to Do in Tulum on a Honeymoon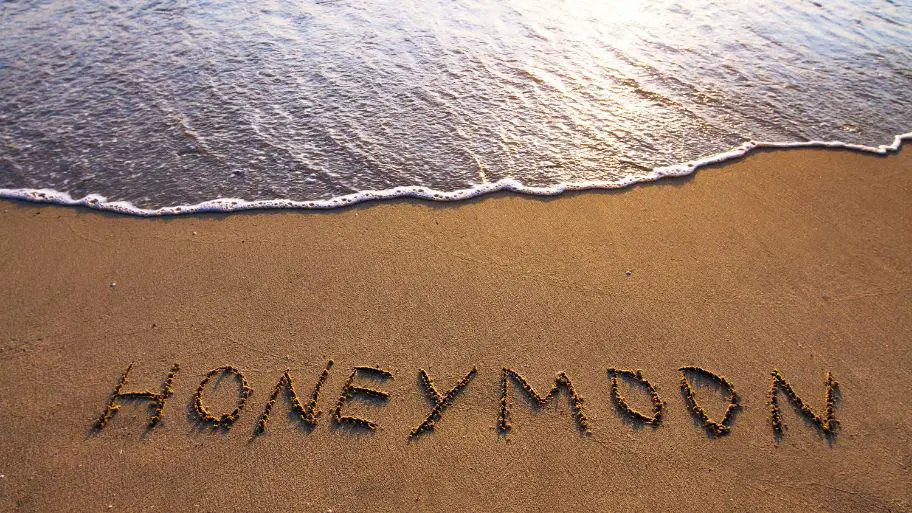 Of course, a honeymoon trip will not be complete without the relaxing, and romantic activities couples can enjoy. As such, here are our recommended activities that you should try in Tulum during your honeymoon trip.
Relax together at a spa
When it comes to honeymoon, couples prioritize romance and relaxation, and it's not a problem since Tulum has both things for you.
In this town, you'll find a lot of spa treatments. As such, you'll only need to choose which one you prefer. These relaxing treatments can make your honeymoon more enjoyable.
Further, you can choose to do these treatments by the beach while feasting your eyes on the picturesque scene of the beach.
Attend some yoga classes
Both locals and tourists practice yoga in Tulum almost every day. As such, this activity will also make your honeymoon enjoyable. 
In general, you can find yoga treatments and lessons everywhere in Tulum, from beaches and hotels to paddleboards in the middle of the sea, rooted in the hippie roots of the town. 
Rent a bike to explore the town
If you're in Tulum, you'll see a lot of bicycles, and it's a common thing in this town. A bike ride lets you take in Tulum in the best way possible.
In general, most hotels offer a complimentary bike ride. Otherwise, you may enjoy some discounts for being a hotel guest.
With a bike ride, you can spend some time together visiting local shops and restaurants, and it's healthy since you also get some exercise.
Have a romantic dinner
A honeymoon will be more memorable with a magical romantic dinner setting. Tulum is the best place to find such offers. 
Here, you can enjoy some candle-lit dinner by the sea and some excellent food barefoot. Or, you can also enjoy some intimate dinner in a jungle-vibe setting. Either way, romantic dinners will make your honeymoon more memorable.
If you're staying at a beachfront hotel with a restaurant, chances are they offer such a package. As such, be sure to experience it.
Places to Stay In Tulum for Your Honeymoon
Tulum is filled with adult-exclusive hotels and resorts designed to give guests romantic accommodation in town.
As I mentioned, most hotels offer couples romantic activities and relaxing things. Further, they provide a private space, mainly by the beach, for couples to enjoy some intimacy without any disturbances.
For this reason, we've rounded up the five Best Hotels for Honeymoon in Tulum for you to consider. This list includes everything you need to know about each hotel, and we assure you that any of these hotels will make your honeymoon trip in Tulum unforgettable. 
Conclusion
With breathtaking views, peaceful vibes, and the availability of romantic dining spots, Tulum offers a perfect place for a honeymoon trip. Most people even dream of visiting Tulum for their honeymoon or a romantic getaway.
A honeymoon may not be a once-in-a-lifetime thing since you can plan more throughout your years as a couple. However, there will always be that dream honeymoon, and Tulum is the perfect place for it.